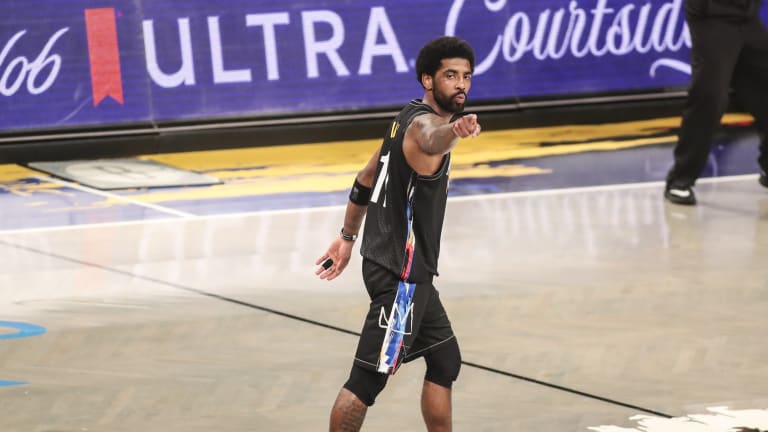 What? Golden State Warriors' Star Says That Brooklyn Nets' Kyrie Irving Is A Top-20 Player Ever
Andre Iguodala of the Golden State Warriors sent out a tweet that called Kyrie Irving of the Brooklyn Nets a top-20 player of all-time.
Andre Iguodala is an NBA Finals MVP, former All-Star and has played 17-years in the NBA. 
Not to mention he's also a three-time NBA Champion (all with the Golden State Warriors). 
It's safe to assume the guy know basketball much more than the average person. 
Therefore, while a lot of fans will likely disagree with what he said in a tweet on Wednesday, maybe he's got a point. 
Iguodala's tweet said: "So y'all saying @KyrieIrving ain't top 75? I agree… he top 20 at least…" 
He is likely referencing the NBA 75 Team, which is in the midst revealing the NBA's best 75 players of all-time. 
Through the first 50-players named, Irving has not been listed. 
Irving is a former number one overall pick, NBA Champion and seven-time All-Star. 
However, many will note that he has not done a lot in his career without LeBron James (the two played together on the Cleveland Cavaliers). 
He has career averages of 22.8 points, 3.8 rebounds and 5.7 assists per game. 
There is no question that Irving is one of the most talented players to ever play the game, but the concern is more about how his career has gone. 
Does Iguodala have a point? 
Related stories on NBA basketball
D-ROSE COMES UP CLUTCH: The Boston Celtics and New York Knicks played a wild game at Madison Square Garden on Wednesday evening, and the former MVP Derrick Rose sealed the deal for the Knicks in double-overtime. CLICK HERE.
STEPH GETS TRIPLE-DOUBLE: The Golden State Warriors opened up the new season on the road against the Los Angeles Lakers at Staples Center. They knocked off LeBron James and company, and three-time NBA Champion Steph Curry recorded his first triple-double since 2016. CLICK HERE.