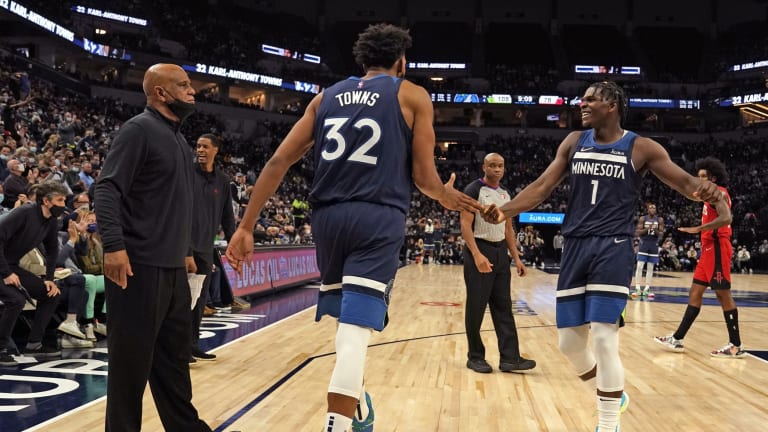 Watch Viral Video Of Anthony Edwards Tell The Rockets They Need To Call A Timeout Because He's On Fire
Anthony Edwards was on fire in Wednesday evening's game between the Houston Rockets and Minnesota Timberwolves, and the second-year shooting guard had a hilarious moment where he told the Rockets to call timeout.
Anthony Edwards started off his sophomore season with a bang on Wednesday evening. 
The former University of Georgia standout (and number one overall pick in the 2020 NBA Draft) scored 29 points against the Houston Rockets, and the Minnesota Timberwolves cruised to a 124-106 blowout win. 
During the game, Edwards was on fire, and there was a hilarious sequence where he told the Rockets to call a timeout to cool him down. 
The video of Edwards can be seen in a tweet that is embedded below from Thomas Sullivan.
Edwards commented on the scene of events post-game, and his quote can be seen in a tweet that is embedded below from Bleacher Report. 
Karl-Anthony Towns had 30 points and ten rebounds in the game, and D'Angelo Russell had 22 points and dished out seven assists. 
If the big three of Edwards, Towns and Russell plays like they did on Wednesday against the Rockets all season going, there will be playoff basketball in Minnesota this season. 
Related stories on NBA basketball
D-ROSE COMES UP CLUTCH: The Boston Celtics and New York Knicks played a wild game at Madison Square Garden on Wednesday evening, and the former MVP Derrick Rose sealed the deal for the Knicks in double-overtime. CLICK HERE.
STEPH GETS TRIPLE-DOUBLE: The Golden State Warriors opened up the new season on the road against the Los Angeles Lakers at Staples Center. They knocked off LeBron James and company, and three-time NBA Champion Steph Curry recorded his first triple-double since 2016. CLICK HERE.