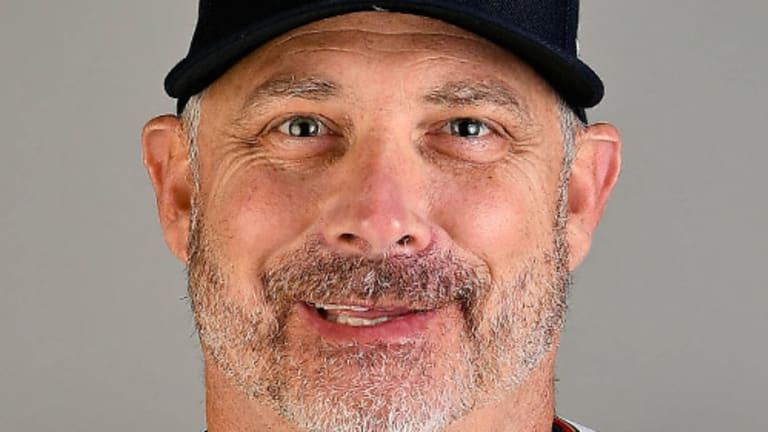 Derek Shelton Officially Introduced as Pirates Manager - Reaction to the Press Conference
Check in here for updates on Derek Shelton's announcement as Pirates' manager.
Check in here for updates on Derek Shelton's announcement as Pirates' manager.
Derek Shelton will be announced today as the next manager of the Pittsburgh Pirates. It was reported a week ago that Shelton beat out the other finalist, Matt Quatraro, for the job. Shelton will be leaving the Minnesota Twins for his first big league managerial gig. 
In a statement, Ben Cherington referenced his longstanding relationship with the Pirates' new skipper:
I have known Derek for more than 15 years and have great admiration for his passion for the game and players, work ethic, curiosity, and desire to learn. He has worked and learned from some of the best in the game, and in turn has helped players and colleagues learn and improve during his 20 years of coaching and managing. We are confident Derek will help lead an elite playing and coaching environment at the Major League level and be a true partner to all of baseball operations as we challenge each other to get better every day. I want to thank our entire baseball operations group for their tireless work over the past several weeks of this search. We are thrilled to get to work with Derek and continue building toward a winning team in Pittsburgh.
Shelton also issued a statement in which he expressed his excitement over coming to Pittsburgh:
I very much look forward to developing a strong partnership with Ben and the baseball operations staff. It is going to be an exciting change of culture in our clubhouse. It is going to be a fun environment in which we will all be held accountable to each other. It will be a player-centric culture built on strong communication and relationships with our players, our staff and the entire organization. We will begin to establish those relationships this offseason prior to coming together as a team in Bradenton this February.
From the Press Conference
Derek Shelton mentioned Rocco Baldelli, Kevin Cash, and Joe Maddon as influences in his coaching career.
When it comes to developing players, Shelton expressed the need to isolate information so that it can be deployed specifically for each player.
Shelton has started to reach out to players and build relationships. He also said they have a great start on staff hires.
He acknowledged what we all knew, that PNC Park is the most beautiful park in the National League. So that's a plus. Should have said "entire league," but we'll work on him.
He said all the right things about the pitching. He said he's excited about the guys they have, but acknowledged that "usage" is something they need to examine organizationally. 
Ben Cherington seconded that. He went to say that individual deployment and development is even more crucial than adding more arms. I would agree.
This is great. Shelton is echoing the "individual development" sentiment that Cherington has said from day one. "We're not going to ask home run hitters to not hit home runs." Kind of a comical way of saying it, but it goes back to the intentional one-eighty Cherington has made in terms of moving away from an organizational approach to player development and towards a "player-centric" approach. 
First Impressions
Derek Shelton appears to be a very likable guy. You could see the excitement he has about this position as he spoke.
I'm pleased that he echoed the "player-centric" development strategy that Ben Cherington has been preaching since he's been hired. It shows me that there is an organizational acknowledgement that the previous system was broken, and that the new strategy is being talked about within the organization as much as it is to the media.
Some, probably most, introductory press conferences fall flat. I can honestly say I am more excited about the hire of Derek Shelton today than I was previously. 
Follow Jared on Twitter: @a_piratelife