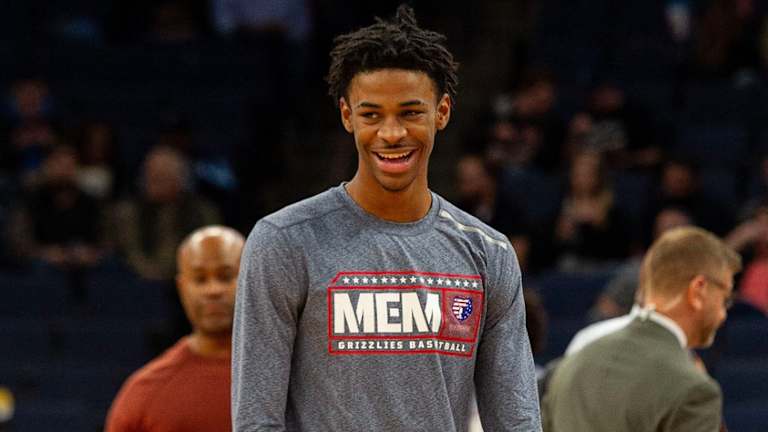 If It Ain't Broke - Don't Rest It
Grizzlies rookies phenom Ja Morant sat out of Saturday night's 138-122 loss to Dallas at home Saturday night but the fans took the biggest loss.
Grizzlies rookies phenom Ja Morant sat out of Saturday night's 138-122 loss to Dallas at home Saturday night but the fans took the biggest loss.
The stage was set for a potential epic matchup between the reigning NBA Rookie of the Year and early-season MVP candidate, Luke Doncic from the Dallas Mavericks and early season NBA Rookie of the Year favorite, Ja Morant from the Grizzlies.  Two phenomenal lead guards were set to duel in front of the fans of the Grizzlies live on a Saturday night.  Fans that have accepted the fact that they won't be there to see wins but instead to get a view of the "fun" and the development of their young potential stars.
But that would not be the case...
Why? Because under the advice of their medical team, the Grizzlies made a decision not to play Morant early Saturday afternoon and followed through on their decision as the Mavs took the victory in front of a half-filled FedEx Forum.  I get it.  Players get hurt.  Injuries happen.  You want to do as much as you can to make sure that your players have as long and as productive of a career as possible.  But here is my concern as well as what I assume is the concern of many in the fanbase - if Morant isn't hurt then why are you sitting him out? And if you felt the need to rest him, why not pick another game and not one that's against one of the league's brightest stars on a Saturday night?
Omari Sankofa of the Athletic reminded fans on Saturday night that according to NBA league rules, the Grizzlies were subject to a fine if they chose to rest Morant Friday night against Orlando as opposed to saving him for a home game against Dallas.  This, of course, is understandable but totally not playing in any home game considering the team's situation just seems misguided in my opinion.  Especially when it's not a reaction to an actual injury, but instead from a suggestion from a medical professional to prevent a possible injury. Was playing him with a minutes restriction against Dallas not an option? It definitely should have been in this case.
Memphis is a different type of city.  Things like cold rainy nights, midweek bible study and other social events have all been reasons why people don't get out to games.  Being that the team is going through a rebuild you would hope that the organization would realize that the potential loss at the ticket turnstile as well as the now tarnished level of trust between the team and the fanbase wasn't worth whatever the fine from the league would've been. Fans who are purchasing tickets now will move with precaution when wanting to see key matchups.
Injuries are always possible. There is no way to prevent them.  You can wrap a player up in bubble wrap and he still can go out and suffer a major injury.  Its professional sports.  You can't play at half speed, and you can't dial it back to avoid injury. It's the risk that the team, and the player, have to make every single game.  As an organization, should you be wise? Yes -  but you also must consider other situations that are at play.  How does Morant, a player who averaged 36.6 out of a possible 40 minutes per game last year in college feel about missing games? Especially a matchup against Luka Doncic?
Resting players will continue to be a hot button issue this season, not just for Memphis but across the league.  Teams are using in-depth medical procedures to examine and determine when players may need to take a break to avoid injury.  This is what the current NBA climate is headed toward but unforunately it is not beneficial to the fans.