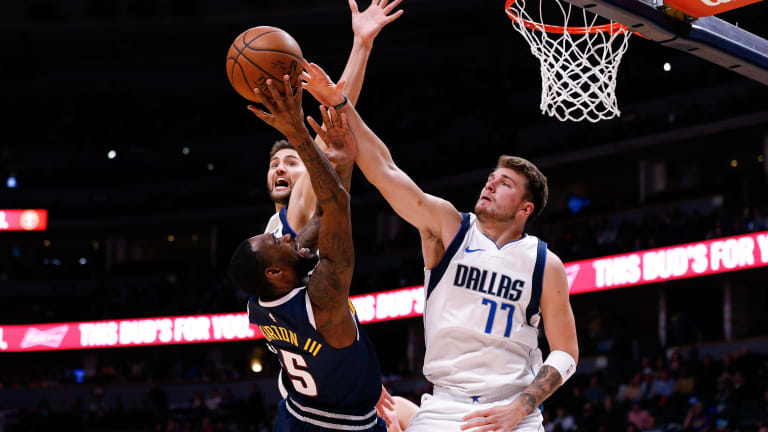 Mavs Escape Pepsi Center With 109-106 Win Over Nuggets
Facing one of the toughest road environments in the NBA, The Mavericks got back on track with a 109-106 win over the Denver Nuggets on Tuesday
Coming off of a tough loss on Sunday night to the Portland Trail Blazers, the Dallas Mavericks hit the road to face one of the toughest home-court advantages in the NBA on Tuesday, when they took on the Denver Nuggets at the Pepsi Center. 
While it wasn't the best performance from their two young stars, the Mavericks were still able to get back on track thanks to some major contributions from their role players in the 109-106 win. 
With Luka Doncic and Kristaps Porzingis struggling to find their consistency on the offensive end, the Mavs' depth shined through in key moments, with nine different players reaching double figures in scoring, including a team-high 14 points from both Tim Hardaway Jr. and Maxi Kleber, and 12 apiece from Dorian Finney-Smith and Delon Wright. 
Dwight Powell also made his season debut but was limited to just 14 minutes, scoring four points and grabbing four rebounds.
Having nine players in double figures tied a franchise record, which was set back on November 6, 1986, in a win over the Seattle SuperSonics.
The Doncic and Porzingis pairing, which combined for 61 points against Portland on Sunday, could not find that rhythm on the offensive end, combining for just 22 points between the two of them, but found other ways to contribute to the win overall. 
Doncic, who hit 3-12 from the field and 1-6 from three, scored 12 points while adding four rebounds and five assists. Despite his struggles, Doncic still managed to hit a clutch bucket for the Mavs in the fourth quarter to push their lead to three points.
Porziningis meanwhile, scored just 10 points on the evening but managed to grab 14 rebounds (his highest total since March 5th, 2017) and block two shots. 
 Now 3-1 for the first time since 2014-2015 season, the Mavericks will hit the court again this Friday, when LeBron James, Anthony Davis, and the new-look Los Angeles Lakers (2-1) come to the American Airlines Center. The Lakers have won five straight over Dallas dating back to February 10th, 2018, when the Mavs won 130-123 at the AAC.