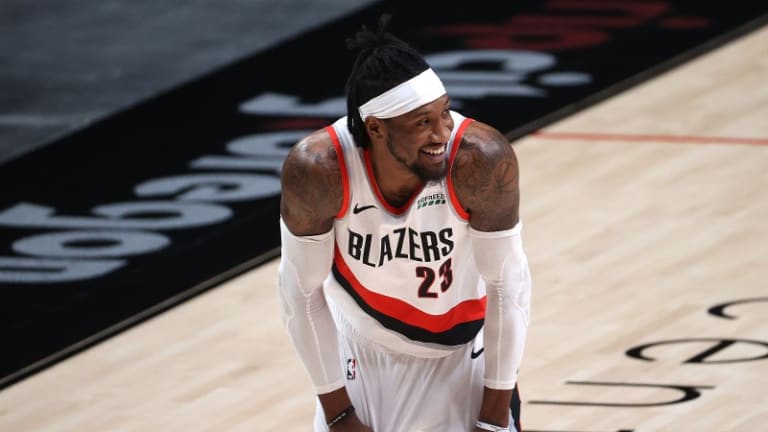 The Process Philadelphia 76ers weren't exactly playing to win. While burgeoning their lottery odds by prioritizing player development first and foremost, they even went so far as to challenge Robert Covington – back then an anonymous G-League reclamation project – to games within the game.
The Sixers coaching staff's challenge to Covington? Hitting prescribed benchmarks for individual deflections over a given quarter or specific portion of the game, pushing the long-armed, quick-handed, hard-working forward into realizing his destiny as one of the game's most disruptive defenders.
"Sometimes they gave me a mark to see how many – when I was there – [deflections] I could get within a quarter or a certain timeframe, because they understand how active my hands are," Covington said of Philadelphia on May 11. "I still keep that mentality even though I'm here now."
Covington's 255 total deflections during his first season in Portland led the league, per NBA.com/stats. He ranked second to Fred Van Vleet in deflections per game, ahead of predatory ballhawks like T.J. McConnell, Jimmy Butler, Matisse Thybulle and Marcus Smart.
It wasn't just Covington's frequent knocks, tips and swipes mucking up the opposition's attack. Just six other players in basketball this season – including Jusuf Nurkic – managed his 2.2 percent steal rate and 3.4 block percent block rate, per data compiled at Stathead Basketball. More impressive is that Covington joins Thybulle as the only non-bigs in that exclusive company.
All that created chaos makes Covington one of the most impactful off-ball defenders in the league. BBall Index's number-crunching and data-mining vault him to a plane all his own in Defensive LEBRON among players classified as "helpers."
What makes Covington special defensively is he doesn't need to get his hands on the ball for his presence to be felt. Nuance like casually switching across multiple positions, arriving in help position early and splitting two defenders on the weakside is plenty disruptive, too.
Watch Covington on this crunch-time possession against the Washington Wizards. Not only does he cut off Russell Westbrook's path to the rim on two separate occasions, but he covers for Enes Kanter's utter lack of mobility by simultaneously playing a passing lane and the ball on Bradley Beal's kick back to Rui Hachimura.
"It's just my approach. It's to be disruptive as possible," Covington said. "It doesn't have to be on-ball, it be off-ball, reading, reacting. It's all simultaneous and it all plays a part in everything."
His embrace of every facet of defense has gone a long way toward Covington, undrafted in 2013, cementing himself as an upper-echelon NBA defender. Whether he was good enough on that end during his debut season in Portland to be named All-Defense for the second time in his career is a different matter altogether.
Separating Covington from other All-Defense candidates is that his weaknesses are almost as pronounced as his strengths. The days of Covington chasing point guards around the floor are over. At 30, he's at least a half-step slower than he was with the Sixers. The benefit is that it's easier to deduce where Covington really provides value on defense.
It's not as an individual stopper. The Blazers have rarely put Covington on the opposition's top threat this season, even sometimes leaving that assignment to Damian Lillard once Derrick Jones Jr. fell completely out of the rotation last month.
The reality of Lillard checking Devin Booker or Jayson Tatum and Norman Powell getting the Michael Porter Jr. matchup is a telling indicator of Covington's lacking defense at the point of attack. Being roasted by Joe Ingles and embarrassed by Ben Simmons does the trick, too.
That inability to consistently hold up one-on-one – sometimes against secondary and tertiary creators – does major damage to Covington's All-Defense resumé. 
Candidates at forward who routinely guard less threatening foes are mostly doing so because their teams have other solid on-ball options. The Blazers don't, but Covington is usually tasked with being a help defender regardless. Draymond Green, Giannis Antetokounmpo and LeBron James, for instance, offer nearly as much or more off-ball dynamism defensively as Covington. The difference is they can turn into bonafide stoppers when circumstances of time, score and personnel call for that shift in role.
Covington doesn't make up for that deep dent in his All-Defense armor with pitch-perfect team defense, either. All too often this season he's been involved in miscommunication or misunderstanding with a teammate while deciding whether to switch. Even a defender as instinctual and committed as Covington can also get caught ball-watching.
Those subtleties need to be as close to airtight as possible for Covington to earn an All-Defense nod. He's not normally the source of the Blazers' breakdowns in team defense, but has certainly been a part of their struggles to coalesce on that end.
The last would-be significant feather in Covington's All-Defense cap doesn't exist at all. He played a massive part in the Houston Rockets' success committing to full-time small-ball last season, splitting downsized center duties with P.J. Tucker. Portland has gone away from similar lineups since Nurkic returned, but they were never viable defensively in the first place.
Lineups with Covington moonlighting at center had a 125.1 defensive rating this season, per Cleaning the Glass. The Blazers, to be clear, don't have the personnel to thrive on defense playing small-ball. Lillard, Carmelo Anthony and even C.J. McCollum have no business being part of downsized, all-switch lineups. 
But for all of Covington's prowess swiping down at the ball as shooters go up and blocking shots from behind, he's nowhere near the level of rim-protector to spearhead those units at center. Opponents shot 67.7 percent at the rim against Covington this season, per NBA.com/stats, worst in the league among rotation players who contested at least four such attempts. Green, by contrast, allowed 47.3 percent shooting at the rim, one of the lowest marks in basketball. 
Don't get too wound up in Covington's deficiencies. He's still been an abject positive for Portland defensively since the season tipped off, and until Nurkic began coming into his own in April, was arguably the Blazers' lone plus defender. 
Nurkic's improved health, conditioning and comfort – which coincided with Portland's season-saving turnaround, of course – actually did no favors for Covington's case. Even using full-season numbers, the Blazers have been slightly better defensively with Nurkic on the floor and Covington on the bench, per Cleaning the Glass. The stellar on-off metrics that were a hallmark of Covington's midseason resumé didn't quite hold up over the last couple months.
Bottom line, there's just no winning argument for Covington to even garner Second Team All-Defense this season given his quality of competition. 
Green and Antetokounmpo are shoo-ins. Thybulle might be the most singular defender in the league. Simmons, Butler and Bam Adebayo warrant consideration at multiple positions before Covington does at forward. James, Mikal Bridges and Kawhi Leonard are premier wing defenders on top-10 defenses. 
Covington deserves at least a passing glance for his awesome off-ball work, though, and it's likely to get him the vote total needed for de facto honorable mention. That result may be disappointing for the most zealous Blazers fans. 
But for Covington, it might very well be enough – at least in addition to the praise his brand of defense has elicited from teammates and coaches in Portland.
"I feel like I've been up there with All-Defensive team, in a lot of different cases," he said. "But me, as far as my presence on this team, a lot of things don't go unnoticed."