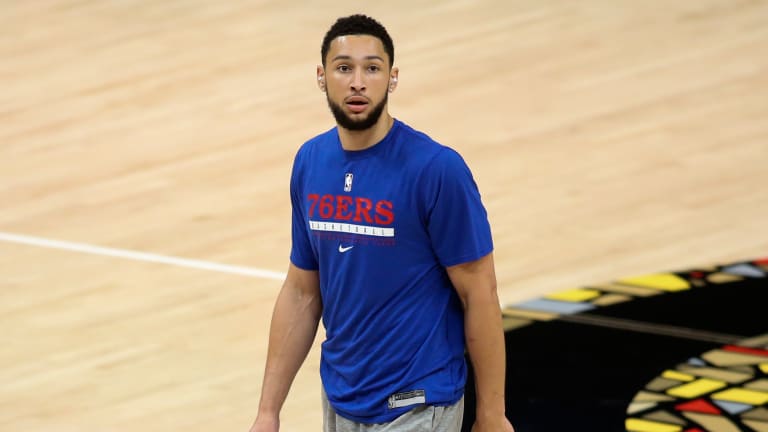 Report: Ben Simmons Doesn't Want to Play for Trail Blazers
According to Jason Dumas of Bleacher Report, Ben Simmons has no interest in playing for the Trail Blazers.
Ben Simmons is trying to push the Philadelphia 76ers to their breaking point.
All communications between Simmons and the Sixers are being conducted by his agent, Klutch Sports CEO Rich Paul. It's not just Daryl Morey, Doc Rivers and Philadelphia's decision-making brass that Simmons is ignoring. He's apparently refusing to answer or return the phone calls of Joel Embiid, too.
Simmons, clearly, wants out of Philadelphia, and isn't afraid to ensure everyone knows it. But just because he's pointedly trying to force his way from the Sixers doesn't mean the Trail Blazers are any closer to acquiring him. In fact, it seems dreams of Simmons coming to Rip City were always bound to be left unfulfilled.
During a radio appearance on 95.7 The Game on Thursday, Jason Dumas of Bleacher Report shed new light on the increasingly untenable relationship between Simmons and the Sixers. Though he longs to be traded, the list of teams Simmons wants to play for is reportedly very short—and the Blazers aren't on it.
"He doesn't want to go to a bad situation. He's reading the tea leaves like everyone else," Dumas said of Simmons. "He sees Toronto, he sees Portland and then—just to be frank—being the young socialite that he is, he's not really trying to go to any of those situations. He's open to the California teams is what I've been told."
Simmons, a celebrity since high school and the ex-boyfriend of Kendall Jenner, is comfortable living his off-court life in the spotlight. Anyone who's been closely following his career wouldn't be surprised by the notion that he wants to play in California—well, unless it was for the Sacramento Kings.
Unfortunately for Simmons, he doesn't have the equity with the Sixers that Damian Lillard does with the Blazers. Morey is under no obligation to trade the former Rookie of the Year to a destination he desires. It's naive to expect Philly's front office to bend to Simmons' interests at all in that regard.
But Simmons' grousing could still muddy the waters of a prospective trade he doesn't like. Even though Simmons is signed through 2024-25, it goes without saying a team like Portland would be less inclined to acquire him if he made clear he didn't want to be there—especially if the Sixers don't budge off their sky-high asking price.
The unfortunate truth for Rip City is that the Blazers have maybe faced impossibly long odds of getting Simmons since the beginning. If Morey really has no interest in C.J. McCollum, the only means Portland would have of bringing in Simmons is biting the bullet on a Lillard trade. 
All indications are that Lillard is a long way from demanding his way out. The suggestion that Simmons views the Blazers as a "bad situation" probably applies to basketball, too, lending further credence to the league's worst-kept secret about Morey staunchly holding out for Lillard instead of settling for McCollum.
The Simmons situation is fluid, obviously. But unless he warms to the idea of Portland and Morey warms to the idea of McCollum, Simmons certainly won't be wearing a Blazers jersey any time soon.
[Jason Dumas, Bleacher Report] [h/t @gifdsports]