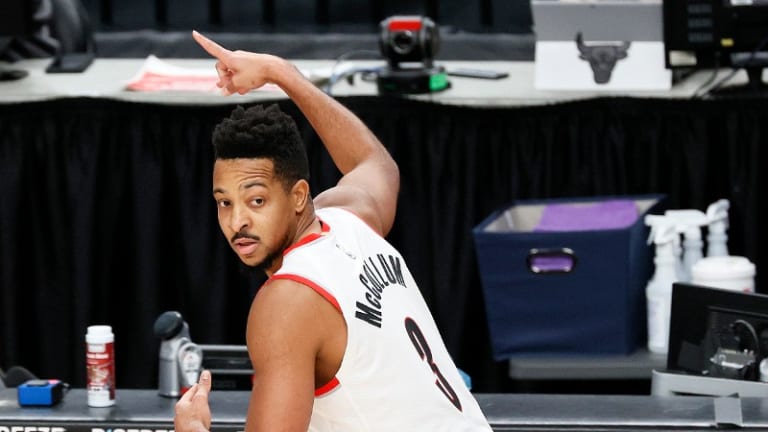 Damian Lillard, unsurprisingly, was among 57 NBA peers named by USA Basketball on Thursday as finalists for the team that will play in the upcoming Tokyo Olympics. To much consternation across Rip City, though, he was the only Trail Blazer listed as under consideration. 
What about C.J. McCollum? 
It's unrealistic to expect a player of even McCollum's esteemed caliber to make Team USA's final roster. Those spots are reserved mostly for time-earned superstars, with a couple elite specialists and a blue-chip youngster mixed in. McCollum isn't on Lillard's level, obviously, and lacks the size and stylistic versatility to serve as a role player given the type of top-tier talent Team USA normally sends to the Olympics.
But was he really not worthy of even a passing glance from the USA Basketball powers that be? If the likes of Eric Gordon and Victor Oladipo earned a spot as finalists, McCollum certainly should as well, the thinking went.
One problem: McCollum took his name out of the running.
After NBC Sports Northwest published a story questioning why McCollum was "snubbed," he set the record straight on Twitter.
McCollum has a long history with USA Basketball, dating all the way back to 2011 during his time at Lehigh. But he's never actually donned a Team USA uniform in competition, instead limited to participating in training camps and practices ahead of final roster cutdowns. He also declined an invitation to compete for a spot on the FIBA World Cup team in 2019, citing his need for rest and recovery in the offseason.
There are myriad reasons why McCollum also elected against participating this time around. His injury status no doubt played a factor, as did concerns about coronavirus and prior remarks about using time in the offseason to reset. Another might be that McCollum understands his chances of making a stacked Team USA roster are slim.
Either way, he won't be donning the red, white and blue in Tokyo. As for Lillard? He'd previously pledged to make his official Team USA debut in the 2020 Olympics, but the pandemic has likely complicated the status of his commitment.