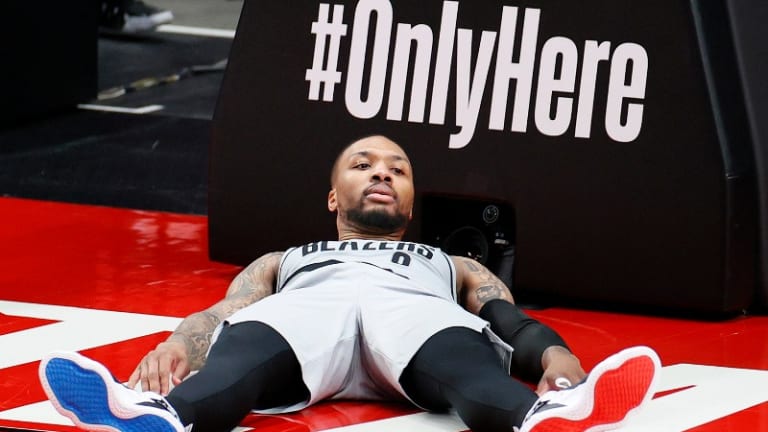 How Text Messages Helped Damian Lillard Regain MVP Form
A unique kind of constructive criticism from his longtime trainer has helped propel Damian Lillard back to MVP heights.
A unique kind of constructive criticism from his longtime trainer has helped propel Damian Lillard back to MVP heights.
Damian Lillard admitted it after leading his team to victory in the biggest game of the season. Despite the rash of injuries that have nagged him for weeks slowly improving, and despite making a concerted effort to allow his body to heal by getting additional sleep, he's still not 100 percent.
"Even to this moment I got a lot physical things going on that just make it a challenge," Lillard said on Friday night after dropping 38 points and seven assists on the Los Angeles Lakers.
Obviously, no one would know it by Lillard's play of late. The MVP form that eluded him for most of March and April has suddenly and forcefully returned. 
Lillard is averaging 29.6 points and 8.1 assists per game during Portland's season-saving 6-1 stretch, with a mind-blowing true shooting percentage of 72.5. He's helped set the tone for the Blazers defensively, too, requesting tough assignments like Malcolm Brogdon and Jayson Tatum while swiping 1.6 steals per game.
The do-or-die nature of the Blazers' late-April nadir has no doubt played a factor in Lillard's turnaround. Subtle progress of his many minor maladies has, too. 
But for Lillard, it was a unique kind of constructive criticism from longtime trainer Phil Beckner that also helped propel him back to those exalted heights of February.
"[Beckner] was sending me game after game where each game was labelled 'NGE' – not good enough, not good enough, not good enough," Lillard said. "I think that's part of it. It's being able to accept when something is not good enough, and start to figure out ways which you can turn it around."
Beckner knows exactly the last time he sent Lillard a "NGE" text: In wake of another dispiriting loss to the Memphis Grizzlies on April 25, a second straight defeat to a team locked in a heated battle with the Blazers for postseason seeding. Lillard's response, "You're right. I will," was all Beckner needed to hear to be confident change was coming.
As Beckner told The Athletic's Jason Quick, it's that ability to receive criticism and overcome challenges that helps separate Lillard from even the world's top players.
"It's pretty crazy if you think about it: he's a top-five player in the world and he is letting his trainer criticize, critique and challenge him, while not making one excuse," Beckner said. "To tell him he's NGE and he needs to do better and he just takes ownership and responds 'You're right … and I will.' That's what makes him elite. That's what makes him one of the best of the best."
Portland, now 38-29 and sixth in the Western Conference, controls its own destiny. Head-to-head tie-breakers with the Lakers and Dallas Mavericks belong to the Blazers. 
Postseason fate, whether settling for the play-in tournament or earning a winnable first-round series, is in their collective hands. And as he's proven yet again, there's not a leader in basketball you'd rather have grasping it than Lillard.
[h/t Jason Quick, The Athletic]