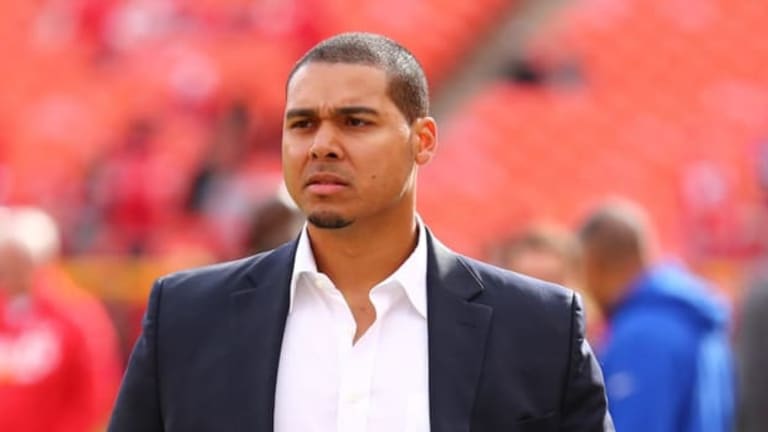 From Bears Training Camp to Bears GM
Bears tab Chiefs executive Ryan Poles to be GM and it means a former offensive lineman who once failed to make their team is now in charge of personnel.
Ryan Poles couldn't make the Bears as a player but now he'll run the team.
Poles has completed a strange journey from Chicago training camp player to general manager. The team on Tuesday confirmed Poles is their choice as GM.
"We are thrilled to be able to add someone of Ryan's background and football expertise to our organization," Bears board chairman George McCaskey said in a statement released by the team. "His accomplishments with the Chiefs speak for themselves and amplified the team's standing as one of the premier franchises in professional sports. 
"We are confident that under his leadership, we will reach our goal of bringing a Super Bowl championship to Chicago."
The reported hiring does set up a rather comical possibility and that is if they hire Colts defensive coordinator Matt Eberflus as head coach, they will replace one GM named Ryan and head coach named Matt with another GM named Ryan and another coach named Matt. Ryan Pace and Matt Nagy were fired after the 2021 season ended.
It's unknown whether Poles will get to actually pick his own head coach from among finalists the hiring committee assembled or will have input in adding a candidate or two. According to reports, Eberflus, former Colts and Lions coach Jim Caldwell and Cowboys defensive coordinator Dan Quinn are among the finalists for head coach, although Saints defensive coordinator Dennis Allen was scheduled to receive an initial interview on Tuesday, as well.
Poles was briefly a Bears player as an offensive lineman out of Boston College, when he was an undrafted free agent in 2008. He didn't make the team and never played in the NFL, then embarked on a career in personnel with the Kansas City Chiefs.
The new Bears GM is only 36 years old, a year younger than Pace was when he became Bears GM. 
"I am extremely grateful to George, the McCaskey family and the rest of the Bears organization for this opportunity," Poles said in the Bears' statement. "The Chicago Bears are one of the flagship franchises in the National Football League and are recognized as one of the most prestigious clubs in all of sports. It's an honor for me to join such a well-regarded organization. 
"Together with my family, I'm looking forward to hitting the ground running to help get this organization, its fan base and the city what they deserve: a winning team and a Super Bowl trophy."
Poles started out as a scouting assistant after briefly serving at Boston College as a football recruiter, then began working his way up the chain with the Chiefs. He became college scouting coordinator in 2010, director of college scouting in 2016, assistant director of player personnel in 2018 and executive director of player personnel last year.
Poles was part of the process to draft quarterback Patrick Mahomes and Travis Kelce, and had a big role in the Chiefs rebuilding their offensive line this year to make a run at another AFC championship game.
Poles was involved in all aspects of personnel while in Kansas City. He assisted GM Brett Veach by coordinating the draft and overseeing out-of-town scouts. He also oversaw all aspects of the college scouting across the country for the Chiefs while assisting with the pro personnel process and preparing for free agency. Since he started working in Kansas City in 2009, the Chiefs have had 69 Pro Bowl berths from 28 different players.
Twitter: BearDigest@BearsOnMaven