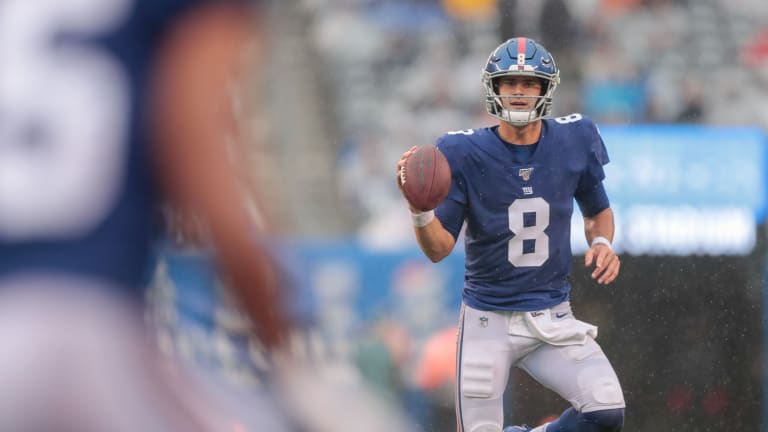 Despite Recent Struggles, Shurmur Still Bullish on Daniel Jones
Giants head coach Pat Shurmur wants nothing more than to win games, But just as important to him is helping rookie quarterback Daniel Jones continue his development as an NFL quarterback.
Giants head coach Pat Shurmur would like very much to have the best of both worlds.
The first and most obvious would be to win games and position the Giants to be competitive for a postseason berth.
The second thing--and perhaps just as important--would be to bring young quarterback Daniel Jones up to speed as quickly as possible, much in the same other teams like Jacksonville (Gardner Minshew) and Carolina (Kyle Allen) have done with their young quarterbacks.
But Shurmur is a realist. He is well aware of the rut that Jones has fallen into in trying to follow up his impressive Week 3 NFL showing when he turned in an NFC Offensive Player of the Week worthy performance against the Bucs.
In that game, Jones led the Giants to a thrilling, last-minute victory while completing 23 passes for a season-high 336 yards and two touchdowns.
After an equally strong showing against Washington the following week, Jones' stock has been falling. He struggled against the Vikings defense in Week 5, and then in Week 6, he threw three interceptions against the Patriots.
Against the Cardinals, he only threw one interception, but he was hit 12 times and sacked eight.
Shurmur will be the first to admit Joes hasn't been perfect, but he also insisted that the rookie's rough patch that continued into Sunday's loss to the Cardinals wasn't all that bad.
"I think he made a lot of nice throws in the game. Obviously, that was a tight throw to Rhett (Ellison) in the end zone for a touchdown. He's aggressive. He made another one down the sideline to Evan (Engram) that would have put us in scoring position. He made some other really good throws. He's tough, he's resilient, and I think he has a bright future. That's what I like about him."
Despite the struggles Jones has had with making some decisions, Shurmur said that there is noticeable growth in that department as well.
"Yeah, I see growth in everything. I think that's part of playing as a rookie. There are going to be some things that pop up that you see for the first time, and you react to it.
But make no mistake; Jones is far from being a finished product, and perhaps no one has been harder on Jones than the rookie himself.
"In some plays, in certain situations, I've made progress, and in others, I haven't," Jones said. "So, that's the challenge, to keep making progress and to make progress throughout the game, throughout the situation, whatever it is, to continue to improve on everything."
One glaring area Jones needs to improve is his ball security. Against the Cardinals, Jones had three fumbles, two of which were recovered and converted into scores by the Cardinals.
"Ball security is primary, especially for the quarterback," Shurmur said. "He got it swatted out of his hand on a screen. He was trying to hold off, Saquon (Barkley) popped a little bit late. But generally speaking, yeah, he has to secure the ball better."
Jones agrees.
"I think just making sure I have two hands on the ball in the pocket is a big thing, just not letting myself get lazy with that at all, just making sure I'm consistent with that," he said of fixing his fumbling problem.
"And when I'm running, keeping the ball secured, I think all those little things that you've heard for a long time that are just kind of fundamental to anyone holding the ball I think are things that I need to do better."
Another area in which Jones would like to improve is in recognizing when to throw the ball away versus hanging on to it.
"I think that's important to always have that in mind, and I think I need to do a better job in a lot of cases of just sensing when that timer is going off or when maybe I do have an extra half-second," Jones said.
"I think kind of just developing that, continuing to learn in those situations, and I'll be using that to help me progress and help me in the next situation."
Jones' desire to keep a play alive no matter what is perhaps also connected to his aggressive nature on the field, something teammates have commented on since Jones took over as the starter.
Somewhat of a gunslinger by nature, Jones has a high percentage of tight-window throws as well, often throwing to a receiver that is covered by multiple defenders.
"He is aggressive, and I think he has a downfield focus, which is good," added Shurmur. "That's sometimes why he holds onto it because he's waiting for his guy to get open.
"But there's a fine line there. There are times when we've all talked about quarterbacks that will just quickly check it down and not look down the field. Then there's criticism that goes with that. We want guys that are aggressive. It all comes back to the players and them trying to get the most out of every play. But also being smart, and I think he'll learn as he goes along here."
Because Shurmur wants Jones to learn from his mistakes, the head coach shot down any notion of sitting the rookie in favor of Eli Manning, if nor no other reason than to let Jones clear his head.
"I think Daniel is going to learn from everything that's going on," Shurmur said. "Just like all the other rookies and their playing, they're going to learn from the things that happen. But you have to learn, and you have to win games.
"So, we'll just keep working," Shurmur added. "You just get back to work and try to fix all of those things. But we live in the real world. The real world is you need to win football games, and I understand that. I'm well aware of that."
Giants Maven Weekly Fan Friday Mailbag
Want to participate in our Friday Fan Day mailbag? Send your questions to us at nygiantsmaven@gmail.com.
Giants Maven Social Media
Follow Patricia on Twitter @Patricia_Traina and don't forget to check out and like our Facebook page.
Sign up for our free newsletter
Sign up for our free newsletter and get breaking Giants news, notes, and more delivered to your inbox!
Can't get enough Big Blue news and analysis?
Subscribe to the FREE LockedOn Giants podcast, your daily podcast featuring all things New York Giants, available on iTunes, Google Play, Stitcher, FM Player and wherever else podcasts are offered.