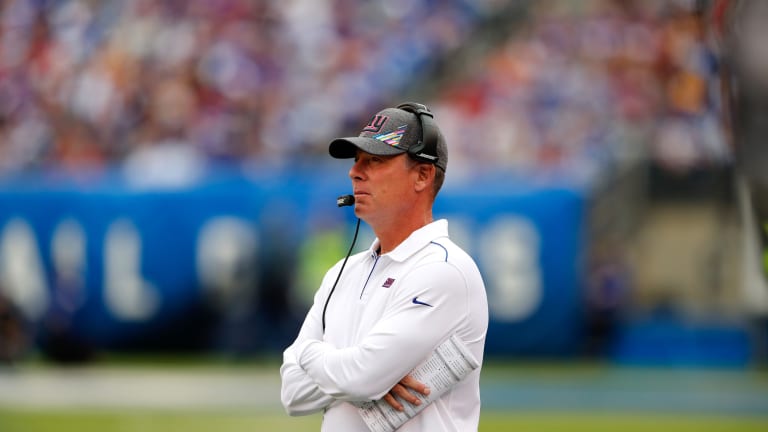 First and 10: Trying to Make Sense of Coaching Practices and Beliefs
The Giants coaching staff takes center stage in this week's collection of thoughts.
1. Pat Shurmur, Mike Shula, and Ryan Roeder are all part of the committee tasked with developing Jones--and that doesn't include Eli Manning and Alex Tanney, who serve as sounding boards for the rookie.
While it's not known precisely how the responsibilities are divided up among the coaching staff, the potential rotation of different voices in Jones' ear may or may not be the benefit they think it is.
In Shurmur's case, as the head coach, he has the entire team to worry about to where he can't be spending every moment of every day working with Jones. Same thing with Shula, who has the whole offense to oversee.
Roeder's role is listed as being an "offensive assistant," an ambiguous job title, and one that might suggest that he too is involved in other facets of the offense.
While there is a potential benefit to having all these different voices to help with Jones, the drawback is information overload.
Any way you look at it, it's an odd decision by Shurmur not to have a dedicated quarterbacks coach--a guy who can attach himself to Jones' hip during this developmental stage.
It's great that the Giants have all these voices, but sometimes simplicity is the best way to go given the complexities of the position.
Manning, remember, had Kevin Gilbride as his position coach as a rookie, a role Gilbride held through the 2006 season--the end of the critical three-year period when teams usually look for their franchise quarterbacks to come of age.
While Shurmur is unlikely to add a quarterbacks coach during the season, that absolutely should be one of the first things he does in the offseason when he evaluates his staff to help Jones in his development.
2. I get why the question was asked earlier this week, but no way will the Giants go back to Eli Manning unless there is an injury.
In hindsight, this was always going to be a rebuilding season given the youth on the defense. You go back to Eli now, and you run the risk of potentially undoing any confidence Jones has gained. You also send the wrong message.
It's one thing to struggle because you're not putting in the work; it's quite another to struggle because you're lazy. (Jones not only puts in the work, but he's also far from being lazy.)
3. Like everyone else who follows the NFL, I'm very interested to see if the Giants make any trades this year.
And speaking of trades, I have to admit that when it was first suggested to me that tight end Evan Engram could be on the block, I was in disbelief. After all, general manager Dave Gettleman has reshaped this roster into the vision that he and head coach Pat Shurmur want, so why even contemplate moving a promising young talent like Engram, who is also a prototypical player for the culture the team wants.
RELATED: Breaking Down the Pros, Cons, and Costs of the Giants Trade Rumors
Then it hit me. "Promising" is the keyword here. Engram, one of the last remaining draft picks from the Jerry Reese era, has not only had trouble staying healthy (not his fault), but he's yet to smash through his ceiling and become the type of consistent playmaker that the team likely thought he'd be by now.
I still doubt the Giants trade Engram--it would likely take at least a third and possibly a fifth for Gettleman even to contemplate making the move. However, if the Giants have decided that Engram is never going to be the player they thought he could be, then I can't see them picking up the option year on his rookie contract after this year.
And if that's the case, then yes, look to move him now to a team that would have him for the rest of this season and possibly for two more years.
4. This week on the LockedOn Giants podcast, Chris Bisignano and I explored the topic of whether Giants head coach Pat Shurmur might be on the hot seat if the Giants don't turn things around.
You can listen for yourself who said what if you wish, but I still believe that even if Shurmur goes on to lose these next three games against the Lions, Cowboys, and Jets, he's safe.
Putting the Daniel Jones factor aside, this is technically year two of what appears to be a three-year rebuild.
The defense, as we have seen, has a lot of young players who are still getting their feet wet, while on offense, well, you know about the quarterback.
At some point, though, this team needs to show progress instead of regressing the way it has been. 
I think if the Giants don't win at least two of these next three games, and if Shurmur continues making mindboggling in-game management decisions, if I'm the team's executive decision making brass, I strongly "suggest" to Shurmur, who by the way has a .304 winning percentage with the Giants which is the second-worst in franchise history among coaches with at least 20 games behind Bill Arnsparger's .200 mark, to consider relinquishing control of the play-calling duties to offensive coordinator Mike Shula and instead focus on being more of a game manager.
5. There's a lot I don't understand about how coaches go about doing things, but the one thing that has completely blown my mind of late is why, with the two offensive tackles struggling to keep the edges clean, haven't the coaches given more chip-blocking help?
According to Pro Football Focus, the Giants duo of Nate Solder (26) and Mike Remmers (24) have allowed the fourth- and sixth most pass-rush pressures (sacks, hits, and hurries combined) out of 97 offensive tackles in the NFL.
While that's not the worst of any team--the Chargers Sam Tevi and Trent Scott have combined for 54 total pressures--the combined 50 pass rush pressures have already exceeded the 38 total that Solder and Chad Wheeler allowed through seven games last year.
I get it that resources are limited and that keeping a tight end to block whenever it's a passing play isn't a practical solution just as lining up a sixth offensive lineman isn't. But would it be so bad to give whoever of Solder and Remmers has the worst of the matchups a little extra support in certain situations?
6. Disclaimer: I like the decision by the Giants to sign former Cardinal Deone Bucannon to a one-year minimum offer that includes an $805,000 base salary (which will only cost the Giants $520,882 against their cap).
However, there is a part of me that has some doubts as to whether Bucanoon is going to be the saving grace that Bettcher is probably hoping he'll be.
I fear that Bettcher is making the mistake of thinking that a player who had success a couple of years ago is still that same player. That is not always the case.
Yes, the Giants seem to have found luck with Markus Golden having recaptured his form. Still, more often than not when a coach goes back to someone he had in the past, he soon learns that the years have indeed taken their toll on that player--and if Bettcher needs proof of that, all he needs to do is look at what the majority of his other players from the desert are doing for him now.
As I see it, relying on guys from your past is taking the easy way out, and it seldom works. Coaches who can take guys they never worked with before and turn those players into solid contributors--those are the guys who are worth their weight in gold.
Moving forward, that's what I'd like to see the Giants do more of on defense when it comes to veteran players.
7. Behind the scenes, the Giants have made a very noticeable and long overdue (in my opinion) change in their locker room.
The players have stopped playing recreational games--ping-pong, cornhole tosses, Connet-4, cards--you name it, and the practice has ceased.
Tom Coughlin would be proud. Because when Coughlin was the head coach, he banned players from playing games or even bringing food into the locker room because he viewed the locker room as a workplace and not a recreational area to kick back and relax.
Pat Shurmur, perhaps in an attempt to give his young team a way to blow off steam, made that change this year when he turned what used to be the players' lounge into a recovery room and had all the cushiony chairs brought back to the locker room.
In retrospect, the only flaw with that thinking was a big one: With so many young players who perhaps are used to that kind of set up in college, some didn't fully grasp what it takes to be a professional.
Instead of playing games, now the players are studying film or their playbooks or getting extra treatment. I hope the sofas get removed as well because there are still far too many players who, during the media hour, plop down on those couches for a nap or to play on their phones.
When you are a team that's struggling to win games, that, much like the recreational games that used to fill the locker room, that is not the look you want to be presenting to people outside your building.
8. I'm disappointed with how the NFL handled Sterling Shepard's concussions.
The disappointment stems back to the Week 1 game against the Cowboys when the receiver took a blow to the head, but somehow everyone whose job it is to watch for these things missed that he was wobbly.
Shepard was allowed to complete that game, but the symptoms began to show up the next day, which led to him being placed in the protocol and costing him the Week 2 game.
Then in the game against the Vikings, Shepard again took a hit to the head. This time he was pulled from the game to be checked but was cleared to return. The next day when he reported to work, he again displayed symptoms associated with a concussion. And since then, he's missed three games and counting.
I can't help but wonder if that first missed concussion made him more susceptible to follow up issues. Regardless, I hope that the NFL considers increasing the number of spotters so that you reduce the number of players assigned to one person to watch.
9. In time, Daniel Jones is going to become much more comfortable with reading defenses to where he's not fooled into making bad throws that potentially get picked off.
But I hope his coaches never, ever change the fact that he's a gunslinger.
Gunslinging quarterbacks take their fair share of risks, often with a high reward as they become more proficient in reading defenses. Eli Manning, for most of his career, was a gunslinger. 
Assuming his NFL career is done, Manning will have thrown one interception for every 33.45 pass attempts while tossing one touchdown pass for every 22.27 pass attempts.
This is where Jones needs to be better. Making the occasional mistake is going to happen. But if the coaching staff can help him balance his downfield aggressiveness with throwing touchdowns more often than interceptions, then it will have earned its keep.
10. Insanity is doing the same thing over and over again and expecting different results.
I can't think of a better expression to summarize Pat Shurmur's approach to throwing challenge flags on pass interference.
If I remember correctly, there has been just one such call overturned since Week 3 despite, in some cases, there being evidence to encourage other reversals. (See the most recent call made against Janoris Jenkins against a Cardinals receiver who appeared to trip over his own two feet yet who got the benefit of defensive pass interference.)
It's pretty apparent that the officials don't like the rule, and unless the error can be spotted from Mars, they're not going to overturn it. Yet Shurmur, who has shown a bit of stubbornness to him of late, insists that he's going to keep doing it despite being 0-for-4 in challenging such plays.
"I trust that the system is in place to help fix errors," he said this week. "I guess there's the human element involved with what's egregious. I think as a coach when it's a play (with) a big chunk of yardage that could potentially eliminate a score if it's changed, then you consider it."
The problem with Shurmur's thinking is there is going to come a time when he has an unsuccessful challenge that costs him a timeout that maybe he could have used later in the game.
Seriously, for a guy who is believed to be relying on analytics, to ignore the data and insist that you believe in a flawed system is mindboggling. 
Giants Maven Weekly Fan Friday Mailbag
Want to participate in our Friday Fan Day mailbag? Send your questions to us at nygiantsmaven@gmail.com.
Giants Maven Social Media
Follow Patricia on Twitter @Patricia_Traina and don't forget to check out and like our Facebook page.
Sign up for our free newsletter
Sign up for our free newsletter and get breaking Giants news, notes, and more delivered to your inbox!
Can't get enough Big Blue news and analysis?
Subscribe to the FREE LockedOn Giants podcast, your daily podcast featuring all things New York Giants, available on iTunes, Google Play, Stitcher, FM Player and wherever else podcasts are offered.