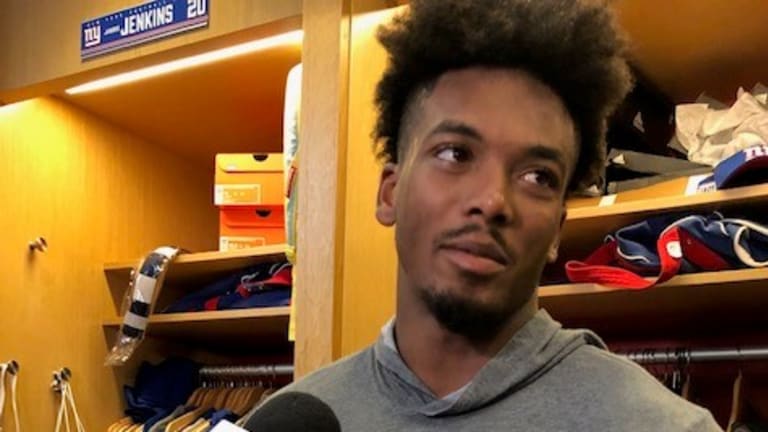 Sam Beal is Counting Down Days to His NFL Debut
It's been over two years since cornerback Sam Beal last played any level of football. He's hoping to get the green light to return Cornerback Sam Beal said he plans to be 100% ready for when the team does activate him off injured reserve.
Injuries have plagued Giants cornerback Sam Beal for the past two years, delaying his NFL debut more and more each day.
The return to health has been a slow process for Beal, who has experienced low points along the way. But this time is different.
"It was kind of tough for me last year, but this year I'm like, 'Okay, I have a light, so I can be more calm and take my time,'" he said.
In 2018, Beal had shoulder surgery shortly after his arrival to New York and was not eligible to return off injured reserve.
This year, he returned to the practice field this past spring and looked to be in the thick of things for a starting role on the defense until groin and hamstring injuries popped up.
A week before the Giants opened this season in Dallas, Beal was placed on injured reserve. But two weeks ago, the Giants designated Beal as eligible to return, and they have until next Wednesday to activate him.
The time away from the game hasn't been easy for Beal, but in the long run, he believes he's learned a thing or two about patience.
"As an athlete, when you love this game, when you have a passion for it, and you sit out and just watch, it's not the most fun, it takes a toll on you," Beal said. "Just having the injury last year, but I'm in a better spot because last year helped me."
Beal's family and friends also supported him as he went through the healing process after each injury.
"I had a real friend that stayed up here most of the time I was hurt--she helped me a lot," Beal said.
"You do it for your family; you don't do it for yourself. You love the game; that part is for you. When you do things and make the plays you make, you do it for your family, because they are watching. They are the ones that are important."
Despite needing to be patient this second time around, Beal said that he is ready to play.
"They know I want to be out there," Beal said. "I'm not even thinking about it because I know it's coming, I am just waiting for my moment. I'm waiting for that text or call, just ready for that moment."
If the Giants do decide to activate Beal this week, he would have a chance to make his NFL debut on Monday Night Football against the Dallas Cowboys.
"I have so much aggression, that's the perfect team," Beal said.
That's why Beal has been working hard to make sure he's ready for the Cowboys just in case he gets the call.
"You have to learn the playbook; you have to be quick, you have to be out there fast," Beal said.
"You have to show that you can play and show that you can run. The Cowboys are not an easy team, so I can't go out there 50 percent or 80 percent; I have to come out there 100 percent. They want to see the real me. I'll get there, though, only a couple more days."
While Beal doesn't know for sure if he'll be cleared medically, he's feeling optimistic about that happening sooner than later.
"I'm out there running around," Beal said. "As long as I'm out there learning the calls with the team, that's perfect for me."
Since being designated as eligible to return, Beal's path back to the gridiron began by getting scout team reps against wide receiver Golden Tate, whom the cornerback said has presented a good challenge.
"Going against those guys just gets your feet right back," Beal said. "They aren't taking it easy on you. Golden told me, 'You are going to get your feet wet again. We aren't going to take it easy on you just because you are on the scout team,' and I appreciated that. Every time I go out there, I try to work on my technique, my feet."
After such a long wait, Beal no longer feels nervous about running out onto an NFL field for the first time.
"Now, I just want to prove myself," he said. "I've been here, the feeling of being a rookie is out the window. I don't get butterflies anymore."