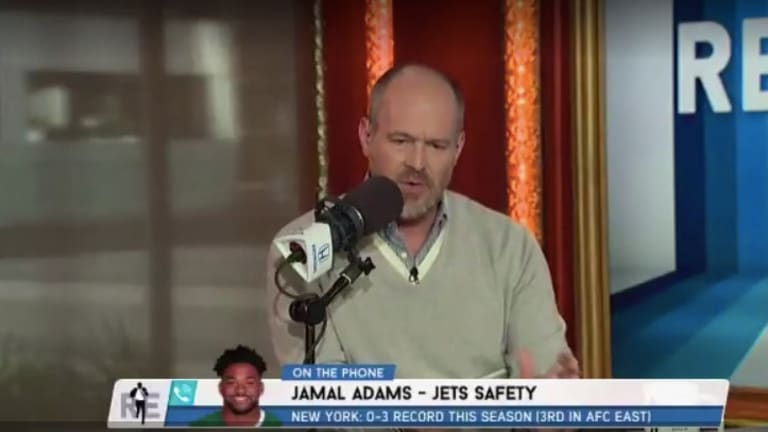 Publish date:
WATCH: Jets' Jamal Adams Tells Rich Eisen He's 'Not Focused' on Trade Rumors
Adams is aware of the speculation but pledged his loyalty to the Jets on the Rich Eisen Show.
This isn't the start to the season that the New York Jets (0-3) expected.
In the offseason, the Jets hired a new coach (Adam Gase) and new GM (Joe Douglas), while signing Pro Bowlers Le'Veon Bell and C.J. Mosley to a roster that already had Sam Darnold and Jamal Adams. 
Coming out of their bye week though, the depleted Jets are merely aiming to get in the win column when they face the host Eagles (2-2) on Sunday. 
Social media was ablaze after the Pro Bowl safety appeared to be benched towards the end of the Jets' loss in Week 2 against the Browns (2-2). 
Rumors of discontent soon began to swirl that Adams wanted out. The third-year pro's social media habits then came under intense observation, as it was noticed by Pro Football Talk that he unfollowed the Jets on Instagram. 
However, on the Rich Eisen Show on Tuesday, Adams flatly denies any trade interest on his end. 
(Quotes transcribed by SNY's Alex Smith)
"We're good. Obviously, I see a lot of people and I hear it, people saying that the Jets should trade me and all this. I'm not focused on that. I'm a New York Jet. I'm excited to be here," Adams said. "I'm focused on the team right now, I'm focused on trying to better myself for the team." 
When asked about the situation vs. the Browns, Adams gave a candid response. 
"To me, I got benched, but we sat down and we talked about it. They didn't really see it as benching me," Adams said. "They just wanted to show a way of calming me down. They thought I was a little bit out of control. They didn't want me to get kicked out for the next game."
Adams added: "I definitely would never do that to hurt the team. …We've moved on and there's no love lost with the coaching staff and I. We're on the same page and we're excited to get back out there."
While Adams does admit frustration stemming from this winless start, his ultimate priority is to help the Jets turn the season around. 
"It's tough, I'm not going to lie to you," Adams said. "I'm just trying to stay as positive as possible. Just continue to work hard, continue to better myself for the team, and continue to keep the team together. That's really my main focus, man."
Adams is determined to set a positive example for his peers as the Jets attempt to climb out of this hole.  
"Any time I step on the field I'm going to give it my all, and as long as I can do that, that's just what I bring to the game, and what I can do to keep the energy up on the field," Adams said. "We've just got to stay healthy and continue to bring the energy like we're always doing and stick together as a group, and we'll be fine."