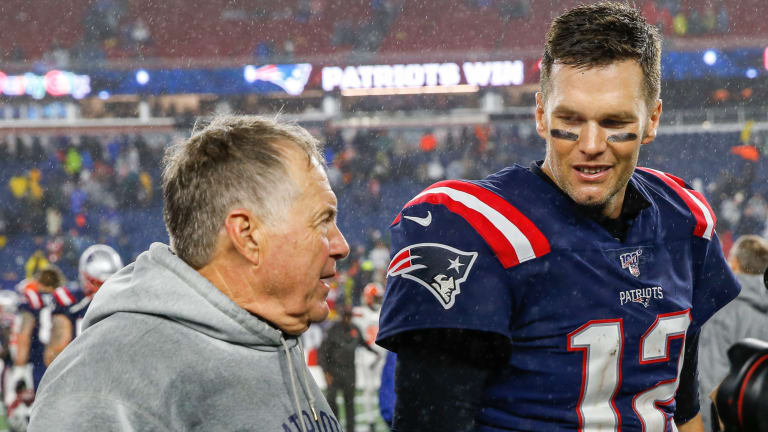 Simplicity Is One Part Tom Brady Believes Makes Bill Belichick a Great Coach
The GOAT explains what makes the other GOAT a GOAT.
Grabbing the 300th win of his head coaching career is something to hang Bill Belichick's hat on. He's the third NFL head coach to ever reach the milestone, which is telling of how well he has mentored, prepared and taught those who have sought guidance from him in football. 
But what exactly makes Belichick such a great coach? 
Tom Brady knows part of that answer. 
During his weekly Monday morning interview on WEEI's "Greg Hill Morning Show" Brady explained in part what makes Belichick so great. 
"Sometimes coaches give you so much information that you can't retain any of it because it's so much. What he does is he trims the fat. He gets you the meat of what they're trying to do...It's not information overload."
Just as Brady explained, Belichick gives you the cliff notes of what you need to know to succeed. Nothing more, nothing less. He simplifies the game and gets everyone on the same page, so when it matters the most you can excel and put your best foot forward. It's part of the reason why the Patriots have won six championship over the past 19 years, and why no. 7 looks to be on the way with a 42 year old quarterback and a historically great defense.