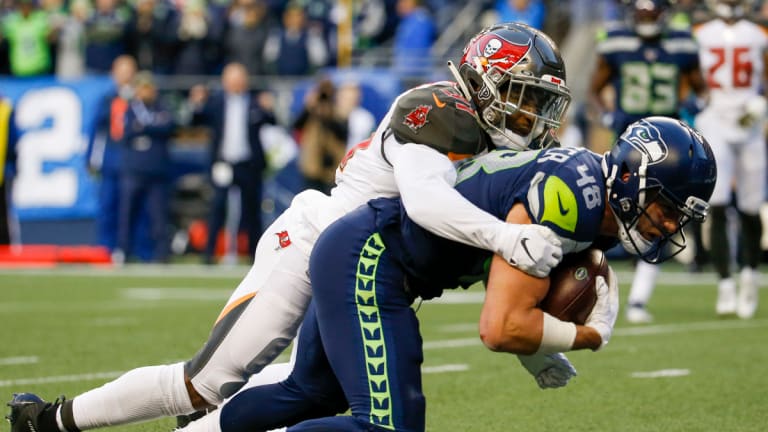 Practice Squad Bears Fruit for Seahawks
Graduating from Seattle's 10-player scout team, Jacob Hollister and Joey Hunt rose to the occasion and played key roles in the team's 40-34 overtime win over Tampa Bay.
Life as a practice squad player in the NFL isn't for everyone.
There's no such thing as job security, as the Seahawks and all 31 other teams constantly shuffle their 10-player practice squad, signing and cutting players from the unit on weekly basis. Just ask tight end Tyrone Swoopes, who has been signed and waived from Seattle's practice squad a total of nine times since entering the league in 2017.
Practice squad players also receive a salary that pales in comparison to those on the active roster, as they earn a minimum of $8,000 per week. If a player manages to survive the cutthroat business that is the NFL and stay on the practice squad for the entire season, he may earn $136,000 or more.
Considering practice squad players also don't get to dress for games, it begs the question… why would anyone sign up for such a monotonous job?
But while there's little to love about ultimately being a scout team player for lousy pay, those who do serve time on the practice squad can still be difference makers for their teams down the road. Look no further than tight end Jacob Hollister, who spent the first five weeks of this season on Seattle's practice squad before earning a promotion.
During Sunday's thrilling 40-34 win over the Buccaneers, Hollister's hard work and patience finally paid off. The third-year veteran out of Wyoming seized his latest opportunity, catching four passes for 37 yards and his first two NFL touchdowns, including a game-winner from Russell Wilson in overtime.
"You just always have to stay prepared, so that's what I was doing." Hollister said after the game. "Once my number was called, I knew that I had to be ready to go. That's the thing about this team, you have so many guys that are really close and you want them to be able to count on you. I was glad that I was able to provide some of that today."
Mobbed in the end zone, Hollister basked in the moment of glory, thanking God for his blessing. Though he didn't dress for the first five games of the season, teammates and coaches weren't blind to the effort he'd consistently exhibited on the practice field and delighted in seeing him contribute to a huge win.
As coach Pete Carroll noted, Hollister wasn't the only former practice squad standout who played a key role in Sunday's victory. Making just his second career start at center, Joey Hunt held his own blocking against massive defensive tackle Vita Vea, proving himself more than capable as a replacement for injured starter Justin Britt.
Only two years ago, Hunt spent the entire 2017 season on Seattle's practice squad and didn't get to dress for a single game. But he earned the respect of teammates and coaches for bringing maximum effort every day, and when opportunity knocked, everyone was pulling for him.
"Joey has busted his butt for so long around here." Carroll commented. "When he got his chance, guys were really fired up about it, that he got this done, and that he contributed to a win, and helped us, and played well, and all that."
Fired up for Hollister and Hunt, Carroll thinks their respective performances will serve as a positive lesson for those currently toiling on the practice squad. They may not be on the active roster, but they're still an important part of the football team and just one injury away from receiving their own chance to shine.
"They don't get the rewards; they don't get what they want. They have to just keep plugging, keep battling. So, when one of those guys get the chance to step up and then they come through and then they do something really well, it's a great message for those guys to keep on believing and keeping the hope alive."