Seahawks LB Shaquem Griffin to Unveil FlyEase Cleat on Monday Night Football
After a two-year collaboration with Nike, Griffin looks forward to showcasing a one-of-a-kind football cleat designed to enhance accessibility for all athletes.
As the first one-handed player to ever be drafted in NFL history, Shaquem Griffin's extraordinary story has resonated with people all around the globe and his impact has reached well outside the lines on the football field.
Now, the inspirational linebacker has his sights set on breaking new ground for athletes once again by sporting his own signature cleat when the Seahawks face the 49ers on Monday Night Football.
Back in 2012, teenager Matthew Walzer, who has cerebral palsy, penned a heartfelt letter to Nike CEO Mark Parker explaining his struggles tying shoes without assistance. To his surprise, the company had already been developing a new shoe with ease of access in mind and with his letter providing extra incentive, the FlyEase sneaker was introduced three years later, replacing laces with a zipper around the back of the shoe.
Over the past four years, this technology has only been available in running, lifestyle, and basketball shoes.
But shortly after being selected by Seattle in the fifth round of the 2018 NFL Draft and reuniting with his twin brother Shaquill in one of the league's best feel-good stories, Griffin signed a deal with Nike and the company inquired about his interest in helping develop the first ever FlyEase football cleat. He quickly signed on for the project, providing valuable input for the company's innovation team in Portland and testing out multiple prototypes on the practice field.
Griffin's ultimate goal? He hoped his efforts would help conceive a cleat offering superior comfort, fit, and style for the broader population. No more worrying about breaking them in, no more worrying about laces coming undone, and no more worrying about sizing issues. The player also happily shared from his own personal perspective that he won't have to be concerned about toe or foot pain while making cuts on the field.
"The whole thing is, you want to be comfortable while you're playing," Griffin said. "You don't want to have anything hurting. If you think about that, that means you can't put your sole focus on football."
Following nearly two years of designing and testing, the mission has finally been accomplished.
"I was like 'How can I navigate away from all of that so when I put on the cleat, it's ready to go?' I put my straps on and I'm taking off running," Griffin said. "The design team was able to put it all together and make it come to life and then the prototype came out. Everything I was able to say vocally, they put into the shoe."
The new Shaquem Griffin FlyEase cleat features a state-of-the-art liner that functions like a sock, extending above the top of the cleat to accommodate different foot shapes for maximum comfort. Instead of a zipper, three Velcro straps effectively lock the foot into place. This dynamic design allows for effortless on-field adjustments between plays, while a textured Polyurethane composite upper provides protection to the otherwise malleable material without compromising flexibility.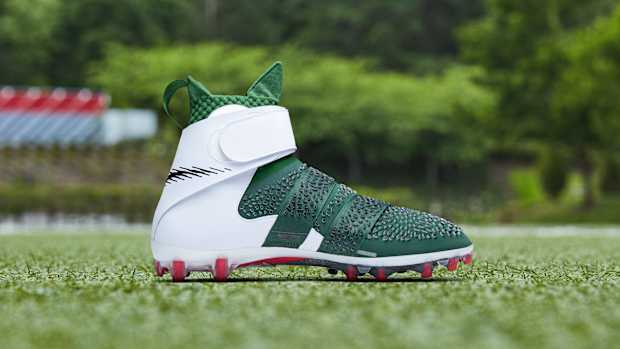 Throughout the development process, Nike made the second-year linebacker's feedback a top priority as they tinkered with two different prototypes.
"At Nike, when we sit down with an athlete, we're always looking to listen as intently and insightfully to the voice of the athlete [as possible]," a company spokesman said. "We just wanted to create something for him that would be a better experience for him. Easier to put on, easier to adjust, and we realize by working with extreme athletes that we can create something that works for everyone."
Though it took several tries to perfect the cleat and his pesky pinky toe complicated matters, Griffin soaked up the entire experience. In fact, his exuberance got the best of him a few times, including running around on Nike's test field with a prototype cleat on one foot and a tennis shoe on the other. He simply couldn't contain himself.
"It was actually fun," Griffin laughed, "I was the one who had to sit in their anxious waiting for the next prototype to come out, but the positive of it was, they made it exciting and I enjoyed every bit of it."
While Griffin's version of the FlyEase football cleat won't be available in stores and was designed specifically for the player, expect to see Nike implement many of the features in future models.
Down the road, Griffin envisions his signature cleat paving the way for players of all ages and ability levels to enjoy premium comfort without sacrificing visual appeal. It's the ultimate game-changer in gridiron aesthetics.
"Everything you want in that cleat is right there. If you want something that's true to size, it's like a sock. It'll fit straight to your foot, no matter if it's a wide foot or a narrow foot. If you want to be a guy who wants to show the swag and show the color of their cleats, they can where different colors in each quarter."
When it comes to the suggestion of wearing multiple colors of cleats in the same game, NFL commissioner Roger Goodell may have a thing or two to say.
But after months of anticipation, Griffin can't wait to showcase his new revolutionary kicks in front of a nationally televised audience as the Seahawks seek their eight win of the season.
"Oh man, I feel like a little kid in a candy store. I get the chance to actually see the idea that the entire team put together and see it come to life exactly how we want it. There's no more prototypes, it's the real deal. I mean, you can't get any more exciting than that. I just can't wait to put 'em on my feet and take off with 'em."