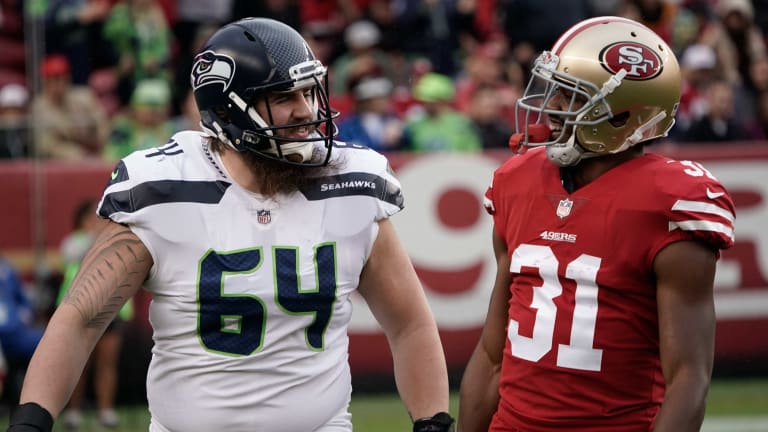 Seahawks Place C Justin Britt on IR, Promote G Jordan Roos
Britt is expected to undergo reconstructive surgery to repair a torn left ACL and will miss the rest of the 2019 season, leaving Seattle short-handed at center.
In expected news, the Seahawks officially placed veteran center Justin Britt on season-ending injured reserve on Tuesday.
Speaking with reporters on Monday, coach Pete Carroll confirmed Britt suffered a torn left ACL in Seattle's 27-20 win over Atlanta and would need to "have a major repair" on the injured knee.
With Britt sidelined for the rest of 2019, fourth-year center Joey Hunt replaced in him in the lineup on Sunday and is expected to start in his place for the rest of the season. Carroll expects the former sixth-round pick from TCU to do a "fine job" for Seattle in a replacement role.
"Joey did really well." Carroll said after Sunday's win. "Joey has always done well when he plays. He absolutely knows our stuff cold. He's a great communicator. He's different, totally different style player and athlete and all that, but he always gets the job done and he will."
In a corresponding roster move, the Seahawks added offensive line depth by promoting guard Jordan Roos from the practice squad. This will be the second time the third-year pro out of Purdue has joined the 53-man roster, as he was called up in Week 6 and 7 when D.J. Fluker was out with a hamstring injury.
Interestingly, Roos didn't play any center at the college level, making his promotion a somewhat peculiar one, especially with Ethan Pocic still weeks away from returning. It has to be assumed Seattle has been working him at the position on the practice field during his two-plus years with the team and views him as a suitable backup option behind Hunt.
The Seahawks may also have another move in the works, though it appears the trade deadline will come and go without any significant moves by the organization.