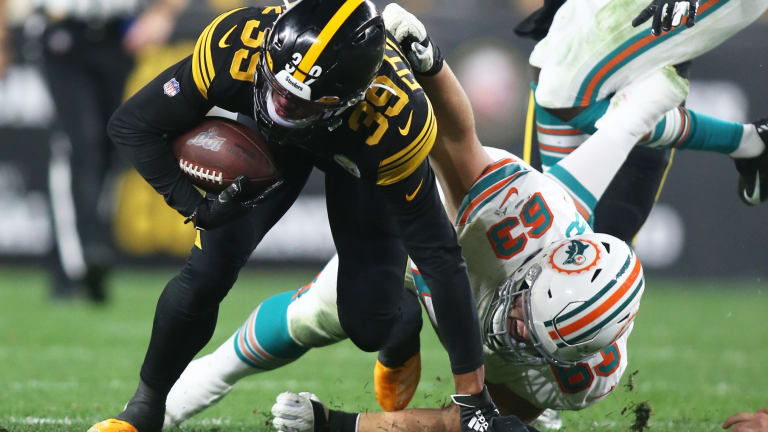 Minkah Fitzpatrick Proved He Was Worth the Trade
Since being traded in Week 3, Minkah Fitzpatrick has made his mark on the Pittsburgh Steelers defense and it showed against his former team.
The critics were loud when the Pittsburgh Steelers traded a first-round pick to the Miami Dolphins for Minkah Fitzaptrick. The second-year safety was still trying to find his role in Miami, and many stuck by their word - the Steelers wasted an early first-round pick. 
Five weeks since the trade, those critics are quiet. Minkah Fitzpatrick has made his mark since his first game in black and yellow and hasn't looked back. Three interceptions and a fumble recovery hasn't just impacted this defense, it's completed it. 
Pittsburgh was on the verge of overcoming the defensive hump for years. Season after season it seemed like they were about to have the breakout year their expectations warranted, only to fall in disappointment time and time again. 
It was the case during the team's first two games. After a summer of building the expectations, again, the Steelers' defense came out slower than they have in years past. The group that should've shut down the Patriots were immediately looked at as one of the worst defenses in the NFL. And that continued into Week 2. 
In one trade, that changed. The addition of Minkah Fitzpatrick made something click, and all of a sudden the Steelers had a defense strong enough to win games.
It stems from the playmaker effect. Without Fitzpatrick on the field, the Steelers' secondary lacked that x-factor. The player that, at any moment, can put the drive in the hands of the defense. A Troy Polumalu-type figure.
That's Fitzpatrick. A reliable coverage man in the middle, who always seems to be around the ball. In the five games he's played as a Steeler, there have been minimum mistakes made on his part. With that, the defense as a whole has seemed to become more reliable. 
And then they played Miami. Throughout the week, Fitzpatrick was asked, what felt like every day, about playing the team that dealt him. Every time, he assured that the Dolphins were a good team on the verge of a few victories. He respected his former teammates and kept his words about their struggles light. 
On the field, his two interceptions did all the talking for him. He may not have wanted to be a Dolphin but he wasn't going to leave without them knowing they missed out on a superstar.
In a short time, he's shut down everyone who doubted the move. No matter where the Steelers finish this season, Fitzpatrick is a trade that was worth a first-rounder. If you take away all the injuries, and keep Fitzpatrick around, this team is certainly not fighting for their season at 3-4.