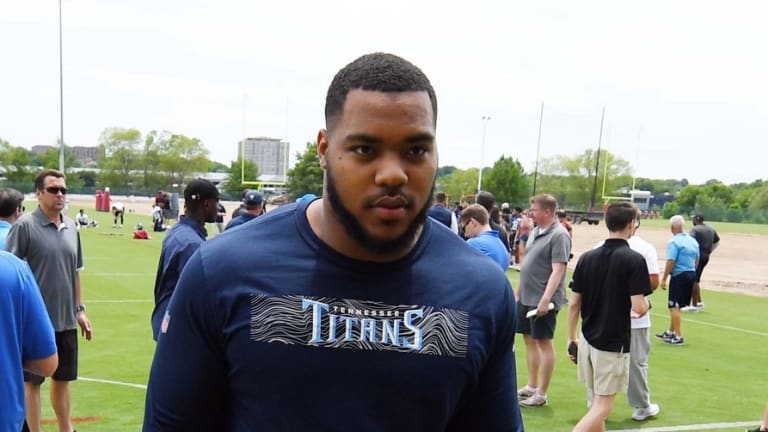 Simmons Added to Roster, Ready for NFL Debut
Titans' first-round pick has been sidelined by a knee injury sustained in February
NASHVILLE -- Dean Pees said this week he would have to wait and see before he could comment on what Jeffery Simmons might add to the Tennessee Titans defense.
"We'll never know until he plays," Pees said.
The wait is almost over.
The Titans added Simmons to their 53-man roster Saturday, which cleared the way for the first-round draft pick to make his NFL debut Sunday against the Los Angeles Chargers at Nissan Stadium. The 19th overall pick in the 2019 NFL Draft had been on the Non-Football Injury List due to a knee injury sustained during pre-draft training and took part in his first practice session on Monday. Apparently, a week of workouts was all he needed.
"I'm willing to do whatever to help this team win," Simmons said Wednesday. "If that's on down the line or if it's Sunday, I know coach [Mike] Vrabel and everybody else in this organization won't lead me in the wrong way. … I'm trusting them to put me in the right position to help this team win, to do whatever I have to do to help this team win."
In addition to the move with Simmons, the Titans (2-4) promoted outside linebacker Derick Roberson from the practice squad to the active roster. To make room for those two defensive linemen Brent Urban and Matt Dickerson were released.
Simmons (6-foot-4, 305 pounds) was an All-American defensive tackle at Mississippi State and was considered a top 10 (possibly a top five) overall prospect in this year's draft. The knee injury, which required reconstructive surgery, and an off-the-field incident prior to the start of his college career caused him to drop to the Titans at No. 19. Franchise officials said they believed he would have been a worthwhile selection even if he did not play a down this season.
"He's a big, powerful man, really good size," Vrabel said. "He's been concentrating hard on his fundamentals, concentrating on his pad level, things that maybe in college just being bigger, and faster, and stronger, he was able to get by with. I think with the injury we were able to isolate and identify some of those things.
"So, we'll see kind of where he fits in, but I think that there's some places along the front that he could easily fit into."
Tennessee's defense entered the week among the NFL's top 10 in points allowed per game, yards allowed per game, sacks and interceptions, among other areas. It has not allowed more than 20 points in a game and has limited opponents to a 27.6 percent conversion rate on third down.
It is easy to imagine that a player of Simmons' ability will make that unit even better.
"Do I think he's a talented guy? Yes, he's a very talented guy or we wouldn't have picked him where we picked him," Pees said. "Anytime you talk about where a guy can be … until you've seen him do it, you don't know."
Stay tuned for Sunday.