Live Blog: Razorbacks Drop First Game at SEC Tournament
Hogs can't get enough hitting to get past pitching woes, falling to Alabama on Wednesday
HOOVER, Ala. — Arkansas still can't beat Alabama.
The Razorbacks ran into pitching problems, didn't have Dave Van Horn in the dugout and couldn't get the key hits, falling to 
It was a little surprising when the announcement came from the UA earlier this afternoon:
If somebody saw this coming they weren't telling anybody. No word on anything else about his condition.
For a Razorback team that has struggled lately, this is just one more thing they have to get over as they will face Alabama just a few days away from losing two of three last weekend in the final regular-season series.
---
1st Inning: Hogs 0, Alabama 0
Will McEntire gets things off and rolling to start the game, getting two strikeouts around another big-time fielding play by second baseman Robert Moore.
Brady Slavens got on base on a fielding error by the Crimson Tide with one out, then Chris Lanzilli grounded into a double play to end the inning.
---
2nd Inning: Alabama 2, Hogs 0
Crimson Tide gets the leadoff batter on base with a hit that McEntire knocked down, but couldn't get a throw off. Dominic Tamez tried to steal second, but Michael Turner's throw to Moore covering handled that, but McEntire walked the next batter, gave up a hit and loaded the bases on a free pass.
As so often happens those walks came back to hurt McEntire.
A grounder by Tommy Seidl to Jalen Battles at shortstop could have ended the top of the inning but Moore bounced a throw to first base and Peyton Stovall couldn't throw out the second runner, who scored from second.
Hogs can't get anybody on base in the bottom of the inning.
---
3rd Inning: Alabama 3, Hogs 1
McEntire comes out for the third and walks the leadoff batter on four straight pitches, which gets the bullpen up and going with Zack Morris working quickly.
The Tide push across another run, Morris comes in to replace McEntire and the Hogs finally get out of the inning.
Jalen Battles leads off the bottom of the inning with a homer to left field that gets the Hogs on the board.
---
4th Inning: Alabama 4, Hogs 1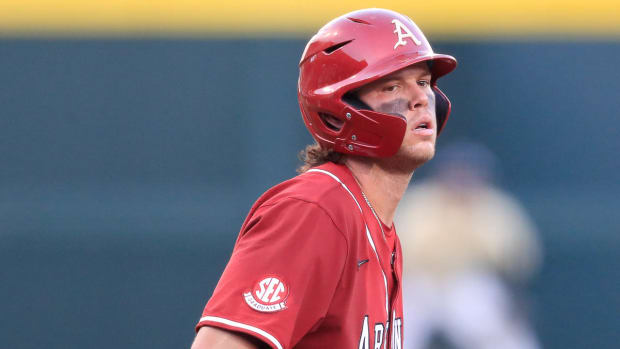 Turner commits Hogs' second error of the day in the top of the fourth throwing the ball into left field trying to cut down a runner, allowing the Crimson Tide to add another run.
Lanzilli gets a one-out single to left field and gets to second on a ground-out by Turner but gets stranded there.
---
5th Inning: Alabama 4, Hogs 1
Kole Ramage comes in and settles things down a little. Alabama gets a double, but then the Hogs turn a double play with a play at the plate to nail a Tide runner and get out of the top of the inning with no more damage.
Bradydon Webb leads off the bottom of the inning getting hit by a pitch, then moves to second on fielder's choice, Zach Gregory struck out and Cayden Wallace grounds out to end the inning.
---
6th Inning: Alabama 4, Hogs 3
Hogs retire the Crimson Tide in order with Ramage seeming to settle in on the mound, throwing strikes and getting outs.
Lanzilli pulls the Hogs within a run, cracking a two-run homer over the left-field wall driving in Slavens, who had reached on a walk.
---
7th Inning: Alabama 4, Hogs 3
Hogs retire Alabama in order at the top of the inning. The second out came on a grounder to Battles at shortstop in the hole by the Tide's Caden Rose and the call was challenged, then stood. It allowed Arkansas to get out of the inning with no further damage.
The Tide changed pitchers after getting Stovall out on a routine grounder, then Battles grounds out with Alabama changing pitchers again. This game is a priority for them if they want to have any shot of getting into the NCAA.
The Hogs get a pair of runners on base, including Gregory in scoring position, but can't push any runs across.
---
8th Inning: Alabama 4, Hogs 3
Evan Taylor comes in to pitch for Hogs and gets a couple of quick outs, then walks Tamez on four straight pitches. Fans have seen this movie before. Brady Tygart starting to get loose in the bullpen. But gets out of the inning on a grounder to Battles.
Hogs can't generate anything in the bottom of the inning.
---
Fina: Alabama 4, Hogs 3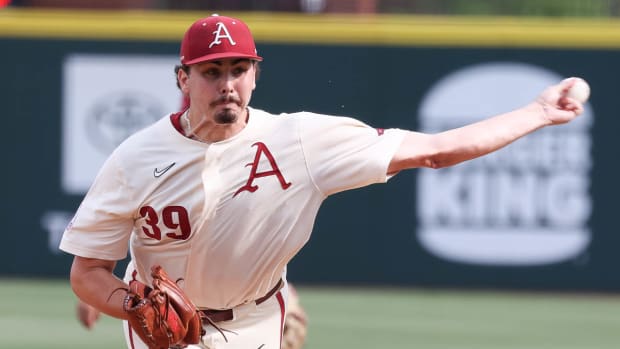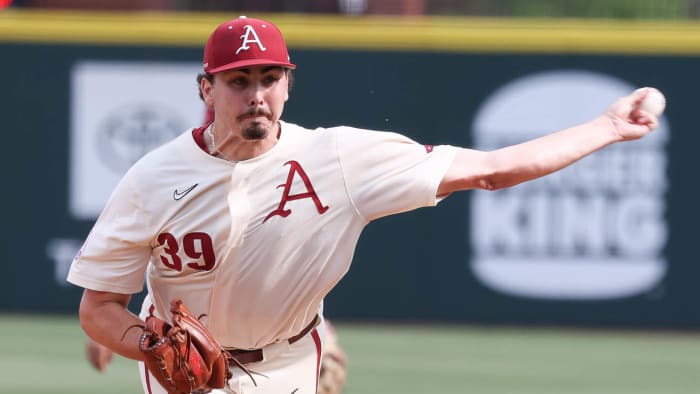 Taylor comes back out for the ninth inning, gets a quick out, then a strikeout and closed it out on a grounder to Moore.
Hogs down to final three outs. Webb strikes out, Kendall Diggs grounds out and Battles delivers a two-out single through the infield to left but Jace Bohrofen strikes out to end the inning and the game.
---
HOGS FEED
LANE KIFFIN IS ABSOLUTELY RIGHT ABOUT NEW WORLD OF COLLEGE FOOTBALL
HIGH SCHOOL FOOTBALL MAY BE ON SLIPPERY SLOPE TO DRASTIC CHANGE IN ARKANSAS
WATCH-LISTEN: BASEBALL LOOKS TO AVENGE ALABAMA LOSSES IN TOURNEY
IS GREG SANKEY, SEC, LOOKING BIGGER THAN ANY OF US WOULD GUESS?
HAVING ONE PERMANENT OPPONENT IN SEC MIGHT BE AWKWARD FOR HOGS
ESPN ANALYTICS SAYS HOGS NEXT TO LAST IN SEC WEST FOOTBALL RACE
---
• Return to allHogs home page.
• Want to join in on the discussion? Click here to become a member of the allHOGS message board community today!