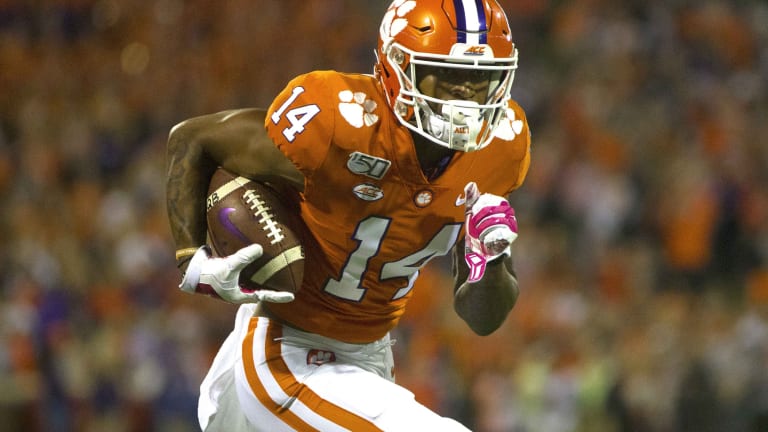 Clemson 59 Boston College 7: Eagles Destroyed By Defending Champions
Tough night in Death Valley
It was an ugly night for the Boston College Eagles who went down to Clemson and got annihilated by the defending champions 59-7. Sophomore quarterback Trevor Lawrence who had been panned for his play the past week was nearly flawless against the Eagles throwing 16/19 for three touchdowns, while Travis Etienne was nearly unstoppable rushing for 109 yards and 3 touchdowns. 
Clemson struck early marching down the field on rushes by of ten and eleven yards by Travis Etienne, but stalled out and was held to a B.T. Potter 23 yard field goal. That field goal would be the last time the Tigers would be held out of the end zone on the next five drives. From then on each Clemson drive looked almost identical, there was little pressure on Lawrence who would gracefully move the ball down the field to wide outs who would grab extra yardage on poor tackling, while Travis Etienne carved out nice chunks on his runs. Boston College struggled to contain the Tiger wide receivers who killed BC's defenders in space. Justyn Ross had 60 receiving yards, and Diondre Overton had three touchdowns. Clemson was buzzing on offense, and the Boston College defense held no answers, at one point allowing 200 yards after the catch. 
It was almost an almost effortless effort by the Tigers, who carved up BC for three straight quarters. By the end of the game Clemson set the record for most yards against the Eagles in history with 674 yards, besting the 664 yards allowed to Louisville earlier this year. Tonight was the third time that BC allowed over 550 yards on defense this season 
The Boston College offense struggled all night as well, Dennis Grosel went 3/14 for 53 yards, and had a fumble lost that Clemson scooped for a touchdown. Grosel was chased all game, never looked comfortable, and threw a few ill-advised passes that should have been intercepted. AJ Dillon looked good on BC's lone touchdown drive, but was held in check for the rest of the game only rushing for 85 yards. It was just one of those games where there when the Tigers held the entire offense in check, as David Bailey, Zay Flowers and others were complete non factors. 
But now the Eagles have to put this atrocious game behind them, and prepare for the Syracuse Orange who they will face off next week on the road at noon.