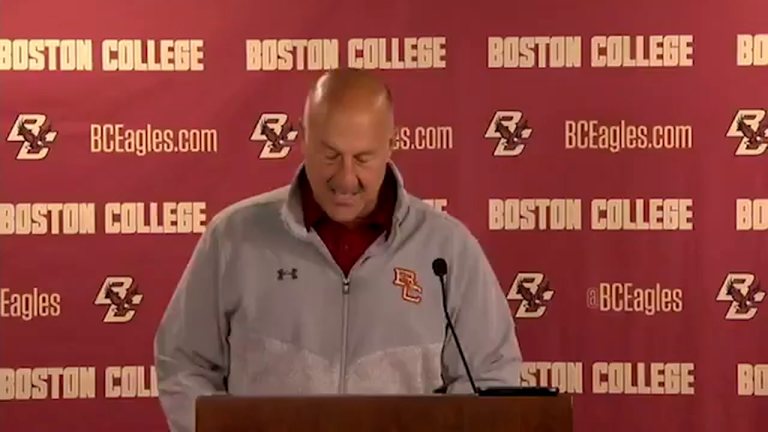 Five Takeaways From Steve Addazio's Press Conference
What did the head coach have to say?
On Monday, Boston College head coach Steve Addazio talked with the media about Saturday's 59-7 loss to Clemson and their upcoming matchup with Syracuse. Here are the five takeways from his comments. 
Isaiah McDuffie's Status Is Still Up In The Air But He Dressed Against Clemson
Like most weeks this year Addazio could not give a firm update on linebacker Isaiah McDuffie's return from injury. However, he did mention that he was dressed for the first time on Saturday. 
"I don't know that he's officially been cleared to play yet, but I think he's certainly right there." Addazio told reporters.  "I think, if you ask me that question at the end of the week, I might have a more accurate answer for you. Obviously, he's right there. He's right there now."
Addazio Is Carefully Managing Getting Freshman Playing Time Without Burning Redshirts. 
Addazio was asked about getting players into games, which he did against Clemson (Matt Valecce, Patrick Garwo etc.), Remember each player can still play up to four games and retain their redshirt year. He talked about how they games remaining for each player charted out in their offices.
"Some guys we've determined they're just going to play. I'd say there's about three guys probably that we're still managing that. If the right injuries occur, boom, you trigger it. If they don't, you're trying to manage it. And in a perfect world, you maintain a redshirt year and be able to maximize portions thereof -- four games, four games....plus you have a bowl game.
So in a perfect world, you're trying to manage that, you know what I mean? So we meet on that. I have a participation count board, and really, try to really pay attention to where guys are."
3. Not a lot to evaluate from Dennis Grosel in the Clemson game
As we all saw, Grosel was not much of a factor against Clemson. According to Addazio he didn't get enough to really evaluate Grosel's game. 
"Threw a couple of nice balls. Probably threw a couple of risky balls, but in the course of the first half of football, we didn't touch it a ton. They didn't punt in the first half. So I want say it was too high, and I certainly wouldn't say it was too low. I think it was somewhere in the middle. So I'm anxious to see how he plays this week."
2. Addazio Loves Rivalry with Syracuse
Boston College has a long storied rivalry with Syracuse, in which the Orange have a 31-20 edge. Steve Addazio has been on both sides of the rivalry and he believes the games are very important. 
"I think it's huge. I think Pittsburgh should be on our side. I don't understand all that. Honestly, I don't get it, but I'm big on the geographical deals. Even when we play out of conference, those games to be geographically based. Probably part of it is I got brought up, when I was at Syracuse and the Big East, and I'm used to that kind of thing. It's good fan interest. It's good player interest. It's good recruiting interest. I love it. So the more of that, the better, to me."
1. AJ Dillon Has Had An Incredible Year And It Will Help Further Down The Road
AJ Dillon broke the all time rushing record at Boston College on Saturday against Clemson. Addazio talked about how Dillon has conducted himself this year:
"What a great, great honor for him and well-deserved and hard working. He's done a fabulous job. I think he's just having a heck of year -- the way he's handling his business, the way his work ethic is and preparation. Fantastic mark that he's set and will continue to grow on."
And how Dillon's prolific season will help recruiting:
"Recruiting certainly -- I mean, we've got David Bailey here. We've got Patrick Garwo here. I mean, Patrick's an elite player. He understands that he came to a place where they not only want to run the football, know how to run the football, and will put it back in a very advantageous formation to do that.

So there's a reason why I think we've got some very, very talented players at that position, and hopefully we'll continue down that same path."