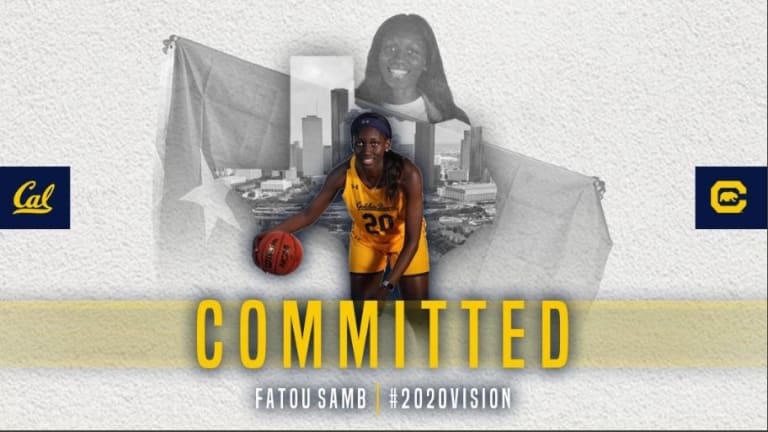 Cal Women's Basketball: Bears Land Top-60 Recruit Fatou Samb
Samb commits to Cal and new Bears head coach Charmin Smith
Samb commits to Cal and new Bears head coach Charmin Smith
New Cal women's basketball coach Charmin Smith got her first verbal commitment for the class of 2020, and it was a major achievement as five-star post player Fatou Samb announced on social media that she has committed to Cal for 2020.
The 6-foot-3 Samb, who attends Westside High School in Houston, Texas, is ranked as the nation's 53rd-best overall prospect in the class by ESPN's HoopGurlz.
Harvard, Michigan, Wake Forest and Rice were the other schools Samb was considering.
She announced her commitment on Twitter:
Here is an evaluation of Samb by HoopGurlz:
Top 64-July 2019: Skilled low-post prospect with efficient interior game; post up game yields results; defends in the paint, rebounds and initiates the fast break; mobile in transition game; emerges and elite front court prospect in the class of 2020. (Olson)
February 2019: Low-post performer brings emerging back-to-basket game results; nimble footwork in the paint, active on the glass; mobile in uptempo game; developing physical presence in the block is the key to next level impact. (Olson)
February 2018: Agile post prospect offers interior footwork, emerging offensive arsenal in the paint; physical on the block, aggressive on the glass; mobile in transition game; potential. (Olson).
Here are some highlights of Samb: 
This commitment should mitigate doubts about whether Smith can recruit.
Cal plays exhibition games on October 27 against Beijing Normal University and November 3 against Vanguard, then opens its regular season with a road game against Harvard on November 8. The Bears then travel to Storrs, Conn., to face perennial powerhouse Connecticut on November 10.