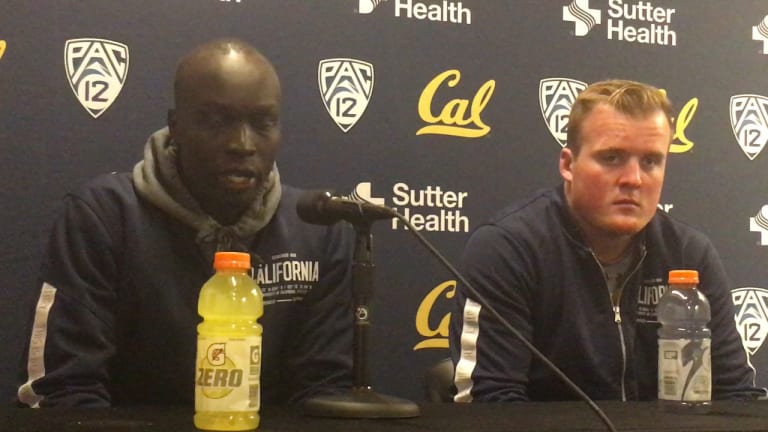 Cal Football Video: Defense Surprised by its Recent Troubles
After holding 14 consecutive opponents below 25 points, the Bears were unable to even slow Utah much of the night
Junior linebacker Kuony Deng hesitated briefly when asked if he was surprised that Cal has lost its past four games after starting the season 4-0.
But teammate Evan Weaver didn't miss a beat. He reached over, pulled the microphone to his side of the interview podium and said, "Yes."
Cal's defense, the strength of the team for two seasons, couldn't prevent Oregon State from putting together an 80-yard game-winning drive in the fourth quarter a week earlier.
And they had no answer when the 12th-ranked Utes scored touchdowns on five straight drives through the start of the third quarter Saturday on the way to a 35-0 victory at Rice-Eccles Stadium in Salt Lake City.
"It's not what we expected, obviously," said Deng, who had a career-high 16 tackles. "You can't feel sorry for yourself so you've just got to do something about it. That's where we're at. We're going to do something about it."
The Bears have a week to get healthy and figure out how to play better.
Making improvement on defense is a must, given the state of their offense, with injuries and inexperience everywhere on that side of the ball.
The defense is reasonably healthy, even getting nickel back Traveon Beck back from injury for the Utah game.
None of it mattered. After forcing a three-and-out on the Utes' first possession, Cal allowed them to assemble scoring drives of 99, 90, 72, 76 and 50 yards on their next five turns with the football.
Utah converted six of its first seven third downs and outgained Cal 438 yards to 59 through the first three quarters. Zack Moss ran for 115 yards and two touchdowns and quarterback Tyler Huntley passed for 214 yards and a TD, then watched from the sidelines the entire second half.
Weaver had 22 tackles, including a tackle for loss and a forced fumble, and now has 127 tackles this season - 21 more than any player in FBS. He's on pace to break the single-season FBS record and has moved to No. 4 on Cal's career tackles list.
But Weaver is concerned only with the bottom line after each game. He wants to win, not just for himself and his teammates but for the community of fans and supporters who follow the Bears.
He says the Bears will not go quietly. 
"I'm not going out like a posey, so we're going to put our full effort going forward."