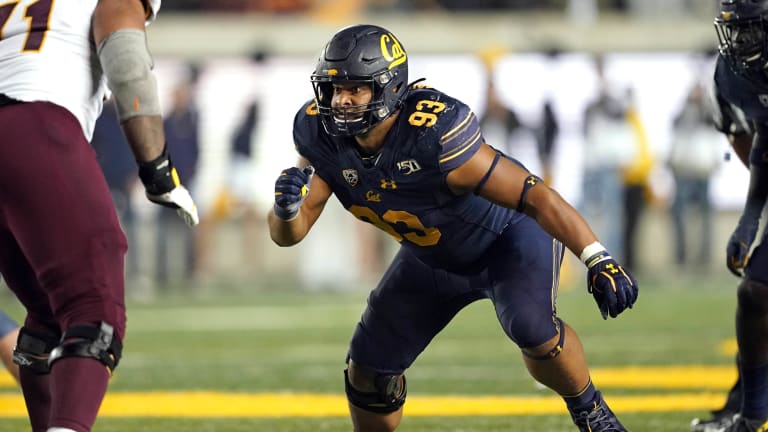 Cal Football: Luc Bequette, Zeandae Johnson, Josh Drayden Will Get Another Year of Eligibility
These three will help the Bears in 2020 assuming the extra year is granted
Three key Cal defensive players are expected to get an extra year of eligibility.
Cal head coach Justin Wilcox said on Wednesday that Cal expects defensive end Luc Bequette, defensive end Zeandae Johnson and cornerback Josh Drayden to be back for the 2020 season even though all three are listed as seniors.
All three are in line to get an additional year of eligibility based on injuries incurred.
As a result they will not be among the Cal players who will take part in senior day prior to Cal's Saturday night game against USC, which is the final home game of the season.
"Z and Luc will be eligible for another year and Josh has played only played in four games," Wilcox said. "There's a process they have to work through with our compliance office, and it ultimately goes to the NCAA, but all the work's been done. Then it's a matter of submitting it. You don't technically get [the year] back until you finish the season."
It will likely be the spring or summer before Cal gets official confirmation from the NCAA that another year has been granted, but everything seems to be in place for those players to get an extra season.
For Bequette and Johnson the 2020 season will represent a sixth year of eligibility, which can be granted if a player has missed a substantial part of a season with an injury.
Bequette redshirted his first year at Cal in 2015, then played in four games in 2016 before suffering a torn ACL in warmups prior to the fifth game. Johnson redshirted his freshman season in 2015, played in 2016, but missed all of the 2017 season with an injury.
Bequette has had an outstanding 2019 season, playing both defensive end and nose guard. He has 40 tackles, which are the most by a Cal defensive lineman, and has recorded 3.5 tackles for loss, including 2.5 sacks, this year. Johnson has 30 tackles, including 3.0 tackles for loss and 2.5 sacks.
Drayden, who played as a true freshman, figures to get another year because this season he played only four games, which is the limit for the number of games a player can play and still be eligible for a redshirt season. He recorded 4.0 tackles for loss this year.