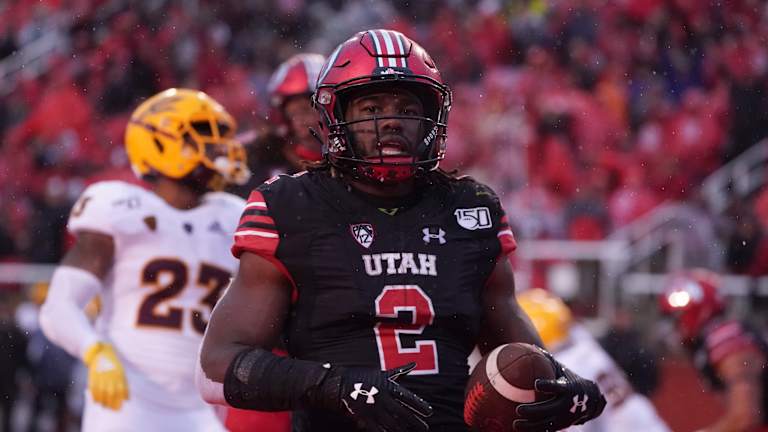 Cal Football:  Preview Box for Saturday Night's Game at No. 12 Utah
Bears are a three-touchdown underdog, and it will be cold
Cal travels to Salt Lake City to face No. 12 Utah on cold Saturday evening. Freshman quarterback Spencer Brasch is likely to make his first start for Cal, which has lost three straight.
Here are the important facts for Saturday's contest:
CAL (4-3, 1-3 Pac-12) vs. NO. 12 Utah (6-1, 3-1 Pac-12)
SITE: Rice-Eccles Stadium, Salt Lake City, Utah
WHEN: Saturday, 7 p.m. Pacific time (8 p.m. Mountain time)
TV: FS1 – 1 (Tim Brando (play-by-play), Spencer Tillman (analyst), Coley Harvey (sideline reporter)
RADIO: KGO 810 AM - Joe Starkey (Play-By-Play), Mike Pawlawski (Analyst), Todd McKim (Sideline Reporter)
BETTING LINE: Utah favored by 21 points (as of Friday); Over/Under – 36.5
WEATHER FORECAST: It will be cold Saturday night in Salt Lake City with a chance of snow. The temperature will drop to about 30 degrees Saturday night under partly cloudy skies. Snow flurries or snow showers are possible late Saturday night.
CAL-UTAH HISTORY: Cal leads the all-time series 6-5. The last time the teams met was 2016, when Cal defeated No. 18 Utah 28-23 in Berkeley with a goal-line stand as time expired. The Bears stopped the Utes on four plays after Utah had a first down at the Cal 2-yard line. The last time the teams played in Salt Lake City was 2015, when No. 5 Utah defeated No. 23 Cal 30-24.
CAL STORYLINES: Cal has lost three straight, including last week's 21-17 home loss to Oregon State, a game in which Cal allowed nine sacks. . . . Cal freshman quarterback Spencer Brasch is likely to make his first collegiate start on Saturday. He went 2-for-6 against Oregon State after replacing injured Devon Modster, who has not been ruled out for Saturday's game but is not likely to play . . . .Quarterback Chase Garbers remains sidelined with a shoulder injury, although he is expected to return sometimes this season. A number of Cal players besides Modster are questionable for Saturday's game because of injuries: DB Traveon Beck, WR Kekoa Crawford, WR Jeremiah Hawkins, C Michael Shaffell, WR Ricky Walker III. . . Cal's defense has not allowed an opponent to score more than 24 points in any of the past 14 games, the longest such active streak in the country . . . Bears running back Chistopher Brown Jr. and Marcel Dancy averaged just 2.27 yards per carry against Oregon State, and Utah ranks second in the nation in rushing defense.
UTAH STORYLINES: Utah has won three straight since its 30-23 loss to USC, and the Utes are tied with the Trojans for first place in the Pac-12 South . . . The Utes have outscored their past three opponents (Washington State, Oregon State and Arizona State) by a combined score of 111-23. The only touchdown yielded in the past two games was scored by Oregon State with less than a minute left with Utah holding a 52-0 lead. . . . Utah QB Tyler Huntley leads the Pac-12 in passer rating and will probably play on Saturday, although there is a slight chance he will be held out after suffering an injury last week . . . . Utah has won eight consecutive home games . . . The Utes have one of the best defenses in the country. They rank fourth in the nation in total defense, sixth in scoring defense (11.7 points per game) and second in rushing defense. . . Utah limited Arizona State QB Jayden Daniels to 4-for-18 passing for 25 yards in last week's 21-3 victory over the Sun Devils.
CAL PLAYERS TO WATCH: QB Spencer Brasch (likely to make his first collegiate start); RB Chris Brown Jr. (over past four games he averaged just 39 rushing yards per game and 2.79 yards per carry); WR Nikko Remigio (big-play threat as receiver, punt returner); LB Evan Weaver (leads the nation in tackles at 15.0 per game); S Ashtyn Davis (possible first-round NFL Draft pick next spring); OLB Cam Goode (8.5 tackles for loss).
UTAH PLAYERS TO WATCH: QB Tyler Huntley (74 percent completion rate, 229 rushing yards, likely to play despite injury); RB Zack Moss (Pac-12's leading rusher averaging 102.2 yards per game); WR Bryan Thompson (324 receiving yards, 2 TDs); CB Jaylon Johnson (potential NFL star); DE Bradlee Anae (7 sacks, reigning Pac-12 Defensive Player of the Week); LB Devin Lloyd (50 tackles, 3 sacks, 1 interception).
CAL GAME NOTES, STATISTICS, DEPTH CHART: Click here
UTAH NOTES, STATISTICS, DEPTH CHART: Click here  
JAKE'S PICK: Utah 27, Cal 10 
JEFF'S PICK: Utah 27, Cal 7
FIVE QUESTIONS ABOUT UTAH ANSWERED BY KURT KRAGTHORPE OF THE SALT LAKE TRIBUNE: Click here  
TICKETS: Click here Or at Stub Hub: Click here