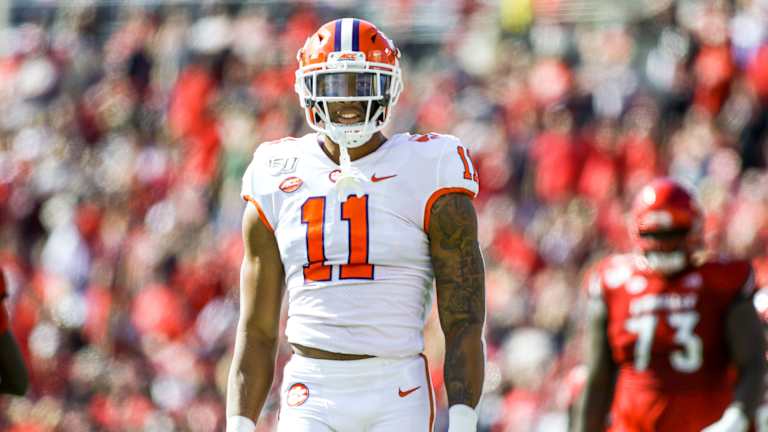 Simmons is a 'Unique Talent'
Simmons is pegged as a first-round draft pick, a preseason All-American, a national player of the year candidate and a dominant force that opposing offense have to game plan around.
CLEMSON—Redshirt junior Isaiah Simmons has become the face of the Clemson defense, and rightfully so.
Simmons is pegged as a first-round draft pick, a preseason All-American, a national player of the year candidate and a dominant force that opposing offense have to game plan around.
When asked if he has ever coached a player with the talent and ability of Simmons, head coach Dabo Swinney gave an unequivocal answer. 
"No. He's a unique talent," Swinney said. "Watching him on tape in high school, I thought he had a good chance to be really good. Pretty early on when he came in here, he was like a young giraffe running around. It was elbows and knees. He was just excited to go to college. But what showed up early was his physicality. He likes it. His pure athleticism showed up, but he needed to learn a lot of football and needed to get into the weight room. 
"A lot of development needed to take place. We redshirted him and he matured and got more serious about things. Last year he got his first chance to start. He was a little shaky early. He's just gotten better and better. The game has slowed down for him. It was down to Nebraska and Michigan when we were recruiting him."
But early on, he did not fully understand what it would take to play at the level demanded by defensive coordinator Brent Venables.
"He's kind of the same guy. Early on he was a guy who didn't really know how to prepare," Swinney said. "He's a very smart guy. I just think he handles himself like a pro. He's going to be a great pro ... something special. He's what everyone is looking for. He's that hybrid guy who can cover and play first, second and third down. He could legitimately play safety. 

The Play That Summed Up the Tigers' Season
Uiagalelei hit Shipley in stride. Shipley dropped the ball. And to those watching the game, it appeared that was the moment. That was the, "Oh well. Here we go again" moment.
"He could make all conference for us at three different positions. I'm sure he's tough on himself. He's always got a great spirit about him. The team loves him. I don't ever see him down or mad. He's just a happy kid. He takes his job seriously. He's always trying to please Brent. He's not the easiest guy to play for."
Simmons was named the best linebacker in college football by USA Today, "Simmons can do it all: rush the passer, run in coverage, stop the run and make splash plays — not to mention shine on special teams, an added bonus from a player destined for every preseason All-America team. He arrived on campus as a safety and has transitioned into a hybrid role that takes full advantage of one of college football's most impressive talents."
Even with all of the accolades that have been floated toward Simmons, the Tiger linebacker admits that he can still improve.
"I'm really hard on myself. Sometimes, it's not good how hard I am on myself, but the only thing I see is what I'm doing wrong and what I can do to fix it. I'm a perfectionist," Simmons said. "I hate messing up. I know, instantly, once I mess up. I know what I did wrong, why I did it, and I'm just trying to make sure I don't make any of those mistakes again. Maybe being one step behind from where I should be. 
"I know there were a couple of times, if I maybe would've used a different technique on the tackle, I would've had a sack. I know there was an opportunity in the game I could've gotten an interception in the game. If I had just been one step quicker. It's just a lot of little things like that where I might be doing my job correctly, but it's just in my mind where I know what I could do to make that play that much better."
If there is one thing that may help Simmons and the defense raise their collective games to another level it may the Tigers' recent slide in the AP Poll.
"Me, personally, I have the mentality that it's us against the world. I feel like everybody else should as well," Simmons said. "It's always seemed like everybody wants Clemson to go down. They're probably getting tired of seeing us play Alabama. But those rankings and stuff, they don't matter right now. There are still teams that could lose to anybody at any given moment. You've seen Wisconsin lose to a lesser team and Georgia lost to a lesser team as well. 
"Right now, it really doesn't mean anything. We're only halfway through the season. When it comes to the end of the season, whatever the rankings are, I guess that's when it'll really matter."