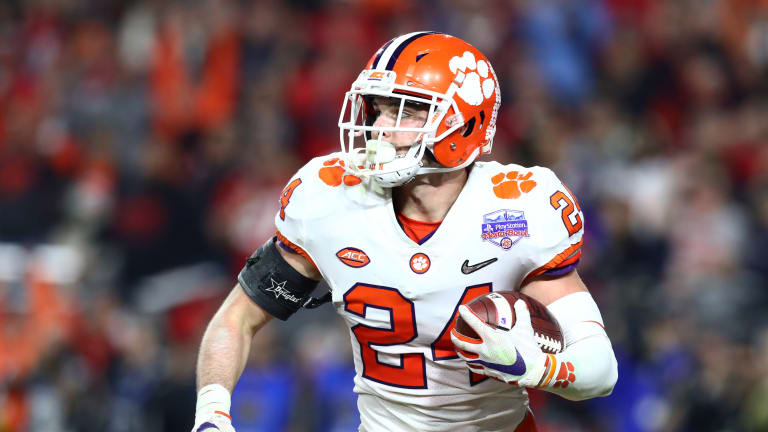 Nolan Turner's Redemption Seals Clemson's Fiesta Bowl Victory
Clemson safety Nolan Turner had rare chance at redemption in Saturday's Fiesta Bowl.
Nolan Turner did not have his best game of the season for the Clemson Tigers on Saturday in their 29-23 win over Ohio State in the College Football Playoff semifinal at the PlayStation Fiesta Bowl. 
In fact, Turner got sucked up into a run fake on a fourth-and-2 that ultimately led to Ohio State taking a 23-21 lead with 3:02 to play in the game.
"Listen, you go out there and it is fourth-and-2, and you give up a play like that," head coach Dabo Swinney said. "He was a little too far outside, no post help. [Justin] Fields made a great play. He was very disappointed in himself and felt like he let the team down. Unfortunately, they were going to score. That's one thing I told him: You gotta keep your head up. You're going to make a winning interception and just have to go to the next play."
As if his powers of prognostication came from above, Swinney was right.
After Trevor Lawrence led the Tiger offense on a four-play, 94-yard drive to take a 29-23 lead, it was Turner who made the game-winning interception in the same end zone where only minutes earlier had been the site of his worst moment of his career.
"So proud of him, man. I love him like a son, and obviously great friends and teammates with his dad," Swinney said. "That was a huge play. Just happy to see him be able to have that moment and I know his dad is up in heaven smiling down on him.
"For Turner the key to his play this season is a direct result of increased confidence."
Turner's production has surged in his third active season with the Tigers. His 108 career tackles entering Saturday's game was nearly double the total he had over his first two seasons (58.)
In his 41 career games (three starts) before the Fiesta Bowl, Turner had 5.5 tackles for loss, 13 passes broken up, two interceptions, a sack and a forced fumble in 832 snaps.
"The more you play, the more confidence you build and just the better you get at something.," Turner said.
"He is a tremendous athlete," safeties coach Mickey Conn said. "I mean, unbelievable athlete. You're talking about a 6-foot-2, 195-pound kid that can run, change direction. I think his hips, his ability to be able to swivel his hips and change direction. His vision is unbelievable, and he has a great understanding of the defense."
Conn said players like Turner often get a chance to shine and can gain valuable playing time because of the system Swinney has put in place.
"Get them in the game, even if it's one play in a game or three plays in a game," Conn said. "That's going to make a world of difference in these guys. So we were able to do that with Nolan and then started him in our dime package and our nickel stuff, and he just got better and better and better."
For Turner, the journey from where he began four years ago to where he is today is a special one. And one that he is cherishing every step of the way.
"It's cool to look back and see how far I've come since I got here, and I still have another year to go," Turner said. "It's been a cool journey."