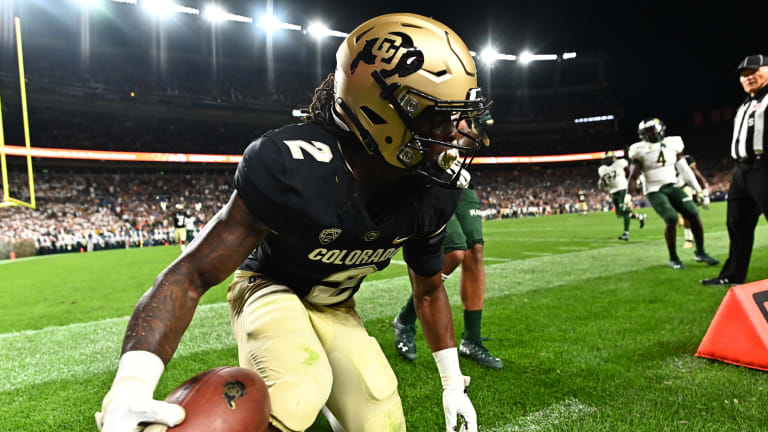 Colorado Has One Last Hope
Laviska Shenault is finally healthy
The once-promising Colorado football season is now like a car with a muffler hanging off, a bulge in one of the tires, a squeaking belt and a cracked windshield. 
It's not doing well, but it still moves under its own power, and there's hope around the corner. 
Laviska Shenault is finally -- and perhaps for the first time all year -- feeling healthy. And him returning to Heisman candidate form is about the last hope for this Buffaloes season. 
"I'm starting to feel better," Shenault told reporters Tuesday. "That's definitely one of the big keys."
Officially, Shenault had an abdominal injury he sustained in Colorado's win over Arizona State on Sept. 21. But he hadn't totally been himself the first month of the season. Shenault had a big game against Air Force, catching eight passes for 124 yards, but was quiet against Nebraska and Colorado State. 
He returned from his injury Oct. 11 against Oregon, but again was quiet, catching eight passes over two games until breaking out with nine receptions for 172 yards and a touchdown against USC. 
Despite Shenault's performance, that was a loss for Colorado. But it was an element the Buffaloes have been missing all year, even when Shenault has played. 
By now we know that Colorado's offense is going to have to score at least 30 for CU to have any chance of winning a Pac-12 game. And the offense is typically up for that, especially now that the running game is improving. But without a game breaker on the field, it puts a tremendous amount of pressure on quarterback Steven Montez on virtually every snap. And as we've seen, Montez doesn't always handle that great. 
Colorado still needs three wins to reach bowl eligibility. With four games to play, and the last three against Stanford, Washington and No. 9 Utah, that's a lot to ask. 
But if Laviska Shenault is back to being himself again ... you never know.