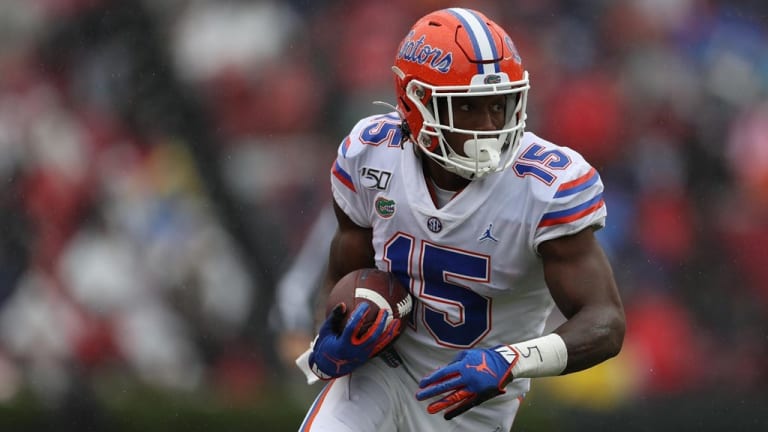 A "Freak of Nature", Gators WR Jacob Copeland is on the Rise
Jacob Copeland's breakout performance against South Carolina was his first to receive SEC honors, and it won't be his last.
On February 7, 2018, Jacob Copeland sat at a table in Escambia High School's gym with three ball caps in front of him. One donning the Tennessee 'T', the next sporting the Alabama 'A' and the last with a Gator head. Three respectable schools – one decision. 
Where did he want to play college football? 
"God led me to the direction my heart desires. So, I followed along with it – I couldn't go with my mind, I wanted to go with my heart." 
Copeland's heart desired the University of Florida. 
As a prospect, Copeland earned himself four stars, according to 247 Sports. He also ranked as the twelfth best wide receiver in the 2018 class. 
And after a freshman year that saw him redshirt and struggle with injuries, Copeland is just now getting to meaning action in this 2019 season. In Saturday's win against South Carolina, Copeland was the talk of the town. 
The Pensacola native hauled in three passes on Saturday for 89 yards and a touchdown. And while that's not a stat line that's going to lead the nation by any means, Copeland's breakout game left a lot for Gator Nation to be excited about - not to mention, it earned him SEC Freshman of the Week honors.
At first glance, Copeland looks like an absolute man. Stretching 6'1" and weighing just under 200 pounds, Copeland might be considered a little undersized at the outside wide receiver position – especially when compared to guys like a 6'4" Trevon Grimes and a 6'2" Van Jefferson. 
However, Copeland is strong. Again, props to Florida's offseason MVP, strength and conditioning coach Nick Savage, Copeland is jacked, ripped, yoked or whatever other words the gym rats are using these days. 
But don't get it twisted – Savage's regimes don't require players to sacrifice speed and flexibility for strength. 
"Jacob is an extraordinary playmaker because he's so versatile," Gators' tight end Kyle Pitts said back in August. "He's fast, strong – he's the strongest receiver we have. He's a freak of nature."
Being said, Copeland, who runs a 4.5 40-yard dash, is going to be an absolute nightmare for defenders to drop to the turf. Not to mention, the redshirt freshman drew comparison to Kadarius Toney from his teammates. 
"He definitely gives us that juice and that spark kind of like KT gives to us," WR Josh Hammond said of Copeland. "I say KT is more 'joystick-ish' when it comes to shaking people. But Jacob can go where he needs to go – that's the biggest thing about Jacob, when he clicks and gets going – he's gone." 
Saturday's glimpse of Jacob Copeland had Gator fans drooling out the mouth, yet Copeland will have to be a little patience before taking over the role of WR1. 
With a stacked wide receiver corps like the Gators are blessed to have, Copeland will have to remain patient with the number of reps he receives on game day. Though, those are increasing week by week. 
It took a commitment, a de-commitment and then a second commitment to the University of Florida to get Copeland into an orange and blue uniform. 
But now that he is, Gator Nation should feel secure that the wide receiver room has some serious strength in it.