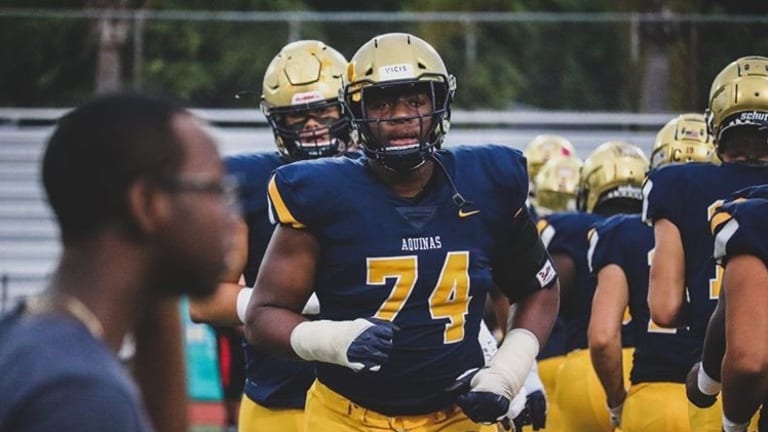 Five Play Prospect: Why Florida Needs to Land OL Marcus Dumervil
Florida can elevate their 2020 signing class from good to great by completing the offensive line quinfecta in landing tackle prospect Marcus Dumervil.
Perhaps the most crucial remaining piece to Florida's 2020 signing class puzzle hails from a Florida football powerhouse - St. Thomas Aquinas High School in Fort Lauderdale.
The Raiders' 6-5, 305 lb. bookend offensive tackle, Marcus Dumervil, is the most important target on the Gators' board as things stand. Starting SEC size as an 18-year-old makes Dumervil intriguing on its own, but what Dumervil shows on tape can be transformative to the Gators' offensive line - a unit that has struggled across the board in 2019.
With offers coming from all over the nation, including 12 from SEC schools and 46 in total, Dumervil is a hot commodity on what's now a pretty thin offensive tackle market for the 2020 signing class. Dumervil is considered to be a top 100 talent and the No. 11 tackle in the class, according to 247Sports.com.
Landing Dumervil would give the Gators five offensive line signings in the 2020 class - one player for each position, with Dumervil sliding in at left tackle opposite of recently-committed Issiah Walker at right tackle.
The lengthy tackle prospect has experience on both sides of the line, but his polish in pass protection should see him end up on the left side of the line to protect the blind-side of Florida's quarterback.
Dumervil's positional flexibility, drive as a run blocker, and technique as a pass protector sets his floor pretty high - he arguably could start his freshman season at Florida given his poise and their current tackle position. But at the same time. his athleticism for his size and ability to add a little more weight in college, plus working with coach John Hevesy, only raises his ceiling as a prospect.
Let's look at five clips that show what Dumervil excels at for an understanding as to why he is so crucial for Florida's 2020 signing class.
With great burst out of his stance, disciplined hands, and plenty of strength coming from his core and lower body, Dumervil makes for a good run blocker. Here, Dumervil performs a combo block to knock the three-technique defensive tackle out of his gap and quickly gets to the second level to redirect the linebacker's angle to the inside on an outside zone run play.
Dumervil never leaves any block on the field, either. He's an aggressive block-finisher who wants to put bodies on the ground. He does that with the linebacker on the combo block above and throughout his tape. That physicality will do Dumervil wonders against SEC defenders.
Given his strength, size, and athleticism combo, Dumervil is a universal run blocker - he can run power and zone concepts. He performs the former on the run above, shooting vertically right out of his stance and stopping at nothing from driving his responsible defender seven yards down the field as the inside run develops.
He receives a little bit of containment help from the tight end blocking the defender's outside shoulder, but Dumervil completes the dirty work to open up space vertically for the running back.
While Dumervil is a clean, driven run blocker, his money is going to come in pass protection. Dumervil plays with relatively active feet in his pass sets, which he would want to sharpen at Florida but for now, it gets the job done.
One special aspect of Dumervil's pass blocking is his surreal hand usage for a player at his development stage. It's polished and violent and will win Dumervil reps in pass protection way more often than not.
Above, Dumervil slides well without opening too wide to leave the running back in any potential one-on-one gap blitz battle. The edge rusher attempts to get wide to bend around Dumervil, but he mirrors the steps well while keeping aligned should he need to give a push if someone gets beat near him. Dumervil finishes the rep with a wicked outside hand chop through the defender's arms - who at that point were locked into Dumervil's chest as the edge was attempting to bend around - putting the rusher in the dirt.
Dumervil's hands are like bear paws - big, strong, and violent. Much like former Florida Gators' right tackle Jawaan Taylor, a lot of Dumervil's reps are won with his strong hands - the difference Dumervil and Taylor is that Dumervil doesn't rely on his hands to win him reps as often a Taylor did at Florida, given his polish and technique in other areas that benefit him.
But using his bear paws, Dumervil body-slams the seven-technique edge rusher. First comes a failed dip-and-rip move that Dumervil shuts down with good opposing pad level and a pop to the defender's inside shoulder. The edge rusher is unable to reset in traffic, and frantically jumps to play the ball on a screen pass despite Dumervil basically controlling his movement going backward. Dumervil takes advantage of the jump, and throws the edge rusher into the dirt about six yards behind the line of scrimmage.
This is a great 45-degree pass set from Dumervil, with actively chopping feet through his three-kick-step drop to mirror the rusher's every last movement. With disciplined movement skills, never overpursuing or biting on counter-movements, Dumervil closes the cushion and forces the rusher to get physical rather than trying to simply win the rep athletically in space.
Dumervil baited the rusher into playing physical in order to finish the block, which is exactly how Dumervil wants to finish reps. He knocks the rusher off balance with an inside arm bar, and the leverage is all Dumervil's at that point. He gives the defender a little driven push to end the play, letting the edge rusher know that he won't get beat in pass protection.
Marcus Dumervil is already the epitome of an SEC offensive tackle as a high school senior, and comes with room to grow physically, athletically, and mentally as he ascends to the college level. Florida hasn't landed an offensive line prospect as poised as Dumervil in a long time, which has led to struggles across the line for a while other than the 2018 season - a unit led by veterans.
There are some big names in Florida's 2020 signing class. Local Gainesville quarterback prospect Anthony Richardson is a headline name for his role in Netflix's "QB1: Beyond the Lights" TV Show and cannon of an arm. Defensive lineman Gervon Dexter and linebacker Derek Wingo are both cornerstone talents being added on defense. Four other offensive line commits are on the way to help rebuild Florida's offensive trench.
But the signing class needs a bully and a stud tackle prospect to act as icing on the cake. Completing the offensive line quinfecta would elevate Florida's class from good to great, and would assure future dominance at left tackle with Marcus Dumervil in the fold.