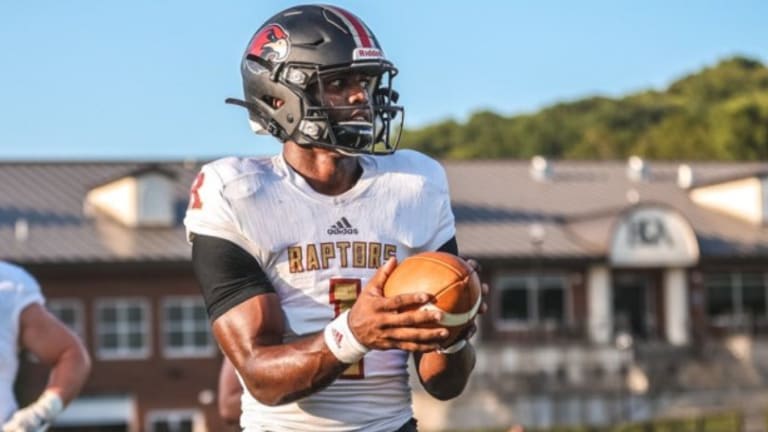 Publish date:
2023 FSU QB commit leads game-winning drive
Chris Parson used his legs to drive Ravenwood to first victory of the 2021 season.
Chris Parson used his legs to drive Ravenwood to first victory of the 2021 season.
High school football is back in full swing and prospects around the country have been putting together highlight plays while leading their teams to victory.
2023 Florida State quarterback commitment Chris Parson and Ravenwood High School took on Battle Ground Academy on Friday. After falling short in their season-opener a week ago, the Raptors were looking to get back on track on the road. They ended up doing just that with a 35-31 victory to push Ravenwood to 1-1.
This was a back-and-forth affair all night. BGA took a 19-7 lead late in the first half and looked to be taking a two-score advantage into the halftime break. Parson had other ideas as he scrambled and then eluded the entire defense on a 70-yard run with no time left in the second quarter. How did he do it? Check out the video below.
Moving to the fourth quarter, Ravenwood went ahead with a 28-25 advantage after a short rushing touchdown and a Parson pass that resulted in a two-point conversion. However, Battle Ground responded with a score of its own to go back in front 31-28 with just over five minutes remaining in the game.
Parson took the field down three with a chance to lead the Raptors to a win. After getting the ball into scoring position, the talented quarterback would once again use his legs to make a big play. Keeping it himself on a read-option, Parson found an opening on the left side and cruised into the end-zone for the game-winning touchdown.
The Texas native ended the contest with over 100 yards rushing and two crucial scores on the ground. Parson just has a knack for keeping plays alive and turning nothing into something spectacular.
This game was particularly special for Parson as it was his first regular-season victory since transferring to Ravenwood over the offseason. He'll be back in action next Friday against Franklin in District play.