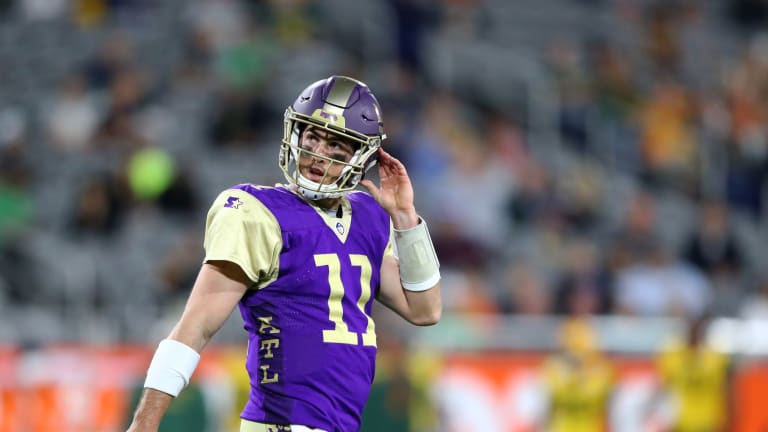 Aaron Murray Updates CFP Prediction, Georgia Left Out
Former Georgia quarterback, Aaron Murray has updated his CFP prediction following this weekend's games. Georgia was left out.
Georgia legend Aaron Murray has updated his playoff predictions, and they might not be what you expect.
The SEC's all-time passing yards leader spoke out about Oklahoma's loss to Kansas State: "A one-loss Oregon deserves a spot in the playoffs over a one-loss Oklahoma. Big day for the Pac-12."
Oregon's loss came week one to the Auburn Tigers, who now hold two losses and seem to be out of the SEC West race. However, despite those two losses, Auburn has proven that they can play with the big boys. This week, they went on the road to #2 LSU and only lost by 3 points. Their other loss came in the Swamp to a very solid Florida team that is currently ranked 6th in the country.
That would be the reason that Murray believes Oregon took a much prettier loss than Oklahoma, who went on the road as 23.5 point favorites and lost to (at the time) unranked Kansas State.
The 3-seed in Murray's playoff bracket is the defending National Champion Clemson Tigers. Clemson is undefeated, and they've won their games this season by an average of 31.0 points per game. They might not have proven to be a #1 or #2 seed, but it is a no-brainer to have them in the playoffs.
The #2 team in his predictions happens to be the LSU Tigers who have risen to the #1 ranking in the most recent AP Poll. Coming off a 23-20 victory over Auburn, LSU has one of the most impressive resumés in the country. They now have a bye-week before facing off with the Crimson Tide in two weeks. That game has major playoff and SEC West implications, but for now, it makes sense for Aaron to have the Bayou Bengals in his top 4.
That brings it to the #1 team in Aaron Murray's eyes: THE Ohio State Buckeyes. The Buckeyes just put up a very impressive 38-7 victory over Wisconsin, but that's nothing new to this Ohio State team. They win games by an average of 40 points this season, and the closest game they've had was 24 points. Aaron having them as his #1 team makes absolute sense.
He's a Georgia legend, but yet, he didn't include the Dawgs in his final four. This may come as a shock to some fans, but to others, it may not be a surprise at all considering the way Georgia has played recently.
Murray is still working for CBS before starting his journey with the XFL's Tampa Bay Vipers.