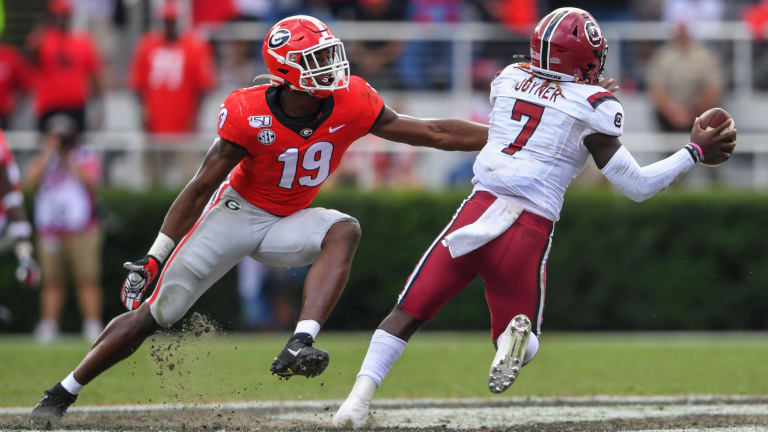 RECAP: Damn Good Dawgs from UGA's 20-17 loss to South Carolina
Despite the game resulting in a loss, our site experts have picked a group of guys who battled to keep Georgia in the game last Saturday.
Despite the game resulting in a loss, our site experts have picked a group of guys who battled to keep Georgia in the game last Saturday.
Coming off of a loss to South Carolina, it may be hard to find any positives going forward. However, here at Bulldog Maven, we've picked a select group of guys who kept Georgia close in the ugly loss on Saturday.
Jordan Jackson: (LB) Tae Crowder
My Dam Good Dawg for this week is linebacker, Tae Crowder. While all of the focus has been on the offense after this stunning upset, the defense continues to be one of the nation's best. Tae Crowder is an important part of that defense, a unit that ranks number sixth in the nation in points allowed. 
Crowder was at his best against the Gamecocks, racking up 12 tackles to tie for the team lead. He also combined with J.R. Reed to drop a South Carolina ball carrier for a loss. Crowder was a major factor in the Georgia Bulldogs holding Gamecocks running backs under four yards per carry on a whopping 36 carries. Crowder was also excellent in coverage as he helped the Bulldogs hold South Carolina running backs to just three catches for six yards. Tae Crowder is the most improved player on the Georgia defense. Once a situational linebacker, he has become a key cog on a unit that ranks number 12 in total defense for the entire NCAA. 
Being a former running back, he also brings the added bonus of knowing what to do with the football once he gets it. He's a Dam Good Dawg, on a dam good defense.
Jamey Goodman: (P) Jake Camarda
Losing at home to a 24 point underdog doesn't provide many bright spots. Jake Camarda is the rare example. After multiple weeks of shanking punts, Jake, shook off prior mistakes and was able to flip the field in very desperate times. He didn't fall victim to the pressure of an aggressive group of Gamecocks. Instead he rose to the occasion booming a huge 66 yard punt followed by kicks of 59 and 48 yards. For that performance Jake Camarda is my DGD of the week. 
Hunter Gosseck: (WR) Lawrence Cager
Miami graduate transfer wide receiver, Lawrence Cager, has quickly become a favorite target for Jake Fromm. Fromm has targeted Cager a team-high, 19 times. Cager has amassed 245 yards receiving with 3 touchdowns, one of those being the game winner against Notre Dame.
 On a day when there weren't many, Cager was a bright spot Saturday against the Gamecocks. Despite a stingy South Carolina secondary, Cager was able to collect 48 yards on 4 receptions. Cager made 3 third down conversion catches in the first half. He would leave with an apparent rib injury before he could contribute further. 
Cager brought more than experience and talent to a wide receiver room that had question marks. He brought in an energy and leadership that he has shown through since he arrived in Athens. He has wanted to do nothing other than contribute to the team, and if that means blocking on run plays or being the go-to receiver, he was ready to do what was being asked of him to help his team win. He has quickly become a fan-favorite due to his attitude and play on the field. While this may be his only year as a Georgia Bulldog, Lawrence Cager is a DGD. 
Matt Klug: (RB) Zamir White
My DGD this week is redshirt-freshman, Zamir White. Looking at the box score, he didn't light it up, racking up just 44 yards. However, his 12 carries were a career high, 4 more than his previous high in Georgia's win over Murray State. He also caught one pass for 15 yards. Despite not racking up many yards, White fought hard and took many tough hits on Saturday in the absence of senior RB, Brian Herrien. A career high workload is very important for a young back who has suffered two torn ACLs. Confidence is key with Zamir White, and he will only trust himself more as he gets more carries.
Brent Wilson: (LB) Monty Rice
This week, I have to go with no one other than inside linebacker, Monty Rice. It seemed like Rice was all over the place on Saturday, as we heard his name called multiple times by the announcer. Rice tied Tae Crowder for most total tackles on Saturday by coming up with 12. He also showed up in pass coverage a couple of times, and even recorded a PBU. Rice did his part in shutting down the South Carolina offense in any way he could, and was one of the main reasons the Gamecocks only scored 13 points on the Georgia defense. Rice had a monster game this past week, and that's why he is my DGD.