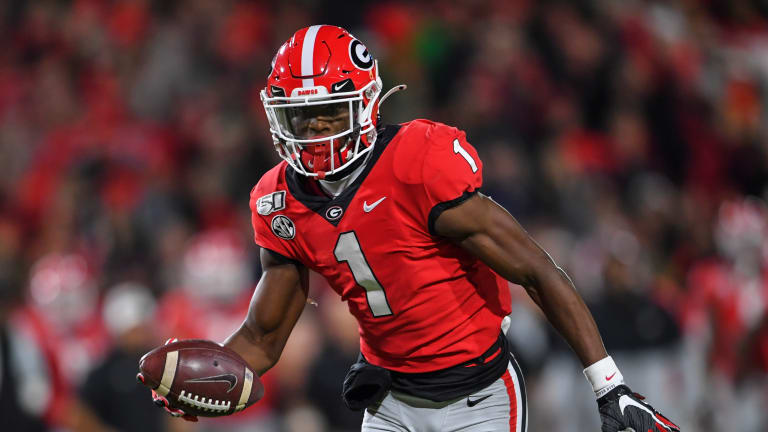 Georgia vs Auburn: Predicting the Breakout Performers for the Bulldogs
As the Georgia Bulldogs are set to take on the Auburn Tigers, we try and predict who's going to be the breakout performers for UGA.
The Dawgs have won 11 of the last 15 matchups against the Tigers, and Kirby Smart is 3-1 in his career as a head coach against Malzahn's squad. 
If you were to take it back to his day's as a defensive coordinator at Alabama, Kirby Smart is 5-2 against a Malzahn led offensive attack, but those victories have rarely been due to the a stellar defensive performance. Smart's defenses have allowed 34 or more in four of the seven contests. 
So, if Georgia's going to win this game, we'd assume there will be some breakout offensive performers along the way. Here are our predictions for just who they might be.  
Matt Klug - WR George Pickens 
Homecomings are a big deal in sports, and I'm not talking about the dance. This weekend, star WR George Pickens gets the chance to return to his home state to play the school that he was committed to for a year and a half. Several Auburn players made it known on social media that the move did not sit well with them, and as we have seen on the field, #1 plays with lots of passion. After breaking out with 2 touchdowns against Missouri on Saturday, expect George Pickens to have another big game against the Tigers.
Here are some of the quotes that will surely be on Pickens' bulletin board this week leading up to the matchup: 
"You know, usually I don't comment on guys that go to other places, but he was committed to us for two years and decided to go somewhere else," said Auburn head coach Gus Malzahn. "But the good thing is that we have some very young, talented receivers, so we'll be fine at that position." 
Hunter Gosseck - RB, D'Andre Swift
D'Andre Swift has always been dynamic against Auburn. His career stats against them to date are 292 yards with 2 Touchdowns. In 2017, Swift had a thrilling 64-yard touchdown run to help lift UGA over Auburn in a 28-7 SEC Championship win, in what would be a revenge game after the Dawgs dropped the regular-season matchup against the Tigers 40-17.
In the 2018 matchup, Swift went off for 186 yards including a 77-yard scamper to put the Dawgs on top of the Tigers 27-10. The 2019 version of the Deep South's Oldest Rivalry should be more of the same.
Despite a solid defensive line anchored by Derrick Brown, I predict Swift to have a big day running the ball behind what is arguably the best offensive line in the country. Swift already plays with a high motor and in a game that has high stakes and no room for error I look for Swift to take it upon himself to lead the offense. While I fully expect the passing game to be a big part of the gameplan, getting guys like Cager and Pickens the ball, I predict Swift to get at least 125 yards on the ground with 1 TD. Look for him to get some receptions as well. I predict him to grab around 60 yards in receiving with 1 score.
It may seem like I'm expecting a lot of Swift and the truth is I am. Because he can produce and that is something he has done on an annual basis against the SEC West rival. It's a huge game and I predict huge things from D'andre Swift. 
Brooks Austin - WR, Demetris Robertson
At some point this season, Demetris Robertson will get loose and break a long score. He's yet to do so this season, in fact, his longest reception on the season is just 33-yards. Auburn plays a lot of man to man coverage. So, if Demetris Robertson can get loose into open-field he will likely have just one defender to beat, and with his open-field speed, that's a problem. Considering the overall team speed on Auburn's roster, I feel the only player with enough speed to really break a long run after the catch for Georgia this weekend is Robertson. 
Dawg fans will remember this play from 2018...