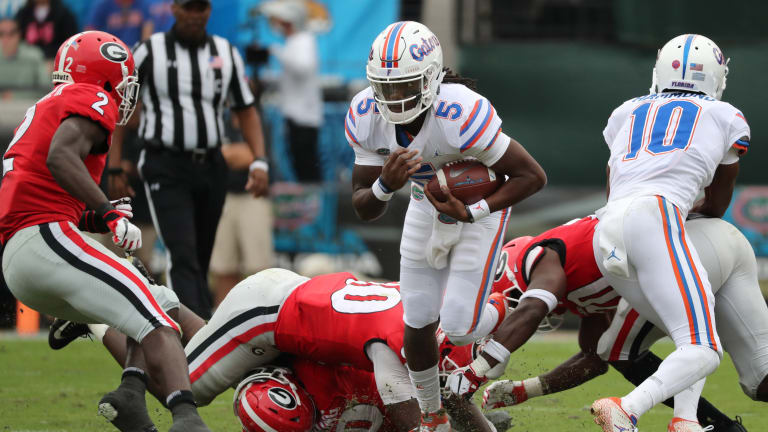 Know Your Enemy: Five Questions with Gator Maven, Zach Goodall
It's important to know your enemy, today we sit down with SI's Gator Maven, Zach Goodall and ask him five questions about the Florida Gators.
As Georgia heads on down to Jacksonville, Florida, it's important that Dawg fans are up to speed when it comes to all things Florida Gators. We sat down with Zach Goodall, Sports Illustrated's Gator Maven in order to find out as much as possible about the enemy. 
Florida comes into this matchup with a 7-1 record and the #6 overall ranking according to the latest AP Poll, and despite being ranked ahead of Georgia, is currently a 4.0 point favorite for Saturday's matchup. 
1.) If you had to describe the identity of the Florida Gators football team how would you do so?
The identity of the Florida Gators is the passing game - both offensively AND defensively. Kyle Trask has averaged 245 yards, 2.6 touchdowns, 0.8 interceptions, on 66.9 completion percentage per game in his five starts since replacing Feleipe Franks at quarterback, and the Gators' pass defense has recorded 29.0 sacks, 146 QB pressures, 12 interceptions, and 29 defended passes through eight games. I'm not sure anyone saw this level of play coming from Trask or the Gators' pass defense, but alas.
2.) We hear all the time about how Mullen's offense runs best when there's a dual-threat QB in there. What are your thoughts of them rolling Emory Harris in there? 
I've been a firm believer in Emory Jones having a role in this offense. While it has improved slightly as of late, Florida's run game has been lackluster through the majority of the 2019 season, but Jones' dual-threat ability can provide a rushing spark. Not to mention, I've been impressed with his arm on the occasion we've gotten to see it - and I think we'll see it against Georgia.
3.) Who's the guy that should keep Georgia fans up at night? (The most explosive/disruptive player on offense or defense) 
I wish I could give you just one answer here, but considering how well Florida's passing offense has moved the ball and the fact that the Gators' are legitimately two-deep at all three receiver positions makes that a bit tough. Van Jefferson, Josh Hammond, Freddie Swain, Kyle Pitts, Tyrie Cleveland, Kadarius Toney, and Jacob Copeland have all posted at least one game of over 50 receiving yards and a touchdown this season.
If I had to pick one, however, it'd be tight end, Kyle Pitts. Given Georgia's success recruiting linebackers, the Bulldogs might be the only team in the nation with a chance of stopping Pitts - who stands at 6-6, 240 lbs., and runs a 4.7 40 yard dash - when he runs routes in the middle of the field. But his 391 yards and four scores on 35 receptions speak for themselves.
4.) What is your take on the game staying in Jacksonville? 
I'm a Jacksonville native, which gives me perspective as to the importance of the game's location. However, I understand the desire of playing such a rivalry in the teams' home stadiums and the effect it can have on recruiting, so I wouldn't be upset with an eventual move. Honestly, a rotation between the schools, Jacksonville, and Atlanta (same distance from Athens as Gainesville is from Jacksonville) might be the best move.
5.) Score prediction? 
I think the Gators pull out a hard-fought victory at TIAA Bank Field against a Georgia team that, despite being as sound as always in the run game and defensively, just doesn't seem up to par with the Bulldogs of the past two seasons. Florida has a lot of momentum to feed off of from this season's successes, and that should prevail in Jacksonville. 27-21, Florida.
You can also check out KNOW YOUR ENEMY Pt. 1 over on the Gator Maven.