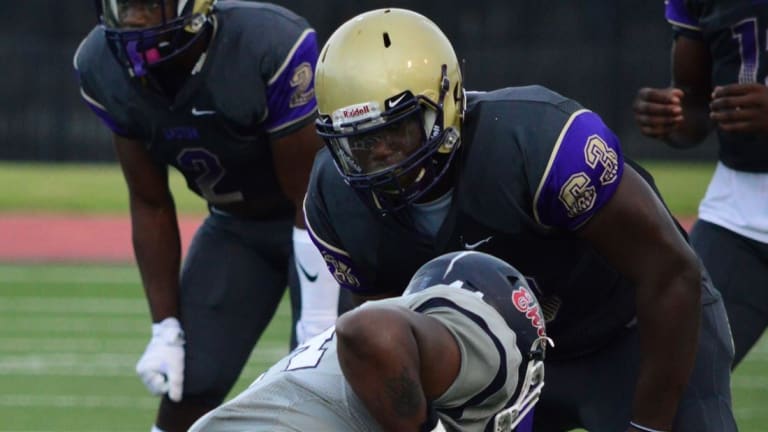 2020 UGA Recruiting: Sedrick Van Pran Recaps Weekend Visit, Updates Recruitment Further
2020 4-star lineman, Sedrick Van Pran is fresh off a visit to Georgia. He spoke with The Bulldog Maven about this weekend and gave updated his recruitment.
2020 4-star lineman, Sedrick Van Pran is fresh off a visit to Georgia. He spoke with The Bulldog Maven about this weekend and gave updated his recruitment.
Sedrick Van Pran is an awesome guy. Not just because of the way he dominates people on the field, but also because he is one of the most professional and sociable guys on the entire recruiting trail. He has great intentions, and I'm very sure he's more than capable of being successful at other things besides football. He's also a hell of an "iMessage Basketball" player, and to this day, I can't say I've beaten him yet.
As for his football career, it's really only the beginning. He's got a pathway to be great at the college level, and that should be enough to take him to the pros. Elite offensive centers like him do not come around often.
So, how good is this guy?
Well, Van Pran currently ranks as the 98th best player in the country per the 247 composite rankings. On top of that, he's listed as the 3rd best center in the country. And for what it's worth, Rivals lists Van Pran 77th overall, and the #2 center. 
In my opinion, those numbers don't really do justice for him. I think he's a lot better than what he ranks. The only way to back that up is to show you his tape, which is very impressive. Georgia has feasted with linemen that have a "mean streak" in their game with the likes of Cade Mays, Ben Cleveland, and Isaiah Wilson currently on the roster. That same style of play shows up in Van Pran's game, where you can see him put multiple defenders on their back.
Back in June, Van Pran participated in the Rivals' Five-Star Challenge in Atlanta. There, Van Pran competed in some drills against other top national prospects. You can take his word for what it's worth, but he told me he only lost once in competing. 
If you've been on any social media platform, you probably saw the clip of head coach, Kirby Smart, diving across the "slip n' slide". If you haven't yet, we've got you covered. 
That all went down this past weekend at the big "cookout" event this past weekend. It looked like all of the guys were having a great time. But to find out what all went down at this "field day", I had to ask Van Pran.
Van Pran told me, "It was a great day that started off with a player-led practice. Then, it was food and recruit games against each other (on teams)." 
Those games consisted of:
- Three-Legged Races
- Pie Eating Contests
- Water Gun Aim Challenges
- Water Balloon Catch
- Other Team-Competitions
They capped the whole thing off with the "slip n' slide", where Coach Kirby Smart appeared to be the first to dive across.
The whole event brought in a slew of top recruits from across the country. From help from our very own user @CZCashvilleDawg, Brooks Austin was able to highlight some of the big-name visitors of this past weekend. You can read about that, here.
Of that list, Van Pran told me he mostly hung out with Tate Ratledge and Corey Wren, who are both Georgia commits. Ratledge is hoping to add another brick into "The Great Wall of Georgia" as Van Pran is the last piece needed to finish one of Georgia's most impressive offensive line hauls ever. For Wren, he's trying to bring another New Orleans product with him to Georgia in 2020. It's worth noting that Wren and Van Pran faced off against each other in 2018, and have become good friends throughout the recruiting process.
Georgia currently has four commitments on the offensive line. Broderick Jones and Tate Ratledge are predicted to play tackle, and Josh Braun and Chad Lindberg are rumored to be sliding inside to play guard. That leaves the spot for the center position for the 2020 class wide-open, which is the position that Van Pran feels most comfortable at.
Hypothetically speaking if Sedrick Van Pran ultimately chooses Georgia, he would have the chance to be #2 on the depth chart right away. That's because true freshman, Clay Webb, will supposedly work at guard. That would leave only Warren Ericson and Sedrick Van Pran as the key options behind starter, Trey Hill in the 2020 season.
A lot of people that have watched Van Pran's tape compare him to current Georgia center, Trey Hill. With both guys having similar styles of play, it would benefit Van Pran to learn from Hill in the long run.
But before any of this becomes a reality, Georgia will need to secure Van Pran's commitment, first.
The opportunity to play for Coach Sam Pittman and head coach, Kirby Smart is always great. But, Van Pran has been blessed by the opportunity to play for a number of top tier coaches, including Jimbo Fisher of Texas A&M and Ed Orgeron of LSU.
When asked what he's looking for the most in a coaching staff, Van Pran told me, "A family and staff and coach that can lead us to a natty."
Kirby Smart and Sam Pittman both helped take Georgia to a national championship in 2017 and will try to win one here in 2019.
In terms of what he prioritizes in choosing a school, Van Pran stated, "academics and overall togetherness" is what he's looking for the most. Georgia's record of providing one of the top educations nation-wide, and giving players a family feel puts them in a great spot to land Van Pran.
Back in June, Van Pran told me that he would announce his decision at the UA All-American in January. However, Van Pran may choose to announce his college decision sooner rather than later.
Van Pran told me, "We shall see what the plans are."
The 247 Crystal Ball currently reads 100% Georgia at this time. 
We'll find out if Sedrick Van Pran will be the final piece to the offensive line in the 2020 cycle soon.