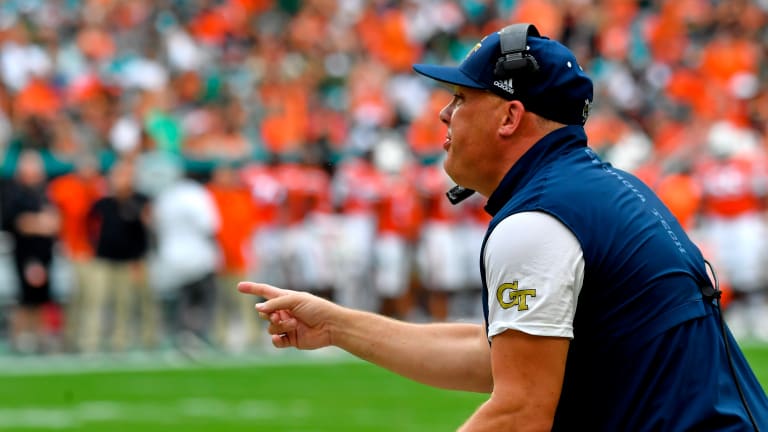 What To Watch For Vs. Pitt
Georgia Tech welcomes the Pitt Panthers this Saturday for homecoming weekend.
Fresh off of the first conference win in the Geoff Collins era, the Georgia Tech Yellow Jackets (2-5, 1-3) are returning to Bobby Dodd Stadium this weekend to face the Pittsburgh Panthers (5-3, 2-2) in the homecoming game. Ahead of Saturday's matchup, here are some of the more significant storylines to follow as the game unfolds.
Defensive Line Dominance
Overall nationally, Pitt has the 14th ranked defense and 3rd best in the ACC, giving up just 291 yards a game. The majority of this success can be attributed to their front seven, as it is one of the most aggressive in all of college football. They are ranked at #14 in the nation in tackles for loss with 7.9 a game, and are #1 in sacks with 4.75. The Panthers feature 3 players with at least 5 sacks and 8 tackles for loss in linemen Patrick Jones II & Jaylen Twyman and outside linebacker Kylan Johnson. Jones & Twymen both have 7 sacks which is a tie for 14th in FBS, with Jones also having 9.5 tackles for loss, which is good for 5th in the ACC. Even coming off of back-to-back career outings, Jordan Mason might have a tough time against the Pitt defensive line.
Streaky Offense
Conversely, from an offensive standpoint Pitt has been a roller coaster. They've scored 35 in a home win over the then #15 UCF Knights, but have also only scored 17 in a home win against FCS Delaware Blue Hens. Through the air they average 254.8 yards a game (#42 nationally) but only average 127.5 yards on the ground (#109 nationally). Pitt's running backs unit has been in shambles in recent weeks, as they had to resort to starting 3rd string RB V'lique Carter vs. Miami. 1st string RB and leading rusher AJ  Davis did see playing time vs. Miami and is slated to start against the Yellow Jackets, but he did miss two games due to injury earlier this season so expect Todd Sibley and V'Lique Carter to also get their reps in the backfield against Tech. Also of note, 53.9% of the receiving yards, 56.6% of the completions and 5 of the 12 receiving touchdowns have been hauled in by the wide receiver duo of Maurice Ffrench and Taysir Mack. If Georgia Tech's 21st ranked passing defense can keep this tandem in check, they might be able keep the Panthers offense in check for a majority of the game.
Surging Passing Presence
Over the first four games of the season, the Yellow Jackets only averaged 126.25 yards though the air. However ever since the permanent placement of redshirt freshman James Graham at the quarterback position, Tech has averaged 171.66 passing yards, including a career high 206 yards against Duke for Graham. Over this three game span, wide receivers Ahmarean Brown and Adonicas Sanders have also greatly benefitted from the QB decision. Brown has 2 receiving touchdowns over that span as opposed to just 1 in the first four games of the season, and Sanders has set his career mark in receiving yards twice while Graham has been under center. As Graham becomes more confident in his abilities as a passer, the chemistry will slowly start to build between him and Brown & Sanders. Pitt allows 205.1 passing yards a game at this point in the season, so look for either one of them the have a solid day against the Panthers' secondary.
You can follow us on Twitter at @GeorgiaTechSI and Matthew McGavic at @GeneralWasp