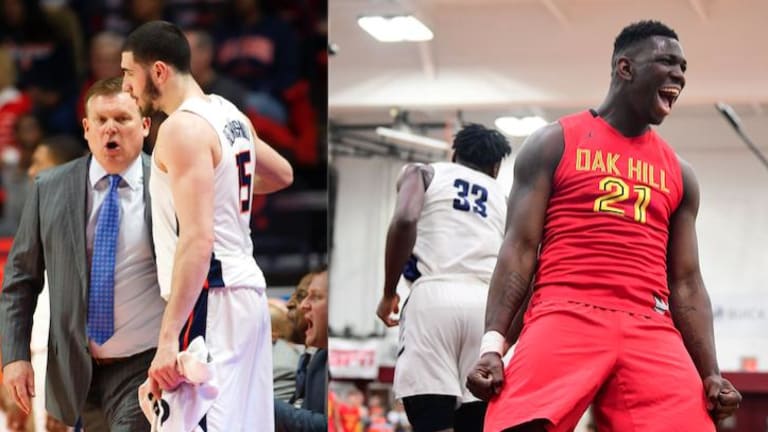 'We've got to find that happy medium': Illini's challenge of playing Giorgi and Kofi together
Illinois head coach Brad Underwood recognizes a preseason issue is finding a solution to how premier frontcourt players Giorgi Bezhanishvili and Kofi Cockburn can coexist together.
There is an extreme likelihood that Brad Underwood will never classify having too many talented players as a problem. He's more likely to possibly call this a solution waiting to be found.
The Fighting Illini third-year head coach also recognizes the immediate reward to finding how the solution of fitting the big puzzle pieces of Giorgi Bezhanishvili and Kofi Cockburn together.
"I think I've got a pretty good idea what I'd like to see. How it all comes together will obviously determine that. I'm also a realist in terms of I know that they're not going to play 40 minutes together," Underwood said Wednesday at Big Ten Media Day.
Underwood's answer of "they're not going to play 40 minutes together" was showcased as the Illinois athletics department sent out a photo gallery of early season practices where in one shot Bezhanishvili was guarding Cockburn in the low post. However, the Illini coaching staff understands there will come a time very soon these two premium bigs will need to do its best kindergarten class impression of playing well with others.
At this point, Bezhanishvili is a known commodity. The 6-foot-9, 235-pound forward is coming off a very encouraging freshman season where he dominated offensively in the low post and with in-paint touches. The Rustavi, Georgia native finished last year with 12.5 points per game and a team-high 5.2 rebounds while also shooting a second-best 54.2 percent from the field. Bezhanishvili scored in double figures 21 times, including 10 of the last 11 games and 17 of the last 23 games last season.
Along with everything that was just previously presented about Bezhanishvili's initial college season, Underwood said at Big Ten Media Day Wednesday his forward is "one of the most well-conditioned athletes that I have been around". It is commonly believed Bezhanishvili will continue to improve his game at both ends but he might also have to actually change his game as well to accommodate a new very talented teammate.
"Giorgi was one of the outstanding low post players, not just in the Big Ten but in college basketball, and we don't want to negate that from him," Underwood said. "Defensively, there's figuring out how to play with both of them, and yet I think that they're both unique talents."
Enter Cockburn and his 7-foot, 290-pound body. 
Cockburn, a former four-star prospect originally from Jamaica and a consensus Top 50 player in the 2019 class is the highest rated post player, according to the traditional recruiting databases (Rivals.com, Scout.com, 247Sports.com) to sign the Illini program in nearly a decade. The last time Illinois signed a Top 50 overall recruit at center was when Meyers Leonard arrived in the 2010 recruiting class and eventually became a lottery pick in the NBA draft.
"Kofi is a unique guy and I say that in this way - there aren't too many 7-foot guys, he was 288 pounds yesterday, he's got a 7-(foot)-6 wingspan and he's extremely athletic," Underwood said Wednesday. "He's a gifted runner. He plays above the rim and having a guy like that allows Giorgi to play some at the (power forward). He gives us a different presence. He's a very intelligent player. He's picked things up extremely well and added size in the Big Ten is important."
Why an Illini assistant may be a key to help solve this?
This solution may likely come via the form of second-year assistant coach Orlando Antigua because this is part of why he was brought to Champaign. Due to his vast experience in seeing this kind of chemistry done well at his previous career stops, specifically his five years at Kentucky under head coach John Calipari, Antigua would be a coach who could say it's obviously been done and he's seen it accomplished with success. From 2009-14, Antigua saw physically massive forwards and centers be used in harmony including the combination of Patrick Patterson and Demarcus Cousins (2009-10), Terrence Jones and Josh Harrellson (2010-11), Jones, Anthony Davis and Kyle Wiltjer (2011-12), Nerlens Noel, Willie Cauley-Stein and Wiltjer (2012-13) and finally Julius Randle, Marcus Lee, Derek Willis, Dakari Johnson and Cauley-Stein (2013-14).
"He was an integral part of the success at Kentucky with Coach Calipari, recruiting and developing several outstanding players who went on to become high NBA draft picks," Underwood said upon Antigua's hire in April 2017. "He works with our bigs here at Illinois and will do an outstanding job in their development. Orlando is a wonderful person of high character and fits our Illini family perfectly."
The need for speed
With Underwood acknowledging the Illini will need to implement these two bigs on the floor together for some stretches of time, the next variable in the equation is speed. Advanced statistics from the 2018-19 season suggest Illinois had the most up-tempo offense in the Big Ten and the Illini return 77.2 percent of its perimeter 3-point shooting and 86.8 percent of its assists. Needless to say, Underwood will want his team to get out on the break whenever possible and especially off misses. If what the Illini coach says about Bezhanishvili's conditioning level and Cockburn's athleticism is accurate, this might be the easiest way for this twin towers duo to work early even if they might struggle to find a groove in halfcourt sets.
Illini fans have seen it done and done well
Historians of the Illinois program don't need to go far into the archives to see this kind of puzzle get solved. Under the high-low offense of Bill Self, Illinois managed to win back-to-back Big Ten regular-season titles in 2001 and 2002 mixing in more than one physically dominating frontcourt stars at once such Marcus Griffin, Brian Cook, Robert Archibald, Damir Krupalija and Nick Smith. However, Underwood's offensive style of play is very different and it will be imperative Bezhanishvili and Cockburn find their own path.
Can Giorgi add a mid-range offensive game?
The obvious solution to a similar offensive philosophy would be what is commonly referred to as a stretch four. By utilizing a forward who can step out and hit perimeter shots, any offensive system immediately will find the center has room to maneuver in the paint while still giving the guards area to penetrate and play a pick-and-roll game. However, Bezhanishvili, who shot 61.9 percent from two-point range in the Illini's 12 wins last season, was never forced to show the need to find shooting range beyond the paint. He attempted just three shots from 3-point range in the final three months of the 2018-19 campaign.
So, the question becomes more than obvious: Um, how are these bigs going to be able to play together without bumping into each other in the paint and easily drawing defenders to them in the post? It's a question that would've likely been easier if Cockburn's visa issue hadn't held him out of the program's summer trip and exhibition games in Italy. It's a question Underwood knew was coming Wednesday at Big Ten Media Day and tried to briefly address.
"We've got to find that happy medium where they're going to be on the court together," Underwood said. "They're both very, very talented, and offer something that could be a problem for opponents. They'll be a work in progress as we go, and Kofi is a freshman and going to have to take in a lot and has taken in a lot already. But I think it'll be something that we'll see mature as the season goes along."