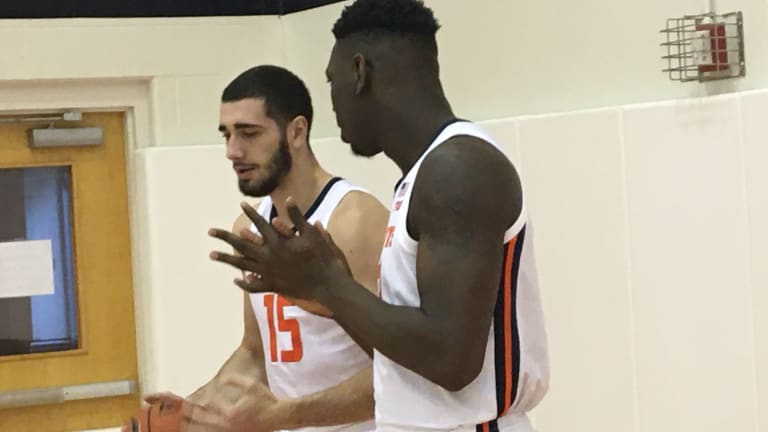 Kofi Cockburn Heard the Negative Recruiting and Picked Illinois Anyway
Kofi Cockburn was told Illinois and Brad Underwood had no recent history coaching talented bigs but the 7-footer didn't care.
CHAMPAIGN, Ill. -- Kofi Cockburn can verify negative recruiting pitches aren't a myth.
The consensus former four-star prospect heard the same pitch when he'd name Illinois as one of his finalists in his recruiting process.
Cockburn, originally from Jamaica and a consensus Top 50 player in the 2019 class was being recruited by his host nation's idol - Georgetown head coach Patrick Ewing. Cockburn selected the Illini over Kansas, Connecticut, Pittsburgh and St. John's.
"They all said they were better and would be better at coaching players like me," Cockburn said at the team's media day on Oct. 11.
Not surprisingly, Illinois head coach Brad Underwood describes the pitches by opposing coaches in a much less subtle way.
"I've never had a player like Kofi," Underwood said. "Kofi knows that. He was told that by several people, trust me. I also know that he trusted the plan we have for him."
Underwood has repeatedly told media he and assistant coach Orlando Antigua have already committed to a plan of playing Cockburn and sophomore forward Giorgi Bezhanishvili on the floor together.
Cockburn's frame of 7-feet and 290 pounds would lead practically anyone to believe he's a slow, plodding half-court player that isn't made for Underwood's high-tempo system on both ends of the playing floor. And you would likely be wrong.
"He's not a plodder that's for sure," Underwood said.
Need proof? Ask Mr. Bezhanishvili, his new frontcourt partner at Illinois.
The first time Bezhanishvili, who spent his final year of high school at The Patrick School in New Jersey, saw Cockburn was two years ago in a summer basketball tournament at the famous Rucker Park in the Harlem borough of New York City. And Bezhanishvili, the same man who busted on the scene last year by breaking the previous Illinois freshman single-game scoring record of by Deon Thomas that had stood for 29 years, wanted nothing to do with Cockburn.
"I saw this huge dude running, jumping, and dunking on people and I'm scared to death," Bezhanishvili said. "I immediately told my coach 'take me out of this game' and when he asked why I said 'because I can't handle him.'"
Turns out, Cockburn's immediate friendship and bond with Bezhanishvili was a major reason for his choice of the Illini program.
"During my recruitment, during junior and senior year, things got a little bit harder," Cockburn said. "There is a lot of pressure in high school when you're supposed to be really good. It just started looking like business to me. I started looking at as a business and I realized I had lost my way. That wasn't the right way to look at it and Giorgi kind of reminded me of that. On my visit, when I came here, I saw how happy he was. He was here listening to music and was so happy. I was like, 'That's where I need to be, that's what I need to get back.'"
Cockburn is the highest-ranked post player, according to the traditional recruiting databases (Rivals.com, Scout.com, 247Sports.com), to sign the Illini program in nearly a decade. The last time Illinois signed a Top 50 overall recruit at center was when Meyers Leonard arrived in the 2010 recruiting class and eventually became a lottery pick in the NBA draft.
Everyone who loves Illinois basketball, including Underwood, hopes Cockburn is another inside option and alley-oop partner to the outside development of projected NBA draft lottery Ayo Dosunmu.
"What does Kofi mean to us? Simple. To me, he means somebody who can throw it down if I hit him with the ball anywhere near the rim," Dosunmu said.
Illinois will open its 2019-20 campaign Friday at the State Farm Center with an 8 p.m. exhibition game against Division II Lewis University and will begin its regular season by hosting Nicholls State on Nov. 5 with a 7 p.m. tip on BTN-Plus.