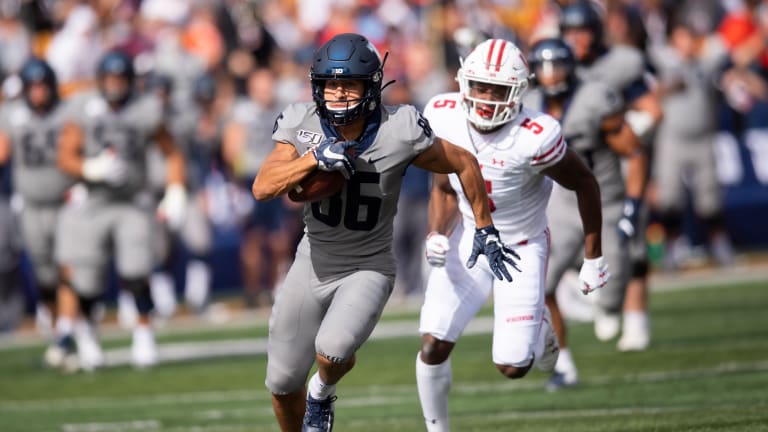 Navarro's Illini Walk-On Dream Becoming a Contributing Reality
Donny Navarro has seven catches for 99 yards and an emotional touchdown in the upset win against Wisconsin.
Donny Navarro has seven catches for 99 yards and an emotional touchdown in the upset win against Wisconsin.
CHAMPAIGN, Ill. -- For several years, Donny Navarro says he has wanted to play football at the University of Illinois.
Nobody can argue his passion and willingness to achieve this goal when the walk-on receiver made his debut this season. However, Navarro's story has quickly changed to a great feel-good story on the active roster to a highly contributing target on the Illinois wide receiver depth chart. Navarro's journey is the product of the classic, still underrated story of college football where walk-on players make a difference on quality Power 5 Conference rosters. The tale of Navarro's progress reached a peak as the walk-on transfer streaked to the end zone on a 48-yard touchdown, his first in the Football Bowl Subdivision level, to get Illinois on the scoreboard in what turned out to be the most improbable upset in college football this season.
"Back in high school, Illinois had always been the dream school," Navarro said. "When the opportunity here a few years ago to become a preferred walk-on opened up, I decided that yeah, I'm going to take that and see what happens. I didn't want to be anywhere else."
Navarro was a guy who physically resembled (5-foot-11, 185 pounds) Illinois receiver Mike Dudek and who was a team captain at Dudek's high school of Neuqua Valley. Admittedly, Navarro didn't have Dudek's speed burst that would immediately get the attention of scouts and coaches. Dudek, who was offered a scholarship late in the recruiting process to Illinois, went on to lead all Big Ten Conference freshmen in receptions and receiving yards in his freshman season and was a 2014 first-team Freshman All-American selection.
Navarro, who was a unanimous all-conference selection in his senior year of high school, did not receive any FBS scholarship offers in his high school career. Therefore, he decided to go to Valparaiso and play in the Football Championship Subdivision's Pioneer Football League where the schools in that conference agree to not allow football student-athletes to receive grant-in-aid assistance, otherwise known as athletic scholarships.
In his freshman season, Navarro led the team in receptions (32), receiving yards (539), yards per catch (16.8), touchdown receptions (five) and receiving yards per game (49.0) while topping all PFL freshmen in receiving yards per game, total receiving yards and yards per catch. He became just the fourth Crusader in the last 10 years to surpass 500 yards receiving in a season, which grabbed the attention of Illinois wide receivers coach Andrew Hayes-Stoker. Hayes-Stoker, who had spent a total of nine seasons in the NFL under Lovie Smith with the Chicago Bears and Tampa Bay Buccaneers, spent the 2013 season at Florida International as the running backs coach under former Illini head coach Ron Turner. Hayes-Stoker was immediately brought in to the Illini program by Smith in 2016 to, among a lot of reasons, find little-known recruiting options at skill position players. Enter Donny Navarro, who wasn't given a star rating by any of the recruiting services but was just making plays as a walk-on at the FCS level. Hayes-Stocker immediately began to wonder, what if this type of player was able to do that as a walk-on for a rebuilding program in the Big Ten Conference?
When Navarro arrived on campus as an ineligible player due to NCAA transfer rules, all he could do is continue to show his skills on the Illini's scout team.
"Once I announced my intention to transfer from Valpo, I still got no scholarship offers but Coach Stocker immediately got in touch with me and said they'll play the best 11 players on the field," Navarro said. "They pressed hard with me that I would be given an opportunity to prove to them that I deserved to be one of those 11 players on the football field."
Illinois offensive coordinator Rod Smith immediately took notice of the little-known slot receiver who continued to get open when trying to prepare the Illini's first-team defense last season.
"Unfortunately, he was ineligible last year (but) I would venture to say he was one of the top four guys last year at that time," Rod Smith said. "He's not the fastest, not the biggest, but he's one of the steadiest and there's something to be said about that."
When he finally became eligible this season, Navarro was leapfrogged on the receiver depth chart by incoming graduate transfers in the form of former five-star Southern California signees Josh Imatorbhebhe and Trevon Sidney. Navarro's walk-on work ethic, schedule, and progress have not been ignored by those highly-publicized players in the Illini's receiver meeting room.
"Donny is a workhorse and I respect him so much," Imatorbhebhe said. "People don't know this but every single day, Donny is in the indoor (facility) working out and nobody sees it and nobody talks about it. I hope this is just the beginning for him."
After injuries to Sidney and junior Ricky Smalling instantly ravishing the receiver depth, Navarro is making the most of his opportunity he earned after running those extra stadium steps in the summer, taking those extra practice reps in 2018 and not least important, playing those thousands of dollars in tuition to be on the Illini roster.
"(Walk-on players) are paying to be here and they still have to go to all the meetings, all the workouts, and all the practices and even then, their opportunity may never come despite putting in all the work," Imatorbhebhe said. "That's why when you see him start to make plays and make an impact, at least for me, all I feel is pure joy that good things are happening to those who deserve it and have earned it."
In the last three games, Navarro has seven catches for 99 yards and the emotional touchdown against Wisconsin, which came to Champaign last weekend as the nation's best defense.
"Well I think just overall, not just the last month, Donny has had to earn it the hard way," Illinois head coach Lovie Smith said. "Coming in without scholarship and just making people take notice. But if you continue to do things right you'll get an opportunity, and when you get your opportunity you need to step up to the plate and perform, and that's exactly what he did. The big play he had, you could only imagine the feelings he had, but he will continue to do that."
Imatorbhebhe said Saturday the play against Wisconsin was an emotional lift for the Illini offense, simply because to the Illini's leading receiver, the touchdown showcased a walk-on player proving what can happen over the final 36 minutes of play.
"It's an awesome feeling and it's rewarding to see the hard work pay off," Navarro said. "At the same time, I don't see myself on this field any differently than all of these scholarship guys. I'm just trying to make plays and be a part of this program getting more wins and having more success.
Navarro having a big impact on the most memorable Illini victory in over a decade was a giant step in a non-scholarship player's journey. Navarro said Tuesday the celebration is still lost on him in terms of a full-context explanation.
"I haven't really sat down and really thought about because I'm so busy all the time but seeing the reaction from friends and family (and) hugging my mom after the game, all the emotions came pouring out of me," Navarro said. "You work so hard and put so many hours into moments like those, to see that result Saturday was so very fulfilling."
Following the 24-23 upset win over Wisconsin, Illinois offensive tackle Alex Palczewski had a simple solution in the future to reward Navarro's recent play.
"Maybe a scholarship," Palczewski said. "Hell, why not? If anybody on this team has earned it, he has. And that's an understatement."