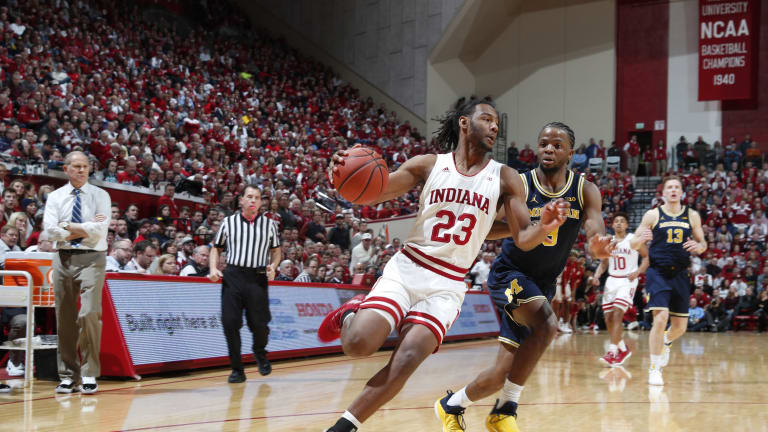 My Two Cents: Go Big, And Go Home With A Win
With most of its guards either out or on a minutes limit, Indiana's basketball team had to play a big lineup against Gannon, and it turned out just fine.
BLOOMINGTON, Ind. — One of the things Archie Miller likes most about his Indiana basketball team this year is that he has faith in everyone on his roster, one through 11. That depth allows plenty of versatility, both in lineups and style of play.
That depth got tested Tuesday night in Indiana's lone exhibition game of the season against Gannon University, a Division II school from Erie, Pa. Guards Devonte Green and Al Durham, the Hoosiers' two captains, were out with injuries, and starting point guard Rob Phinisee was on a minutes limit.
So with freshman Armaan Franklin the only true guard on the roster, forward Damezi Anderson stepped in as more of a 2-guard in the starting lineup,
And he did just fine. He scored 10 points, making a couple of 3-pointers and flowing freely in Indiana's offense. The 6-foot-7 sophomore from South Bend did just fine defensively as well, even though he spent most of the night chasing shorter guards around the perimeter.
"I think the one thing's a little unique right now is we don't have the quickness level at the guard that we're accustomed to on the ball,'' Miller said. "Rob played a little but tonight, but Armaan is a true freshman and other than that, we didn't really have a perimeter player on defense. We had Justin (Smith) and Jerome (Hunter) and Damezi, those guys are running around with those little guys, that's different for them.''
For Indiana to make the NCAA Tournament this year, something they haven't done since 2016, that will happen only with a quality defensive effort every night. Because of Indiana's versatility everywhere, he can see that happening. 
"Without question, if this team has a chance to reach its potential, it has to become an elite defensive team,'' Miller said. "It has to become a team, even with its youth and newness, it has to become a team that can win with its defense.
"If that happens, if we become a good defensive team, a team that buys in and believes in it and is hard playing, a lot of the things offensively that you sort of worry about will take care of themselves.''
Down low at the 4 and 5 spots, Miller likes his four-man rotation starters Joey Brunk and Trayce Jackson-Davis and reserves DeRon Davis and Race Thompson. Where the flexibility comes in handy — especially when everyone is healthy — is that the Hoosiers can go bi or they can go small with three guards and guys like Smith and Anderson sliding down a spot.
Doing it all is big. It was nice seeing him hit a couple of 3-pointers from the behind the new line that's been pushed back this season.
"It's Just like a normal three-point line. It's just a line right there,'' Anderson said, dismissing any idea that he treats it any differently. "I've just got to contribute and score.''
It helped that Phinisee was able to play 13 minutes and change, especially since he's only practiced once since Oct. 4 with a lower abdominal injury. As thin as they were at guard, in did help having him out there, especially in the second half when the offense ran much smoother and freer.
"With Rob out there, it just helps automatically because he's experienced,'' Anderson said. "He had his first year, he started as a freshman, so when he's out there it just makes everything easier for everybody.'' 
That is the joy of having an exhibition game to move some guys around. That experience will certainly pay off in the long run. Franklin getting 35 minutes, for instance, was a big deal. To have a true freshman experience so much in one night is invaluable.
"Those young guys (Franklin and Jackson-Davis) are good players. They're going to add a lot of value here,'' Miller said. "They're just learning. And you're looking out there and you're mad at them and you kind of get frustrated with them and you're saying to yourself, you never probably really imagined that Armaan was going to play 35 minutes tonight. 
"You thrust those guys in there, they get their feet wet and next thing you know they grow up right before your eyes. I think both of those guys are competitive, they're winners, they're good teammates and they're two really, really important pieces to what we have been trying to do and they're going to play a big role on this team.''
That's the first step.