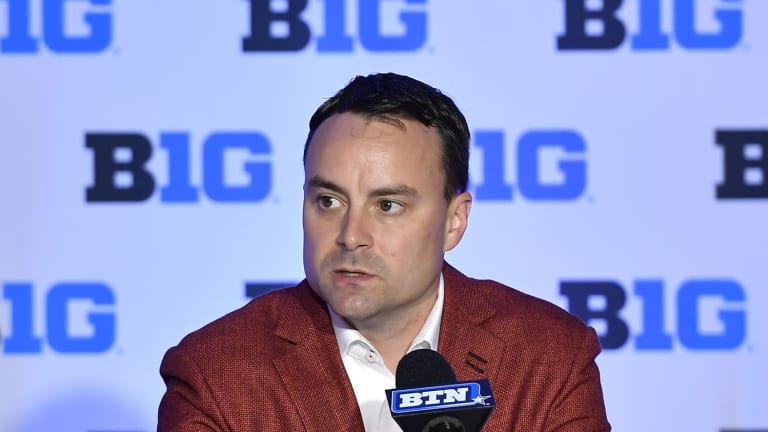 Indiana basketball: Maturity, versatility can make Hoosiers better this year
It's the third season under Archie Miller, and at Big Ten Media Day, there was plenty of talk about this season being completely different from the past few years.
It's the third season under Archie Miller, and at Big Ten Media Day, there was plenty of talk about this season being completely different from the past few years.
ROSEMONT, Ill. — The best way for frustrated Indiana basketball fans to survive these days is to focus on looking forward, and not looking back. It's a lot less painful that way.
It's been three years now since the Hoosiers have made the NCAA Tournament, but that's old news. What's new is that Big Ten Basketball Media Day took place on Wednesday outside of Chicago, and that's the start of a new season.
New is good. Real good.
The Hoosiers think they're going to be better. And if you have an opinion that differs from that, well, they don't really care.
"We don't like to focus on naysayers and what they have to say,'' Indiana junior guard Al Durham said Wednesday. "We just focus on the guys in the room.''
Preseason predictions have Indiana in the middle of the pack — or lower — in the very tough Big Ten. But they are all another year older and the three newcomers — freshmen Trayce Jackson-Davis and Armaan Franklin and Butler transfer Joey Brunk — are adding a lot to the mix. 
The chemistry "issues'' this team has had? Well, they've seemed to have gone away.
"We're a close team. Real close,'' said Durham, who was named a team captain along with senior guard Devonte Green on Monday. "We all spend a lot of time together. We all live in the same apartment complex together, work out together, listen to music together, play video games together. It's all been great.''
And they've been working hard. They want to see change, too.
"This summer, we were just focused on one day at a time, and getting better one percent every day,'' Durham said. "It was us getting focused on getting the two freshmen involved, and Joey, too, but it was more focused on all of us just getting better.''
This team is different, which might be a good thing. They lost their two leading scorers — Romeo Langford and Juwan Morgan — but there's addition by subtraction sometimes, too. Jackson-Davis is a McDonald's All-American who has been projected to be the Big Ten Freshman of the Year by some sources. And Brunk, he's been waiting for this opportunity to play at Indiana for a long time. They will be fun to watch.
There's depth at guard and there are wings ready to step up. From top to bottom, all 11 scholarship players are ready to contribute.
Indiana coach Archie Miller, more settled now in his third year in Bloomington, is ready to go, too.
"Our teams, they've all been built different since I've been here, but our preparation isn't any different. You plan very very hard all offseason to prepare a certain way,'' he said. "We have a plan, and the players need to respond to that plan and get the most out of that plan.''
Miller loves that his roster is solid from top to bottom. That's a first
"What I really like about this team is that everybody can play,'' Miller said. "There's not one guy, from Armaan Frankin who's on his first way in, to De'Ron (Davis) and Devonte (Green) who are on their last run. They all can play, and they all feel like they can contribute.''
What will be different, too, is that Indiana will be able to play a lot of different ways this season. Three guards? No problem. Go big? No problem, either. Mixing and matching will be fun, and it might make the difference against certain foes.
"Certain nights will require certain lineups, and we have a lot of versatility,'' Miller said. "To me, this team will be built with our speed and our ability to play inside. I'm confident in all our guys, and this is definitely the deepest team since we've been here.''
The regular season starts Nov. 5.