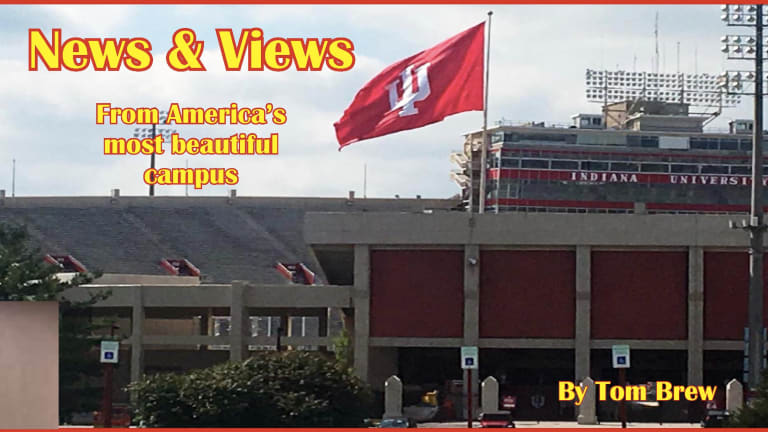 News & Views: Quarterback Play the Difference between Indiana, Northwestern
Indiana is 6-2 on the season and rolling, while Northwestern, the defending Big Ten West champions, still hasn't won a conference game.
BLOOMINGTON, Ind. — Here are three things that need discussing as the calendar rolls into November and we do football/basketball double duty for a while. It's a great time to be in Bloomington, isn't it?
Well, here we go with one of our weekly staples, News & Views from America's most beautiful campus, especially in the fall.
Take One: The massive quarterback disparity
NEWS: Indiana has two very good quarterbacks playing at a high level and Northwestern doesn't have any.
VIEWS: That's accurate. And it's exactly why Indiana is 6-2 and Northwestern is 1-6 overall and a surprising 0-5 in the Big Ten. Michael Penix Jr. and Peyton Ramsey have carried the load for the bowl-eligible Hoosiers, combining to complete 206 of 292 passes for 2,426 yards and 18 touchdown passes. How good is that? If the two were one — Peyton Penix III maybe? — those 2,426 passing yards would rank No. 7 in the country and No. 1 in the Big Ten. 
"They're playing very confident, playing very well right now,'' Northwestern coach Pat Fitzgerald said of Penix and Ramsey on Monday. "There's a lot of similarities between the two quarterbacks. Two guys that are playing at a really high level."
Northwestern's quarterbacks have been just the opposite, like worst in the Big Ten opposite. TJ Green, the son of former Indiana quarterback legend Trent Green, was lost for the year in the season opener and Hunter Johnson — a former 5-star recruit from Brownsburg, Ind. — and Aiden Smith have really struggled. The three combined are 104-for-214 (48 percent) for only 883 yards and two touchdowns.
"We have to get them to play cleaner and take it to Saturday,'' Fitzgerald said of his quarterbacks. I haven't had a team this inconsistent, especially on one side of the ball. We're obviously not there from a consistency standpoint. I think (the failures on offense) are on all of us. It starts and ends with us as coaches, first and foremost. We've got to help guys be successful, and when they're not, it starts and ends with us."
Northwestern has scored only 38 points in five Big Ten games. That's shocking since they came into the season with an eight-game winning streak in the conference during the regular season. 
It's highly unusual to see a Fitzgerald team struggle so much. It's a good time for Indiana to take advantage of it.
Take Two: No preparation for a night game
NEWS: Indiana hosts the first-ever November night game at Memorial Stadium on Saturday, and the Hoosiers won't alter their practice schedule at all. It's also their first night game of the season, home or road.
VIEWS: That's surprising to me. The Hoosiers, who practice in the morning every day, won't adjust their schedule for this week's game. They won't even throw the ball around under the lights at all.
Part of the reason is because it's too hard to adjust class schedules. Because the morning is always blocked out for practice and workouts, players take classes in the afternoon and evenings most days.
"Basically, we do that in fall camp, we try to get ready (for night games),'' Allen said Monday. "It's kind of been unique. We usually have a night game or two before this time of year, but we have not. We are a morning practice team, and our players' schedules are all set that way. It's hard to do anything in the evening; that's why we won't be able to do that. 
"But we've been under the lights. We did that by design in fall camp, catching punts and everything. I feel good about that. We talked about it even in the offseason about preparing for a night game. We expected we'd have a couple by how, but we haven't. We will do things a little bit different the day of than normal, but when the lights come on, it's just like playing in the daytime.''
I'm not sure I'd agree with that completely. They played the fourth quarter under the lights at Maryland after the sun set, and the Hoosiers did just fine. I won't worry about it if they aren't, but I'll certainly be paying attention on Saturday night just in case.
Take Three: Reason for concern with basketball injuries
NEWS: Indiana basketball starts with an exhibition game Tuesday night, and Indiana's starting guards, Devonte Green and Rob Phinisee, won't be playing.
VIEWS: Sound we be concerned? Darn right we should, because this Indiana team really doesn't have a margin for error this season.  The Hoosiers, who were 19-16 a year ago, need to do better than that this season. It's been three years since Indiana has played in the NCAA Tournament, and that's the goal this season.
Going extended stretches without those two could be problematic. Green has a hamstring issue and had been in and out of practice the past couple of weeks, coach Archie Miller said Monday. He's day to day, and Miller said he hoped to learn more this week about his availability for next Tuesday's regular-season opener against Western Illinois.
I am far more concerned with Phinisee, the standout sophomore point guard. Miller said he has a lower abdominal injury and that "it's a delicate thing. It's something that is not very common. He's been uncomfortable with that. It would be something that he has to deal with here for some time; it's just managing it.''
With Phinisee and Green out, junior Al Durham and true freshman Armaan Franklin will be counted on for a lot of minutes. Here's to hoping that's a short-term thing.
Still, it's going to be great to be back in Assembly Hall tonight.