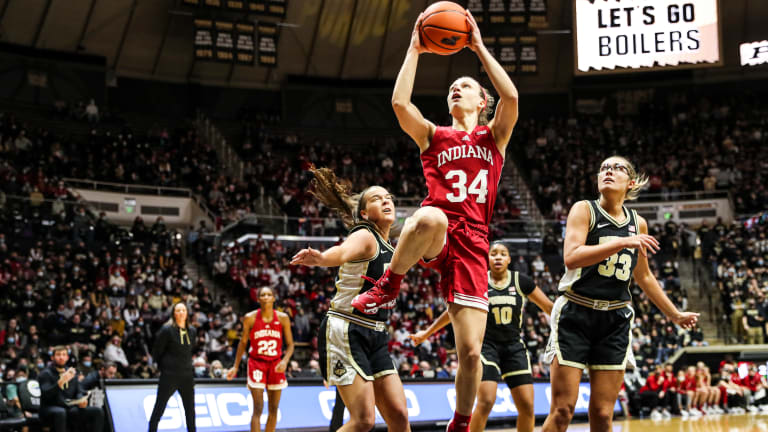 Indiana Women's Basketball Stays at No. 6 in the Associated Press Poll
For the third week in a row, the Hoosiers stay consistent at No. 6 after a fresh win over the Purdue Boilermakers on Sunday improving their conference record to its best start in history at 5-0.
BLOOMINGTON, Ind. — Coming off of a 73-68 victory over the Purdue Boilermakers on Sunday, the Hoosiers stay put at No. 6 in this week's Associated Press Top 25 poll for the third week in a row.
Senior guard Grace Berger put up 24 points for Indiana in the absence of two starters, Mackenzie Holmes and Nicole Cardaño-Hillary, in the Barn Burner Trophy game. Senior forward Aleksa Gulbe wasn't too far behind with 21 points and a team-high nine rebounds.
The top six teams did not waver this week as South Carolina remains on top of the poll followed by Stanford, Louisville, NC State, Tennessee and Indiana.
Indiana is the top-ranked Big Ten team with Michigan trailing behind at No. 8 making a jump from its 11th spot in last week's poll.
Maryland fell to No. 12, and Iowa squeezed back into the poll at No. 25 after not being ranked for a week.
Here is the full AP Top 25 poll last updated Monday, Jan. 17. Records follow each school:
1. South Carolina (17-1)
2. Stanford (13-3)
3. Louisville (15-1)
4. NC State (16-2)
5. Tennesse (17-1)
6. Indiana (14-2)
7. Iowa State (16-1)
8. Michigan (15-2)
9. UConn (9-3)
10. Arizona (12-2)
11. LSU (17-2)
12. Maryland (12-5)
13. Georgia (13-3)
14. Oklahoma (15-2)
T 15. Baylor (11-4)
T 15. Texas (12-3)
17. BYU (14-1)
18. Georgia Tech (13-4)
19. Notre Dame (13-3)
20. North Carolina (14-2)
21. Duke (11-4)
22. Colorado (13-1)
23. Kentucky (8-5)
24. Florida Gulf Coast (15-1)
25. Iowa (10-4)
Related stories on Indiana women's basketball
INDIANA DEFEATS PURDUE ON THE ROAD: Even without the presence of starters Mackenzie Holmes and Nicole Cardaño-Hillary, the Hoosiers pulled out a 73-68 win over rival Purdue for the sixth consecutive Barn Burner Trophy game and twelfth straight win on the road. CLICK HERE. 
HOOSIERS PLAY FOR BARN BURNER TROPHY AT PURDUE: An 11-0 road-game winning streak is on the line as the Hoosiers look to defeat Coach Teri Moren's alma mater, Purdue, for the sixth consecutive time for the Barn Burner Trophy. CLICK HERE.
INDIANA IS A 'DEFENSIVE-MINDED' TEAM: The Hoosiers are at the top of the Big Ten leaderboard in scoring defense and limit their opponents to an average 57.1 points per game. Their offense is certainly elite, but both Coach Teri Moren and her team have said 'we hang our hats on our defense.' CLICK HERE.