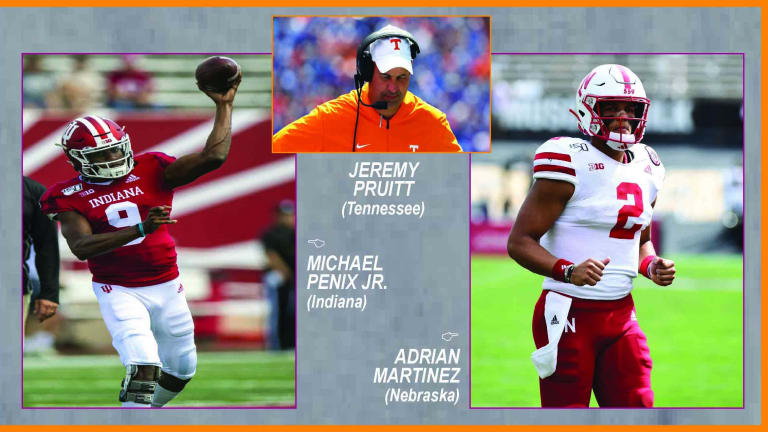 My Two Cents: Tennessee's QB Recruiting Blunders Benefit Indiana and Nebraska
Indiana's Michael Penix Jr. and Nebraska's Adrian Martinez were both Tennessee commitments, but Rocky Top's screwups meant they both left to go elsewhere on the same day.
LINCOLN, Neb. — As long as medical staffs from Indiana and Nebraska sign off on last-minute injury checks Saturday morning, we will have a great matchup of two of the best young quarterbacks in the country this afternoon in Lincoln.
Indiana's Michael Penix Jr. and Nebraska's Adrian Martinez are second-year guys who already have done some great things in their young careers. They bring hope to two football programs that desperately need a lot of that these days.
They're that good — and that exciting.
Penix and Martinez have never met, but they have been virtually attached at the hip for a long time. For much of late 2017, both of them were Tennessee football commits, part of the Volunteers' No. 1-ranked recruiting class that was supposed to build off a great 2016 where Tennesse's offense broke dozens of school records under coach Butch Jones.
But when the 2017 season went completely backward for Jones and the Volunteers, he was shockingly fired on Nov. 12 after losing his first six SEC games.
For Tennessee fans, who can be "coach killers,'' there were two things that really mattered at that moment, and that was hiring the best coach possible and keeping this great recruiting class together.
That mattered to Martinez and Penix right away, too. After the firing, both said they would honor their commitments to Tennessee through the hiring process. But after one of the worst coaching searches ever that involved a half-dozen people before it was over and a hilarious comedy of errors and firings, everything changed.
On Dec. 13, 2017, the news came out that NEITHER Martinez nor Penix were Tennessee recruits any longer. 
Just like that. Poof. Rocky Top, you'll always be, in the rear-view mirror ... 
The paths to turning their backs on Knoxville played out differently, but they played out all the same. Since then, Tennessee coach Jeremy Pruitt, who was not the Volunteers' first or second or even third choice, has struggled to get any kind of decent quarterback play. Four guys have played quarterback in a year and a half, and they've all been horrible, which is why Tennessee is 7-12 overall and just 3-9 in the SEC under Pruitt.
Tennessee's massive blunders have been Indiana's gain. Nebraska's too.
Differing paths to the Big Ten
Martinez, a 4-star recruit from Fresno, Calif., stayed loyal at first, but during the disaster that was the coaching search, he thought it was best to start listening to others. The guy who came knocking first — and knocked the hardest — was new Nebraska coach Scott Frost, who was hired by the Cornhuskers to come home after an undefeated season at Central Florida.
Frost knew that Martinez would be perfect for his attacking spread offense, and he made Martinez his first priority.
Frost got his hooks into him, so by the time Tennessee finally fired athletic director John Currie and then hired Pruitt, it was too late to keep Martinez in the Vols' fold. Pruitt and then-Tennessee offensive coordinator Tyson Helton went to visit Martinez first. They tried, but Martinez was too disgusted with all that went on at Tennessee and he could picture a much brighter future with Frost.
So, on Dec. 13, he pulled the trigger, decommitting from Tennessee and switching his allegiance to Frost. A week later, on the first early National Signing Day, he signed with the Cornhuskers.
Penix's story was a little different.
The left-handed quarterback from Tampa was willing to stay committed to Tennessee even longer. When Jones was first fired, Penix and his parents — Michael Penix Sr. and Takisha Penix — heard from Currie and several Tennessee assistants often. So did Penix's high school coach, Jayson Roberts.
"Michael is a kid who is very loyal, and he was always loyal to Tennessee,'' Roberts said in an interview with me in August when I was reporting my series on Indiana recruiting in Florida. "He was always true to his word. Once he committed to Tennesee, he was all about Tennesee. Even through all the coaching search, he didn't waver.
"And then Tennessee wasn't about him.''
A week before signing day, the Penix family was all supposed to fly up to Knoxville for his official visit. It was a mere formality, and then he would sign with Tennessee on Dec. 20. Their bags were packed, but that's when Tennessee called with some shocking news.
They were pulling Penix's offer.
A week before National Signing Day.
"Pruitt called us the day he was hired (Dec. 7) and told us the scholarship was still there for him. But he lied to us,'' Michael Penix Sr. said. "Just a few days before we were supposed to fly up there for Michael's official visit, they told us not to come. That was the week before signing day. We were shocked.''
And angry.
"Mostly, we just felt really bad for Michael because he is always true to his word, and he was serious about honoring his commitment to Tennessee. He was going to go, so he was really upset with how it all played out.''
Two quarterbacks in, two quarterbacks out at Tennessee, just like that.
A shocking decision by Pruitt and Tennessee
Here's how out of the blue Tennessee's decision was to cut ties with Penix. It's a crazy story.
Mike Griffith, the long-time college reporter who covered Tennesse for SEC Country at the time, turned on his phone when his plane landed in Tampa. He had just flown from Tennessee to Tampa to interview Penix and his family for a huge "Next Generation'' recruiting piece for his Tennessee website.
And then he saw the news. Martinez and Penix were no longer a part of Tennessee's recruiting class.
"I was stunned when I opened my phone,'' Griffith said. "We kind of expected that they were losing Martinez, but the news on Penix stunned me. So here I was at the airport in Tampa, and I called Takisha Penix, Michael's mom, and told her I had heard the news and told her how sorry I was.
"I asked her if they still wanted me to come over and she's like, 'Of course. We want you here.' So I went and they told me everything. Michael was so stand-up, he was incredible. We did the interviews, even did a Facebook Live thing, and it was all great. Some people back in Tennessee were like, 'Why are you writing about him?' but they all had a great story to tell, and they told it. I was really impressed with that kid.''
Griffith, who now covers Georgia football for DawgNation.com, still watches all the troubles at Tennessee closely. How the Volunteers botched the coaching hire was what probably lost them Martinez, but they could have had Penix, and instead they wanted a kid Pruitt loved from California named J.T. Shrout. He's only been the fourth-best — or fourth-worst — QB at Tenneseee.
"There's no question Tennessee really botched it with Adrian Martinez and Michael,'' Griffith said. "First off, they both really liked Butch Jones and really wanted to play for him. When that wasn't going to happen, Tennessee was still sort of scrambling to keep that recruiting class together.
"Where Pruitt really made a mistake was that he didn't think, based on what he knew about Michael, that he had the arm strength to be a pro-style quarterback. That was a huge mistake, obviously, because Michael does have a big arm.''
No kidding.
Penix has proven in his short time at Indiana that he can make all the throws and has a very strong arm. Sure, he can run, but he hates being called a dual-threat quarterback. He's a passer first.
"Michael hates it when people call him a running quarterback,'' his father said. "He wants to stay in the pocket, wants to find his playmakers, wants to see the field and make all the throws. Sure, he can run, but that's not his first priority.''
Tennessee is still trying to fix its quarterback situation. The Vols have a true freshman they like now (Brian Maurer from Ocala, Fla.) and another on the way (Harrison Bailey from Marietta, Ga.).
Pruitt, though, might not even last that long as the Tennessee fan base quickly turns on him, too.
Indiana's persistence pays off on Penix
With very little time to work before signing day, Indiana pounced quickly. Nick Sheridan, Indiana's current tight ends coach who was the IU quarterbacks coach when he arrived in 2017, had been keeping in touch with Penix off and on after he got to IU.
Sheridan came to Indiana from Tennessee and was part of Penix's recruitment in the first place. Even when Michael was committed to Tennessee, Sheridan kept telling him that if anything changed, he was be interesting in Mike checking out Indiana.
When the Tennessee deal ended, Sheridan called right away. Indiana wanted to come for an in-home visit. When they did, all TEN Indiana coaches showed up. That's how much they wanted him.
Michael Penix Jr. needed to feel that love, especially after Tennessee turned its back on him. South Florida, his hometown school in Tampa, still wanted him too, of course, as did Florida State and its new coach, Willie Taggart. He had recruited Penix at USF and then offered again when he went to Oregon for a year.
When Taggart got to Florida State, he reached out again, but he was only lukewarm about how hard he recruited Penix. It wasn't like the love Indiana was showing.
And when it came down to Florida State or Indiana, it was an easy decision, especially after his visit to Bloomington, where he fell in love with the campus and the people immediately.
So Penix and Martinez, health permitting, will finally meet today on a football field. Tennessee, meanwhile, still has only two wins this season.
 "The situation there, it's a mess,'' Griffith said. "They've already fired an offensive coordinator, fired a quarterbacks coach. Adrian and Michael are both in better places for sure.''
Their loss is our gain here in Lincoln on gameday.