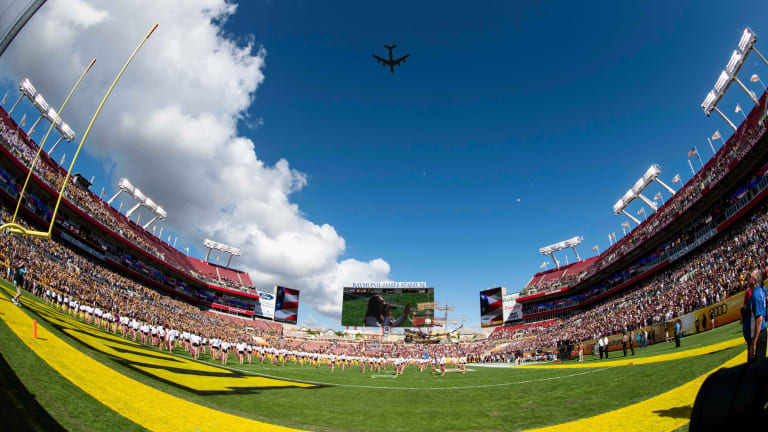 Outback Bowl CEO: 'We Would Love To Have Indiana'
Indiana has never played in a Florida bowl game, but with all its Florida ties, Tampa's Outback Bowl on Jan. 1 would love to have them.
BLOOMINGTON, Ind. — Jim McVay has run the Outback Bowl in Tampa for more than 30 years, and never once has Indiana's football team been on his radar. 
Until now. And he's thrilled about it.
"We would love to have Indiana here,'' McVay said by phone from his Outback Bowl office. "I've been watching them close lately, and I know all about their ties to Tampa and to Florida. Coach (Tom) Allen has done a tremendous job, and we'd be honored to have them play in our game, if it comes to that.
"I have ties to Indiana, too. My brother Tim played football there (as a defensive back from 1974 to 1977), so I pay attention. They are definitely on our radar, and we'll see how it all plays out in the next four five weeks. It's a shame about their quarterback (Tampa's own Michael Penix Jr.) getting hurt, but it sure seems like they've been playing right through injuries.''
The Outback Bowl is a New Year's Day game that pits a representative from the Big Ten against an SEC team, and it's been that way since 1996. There was a Big Ten/ACC alliance before that. It's always the early game on Jan. 1, and Indiana has never played in it.
The Hoosiers would love to come to Tampa. Allen coached high school and college football (South Florida) in Tampa, and the Hoosiers have 25 recruits from the state of Florida on their roster, many of them from the Tampa Bay area. It would be a huge homecoming celebration as the reward for their exceptional regular season.
Actually, Indiana has NEVER played in a Florida bowl game in its history, something McVay did not know. The Hoosiers have played in 11 bowl games, three in California, two in Georgia and Arizona, and one each in Alabama, Tennessee, Louisiana and New York. 
"I did not know that, which is all the more reason for us to be excited about it,'' he said. "Plus, I'm well aware of all the Indiana alumni down here, especially up and down the west coast of Florida. I think all of them would love everything that we do here all week leading up to the game.''
In the bowl game pecking order, the four College Football Playoff teams are chosen, and then the New Year's Six games pick the other 12 teams. There's still a lot of head-to-head football to be played, but right now Ohio State, Penn State and Minnesota from the Big Ten are all undefeated at 8-0 and in the top 12.
After those slots are filled, the Citrus Bowl in Orlando picks the next Big Ten team, and then the Outback Bowl comes after that. So it's usually the third-, fourth- or fifth-best Big Ten team that goes to Tampa, depending on playoff and New Year's Six selections.
That could be Indiana. 
There's some work to still be done, though. The Hoosiers are off this week, but then finish the season at No. 4 Penn State, home against No. 14 Michigan and then at Purdue for the annual Old Oaken Bucket game.
"The Purdue game is really big for them,'' McVay said. "They are 7-2 now, and getting that eighth win will be important for the pecking order. And who's to say what will happen in those other two games. Indiana has really been playing well.
"Nothing will surprise me this last month. It never does.''
Bowl selections will get made on Sunday, Dec. 8, the day after all the conference championship games. "We really never know until that day anymore. That's just how the process sort of plays out these days. We just have to wait our turn,'' McVay said.
McVay, whose father John was the head coach of the New York Giants and a front office executive for the San Francisco 49ers during their Super Bowl heydays in the 1980s and 1990s, is also the uncle of current Los Angeles Rams coach Sean McVay, who is Tim's son. It's a real football family, and he takes a lot of pride in putting on a first-class show at his bowl game in Tampa.
The SEC-Big Ten tie means this game is always a high-profile matchup. Being a New Year's Day game helps, too, along with a two-decades sponsorship with Outback Steakhouse. It's a fun week over the holidays and sells out just about every year. The game is played at Raymond James Stadium, home of the NFL's Tampa Bay Buccaneers and one of the finest stadiums in the country.
Because Indiana doesn't have much of a bowl history, they also don't have a bowl travel history either like Ohio State or Iowa or Wisconsin that have thousands of people escape the cold for a bowl game every winter. McVay said that won't matter one bit when it comes time to select a team. He knows Indiana fans would support a game in Tampa.
"No, we really look at the football first, not the potential fan support,'' he said. "Frankly, I wouldn't worry about that with Indiana anyway. I know how they support their teams in big events, and if they played in our game, that would be a big event for sure.
"I-75 makes it easy for fans to drive down here from the Midwest, and it also makes it easy for those thousands of Indiana fans already here in Florida, from Marco Island north to Tampa and beyond, to get here, too. I wouldn't be the least bit concerned about selling tickets to Indiana fans. But it will still all come down to the pecking order.''
The Outback slot is probably a touch too high for Indiana right now. The Hoosiers are currently No. 7 in my Big Ten power rankings, but they also will pass this week's loser of the Iowa-Wisconsin team, which will then have three losses. Indiana could pass them BOTH in the order because they both still have to play unbeaten Minnesota.
It's very possible that what determines the Outback slot is if Ohio State, Penn State and Minnesota ALL get selected for playoff and/or New Year's Six slots. That would leave Michigan and Indiana for the Citrus Bowl and Outback Bowl. As we said, they play each other Nov. 23 in Bloomington, which will certainly affect the pecking order, too. 
"We could be all set to pick Indiana and the Citrus Bowl might beat us to it,'' McVay said, alluding to what probably would be a 9-win Indiana team at that point. "You just never know. We've been surprised a few times in the past.''
In any case, if he gets the chance to call out Indiana's name, it will mean a lot to him, too. And his brother Tim and the whole McVay family.
"We're going to get a really good team no matter what, and I definitely put Indiana in that 'really-good-team' category,'' McVay said. "It would make me really, really happy if it wound up being the Hoosiers.''
Thousands of Hoosiers — fans, coaches and players alike — would say the same thing.