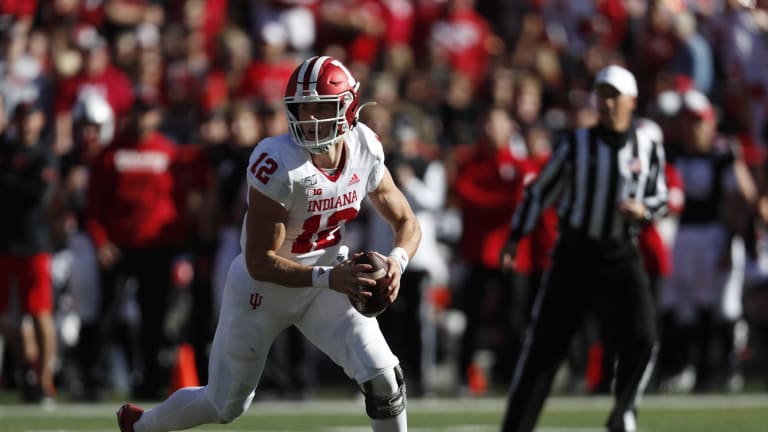 Report Card: Hoosiers Turning Into Road Warriors
The Hoosiers beat Nebraska 38-31 on the road Saturday, getting bowl eligible and setting the stage now for even bigger things.
LINCOLN, Neb. — The question was asked all week long. Would finally having success on the road at Maryland carry over to help the Hoosiers win again on the road this week? The answer at Nebraska was an emphatic yes.
It's a yes because these two games were eerily similar. Indiana's offense played well, but many times when the Hoosiers scored, Nebraska answered right back. It came down to making plays in the fourth quarter, and for the second week in a row, Indiana delivered.
The Hoosiers are now 6-2 on the season and 3-2 in the Big Ten, becoming bowl eligible with their third straight conference win, the first time they've done that since 1993.
Here's how the Hoosiers graded out in my eighth Report Card of the season:
Rushing offense: B-minus
There were several good things that happened in the run game for Indiana, but because Nebraska was giving up a whopping 267 yards a game on the ground in the conference, I expected so much more, so I graded harshly.
Stevie Scott had 68 yards on 16 carries, and thanks to several good Peyton Ramsey runs, the Hoosiers did finish over 100 yards, finishing with 104 on 31 carries, a measly 3.1-yard average. But the grade stays up too, because Scott had a lot of huge fourth-quarter runs to help burn the clock and Ramsey again scrambled for critical first downs himself.
Passing offense: A-minus
Peyton Ramsey got his third start of the season when Michael Penix Jr. couldn't answer the bell, and he was spectacular. He was 27-for-40 passing for a career-high 351 yards with two touchdown passes and a third on the ground. It was his fourth career 300-yard game.
We asked for a big game from slot receiver Whop Philyor, and we got it. He had 14 catches for 178 yards, bouncing back nicely from a two-catch game at Maryland. Take out the Terps game, and in the other three games since Sept. 28, he's had 38 catches for 502 yards! That's a season for a lot of people. The only thing that stops the grade from being perfect was that Ramsey did miss a couple of open throws and there was the one intercepted on a rushed throw that got tipped up into the air. Still, a damn good day.
Rush defense: D-plus
Indiana gave up 220 yards and three touchdowns on the ground, which is far too many, even against a Nebraska team that loves to pound the ball and play at a fast pace. The Hoosiers, who pride themselves on keeping good run fits, struggled with that big-time on Saturday.
Giving up 4.4 yards per carry is one thing, but how it happened is even more bothersone. The Hoosiers got fooled a lot, and seemed a bit unprepared for several Nebraska wrinkles that got installed during their bye week. Tackling was a little iffy at times, too. You can learn things in a win too, and this is an area that's going to need to get cleaned up. The one plus was closing out the game, getting two tackles for loss on Nebraska's two runs on its final drive while they were trying to tie the score. Kudos to linebacker Micah McFadden as well, who's been playing at a high level lately. He had 11 tackles to lead the Hoosiers.
Pass defense: D-plus
Yep, a bad grade here, too. Nebraska was playing its second-string () and third-string (Luke McCaffery) quarterbacks all day with Adrian Martinez out, and all they did was complete 20 of 23 passes for 294 yards.
Indiana gave up six plays of 20 yards or more through the air and had only one sack all day. When a defense gives up more than 500 yards, that's usually a recipe for getting beat. It did help that this group created two turnovers, forcing two miscues that led to points both times for the Hoosiers. And like the run game, the pass defense at least bowed up on the final drive, with true freshman Tiawan Mullen breaking up a pass on fourth down to close out the game.
Special teams: C-plus
Entering the game, kicker Logan Justus was one of only six kickers in the country who was still perfect on the year. But Saturday, after Indiana's first touchdown, he missed an extra point. He's had a great year, but PATs can't be missed. The lone bright spot was Hayden Whitehead, who averaged 40 yards per punt and buried Nebraska deep in its territory all three times. None of the return teams did anything spectacular.
The good thing was that Indiana's special teams at least were better based on comparative purposes. Nebraska's kicking game was even worse, with a missed field goal and a 19-yard punt that led directly to Indiana points. Special teams needs to continue to improve for Indiana.
Coaching: B
If I broke down this category by units, the grades would be an A for the offense and a C-minus for the defense, so we'll split the overall grade down the middle. There's absolutely no question that Kalen DeBoer has been a tremendous hire as offensive coordinator. Indiana made a rare financial commitment to bring him in, and he's turned this unit around quickly. He did a great job of calling plays that fit Ramsey well, and they ran the ball well late to close out the game, doing that behind an offensive line with a lot of moving parts.
Defensively, well, there's still a lot to work on, as you can tell from the grades above. I always worry about teams coming off bye weeks, and Indiana's defense got fooled often, especially in he first half. I know it's hard to prepare for everything, but this group needs to get better against these teams that like to play fast and spread the ball around.
Intangibles: B
A second straight road win is a huge thing, and that's only happened because of the greatest of all intangibles — confidence. The coaching staff has instilling that thought into their head that they can win, and these players, especially the young ones who don't know any better, are playing with a ton a swagger. 
The only ding I'll give this group is that they need to quit taking stupid penalties at bad times. They had a few that cost more than yards on Saturday, they cost Indiana points — at least 17 that I counted. A facemask penalty on a successful third-and-17 play hurt, as did 30 yards on penalties one ONE PLAY that set up a Nebraska scoring when when Indiana was trying to put the game away. And Whop Philyor, who was great all day, got an unsportsmanlike conduct penalty after a catch that took IU out of field position.
Still, the Hoosiers are 6-2 for the first time in 26 years, and they are on a roll. There's no reason why that can't continue Saturday night at home against Northwestern. Go get your tickets. This team deserves your support.