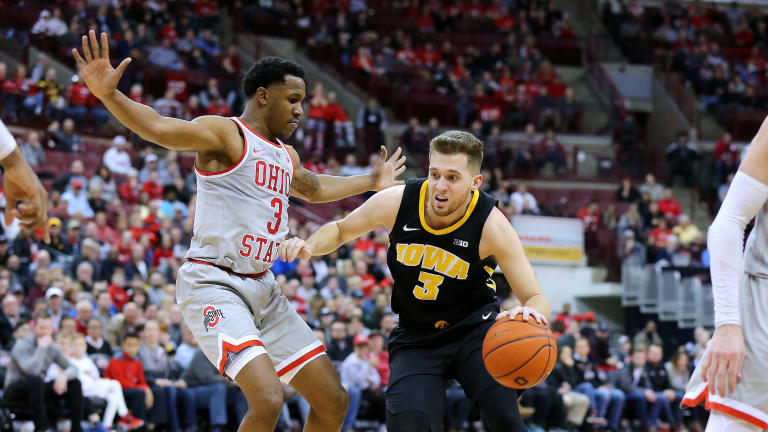 Bohannon Expected To Play In Exhibition
Iowa guard is working to return from offseason hip surgery.
Jordan Bohannon has had his good days and bad days in his return from offseason hip surgery.
But the Iowa guard is expected to see some playing time in the Hawkeyes' exhibition game against Lindsey Wilson College on Monday at Carver-Hawkeye Arena.
"He had a good practice yesterday," Iowa coach Fran McCaffery said during Wednesday morning's teleconference. "He's getting back into it. We'll see how it goes. He's not where he wants to be, he's not where he could be. But I've been really impressed with his determination to get back to where he's one of the best players in our league.
"We'll see. We'll take it one day at a time here with practice and the exhibition game. We'll see if he can play through it. If not, we'll shut him down."
Bohannon, a three-year starter who is Iowa's all-time leader in 3-point goals, underwent hip surgery in late May. Bohannon said during the summer that he wanted to be fully healthy for his final season with the Hawkeyes and would take a medical redshirt season if he wasn't where he wanted to be.
Bohannon can still do that if he plays on Monday — he can play in up to nine regular-season games in the first half of the season to qualify for a medical redshirt.
McCaffery said he has been impressed with Bohannon's approach in his attempt to return.
"He did everything he was supposed to in the beginning, and I think that was important," McCaffery said. "And then he was very methodical in his approach — a little bit on the bike, and then a little bit of jogging, and then a little bit of shooting. Then he was running and cutting, and before he did anything with contact, he was up to speed. Then he went back out and started playing. He's had some really good days, he's had some bad days, which was to be expected. I think he's been very professional with how he's handled that. We'll see where it goes from here."
Bohannon, who has averaged 12 points per game in his career, averaged 11.6 points in his three seasons.
McCaffery has different guard combinations he can try with or without Bohannon. McCaffery's son, Connor, is back as a third-year sophomore and worked last season as Bohannon's backup at point guard. Bakari Evelyn, a graduate transfer from Valparaiso, has the most experience. C.J. Fredrick is coming off his season as a freshman redshirt. Joe Toussaint is a true freshman.
"All of those guys are going to play," McCaffery said. "I'm getting closer to where I'm thinking about who the starters are going to be. All four of those other guys are playing really well. They all bring different things to the table."
McCaffery could also use a lineup combination with 6-foot-6 wing Joe Wieskamp, a preseason All-Big Ten selection, playing at the '2' spot if necessary.
"We have depth back there, and we have versatility back there," McCaffery said. "And I think that's critical."
Pemsl's return
McCaffery said forward Cordell Pemsl, who has returned from his suspension in late September after his arrest on an OWI charge, will miss the exhibition game as well as the Nov. 8 season opener against SIU-Edwardsville.
"He'll be good to go after that," McCaffery said.
Pemsl missed almost all of last season after undergoing surgery on his leg. The fourth-year junior has averaged 7.2 points and 4.7 rebounds in 68 games in his career.
"He's playing pretty well," McCaffery said. "He's back on the court. I thought he played well on Sunday (in the closed scrimmage against Illinois State). He's practiced well. He's playing as you would expect him to play as a veteran. He's been solid with his skill set, he knows what we're doing, that kind of stuff. I've been pleased with him."
Evelyn's leadership
Evelyn has played 82 games in his three seasons of college basketball — 18 at Nebraska and 64 at Valparaiso.
That kind of experience is crucial for Iowa's backcourt, McCaffery said.
"He plays the game with a level of confidence that's really important," McCaffery said. "He understands where to be defensively. He completely knows and understands how to play more than one position. You can give him the ball, you can move him off the ball. He can guard a guy who's bigger than him, guard a guy who's smaller than him. He shoots it well. Another guy who's not a mistake guy, he doesn't turn the ball over. He's a really good passer, really good post feeder. I've been really pleased with him."